Bobby Jindal Joins the GOP Hawks
The Louisiana governor calls for higher defense spending as he eyes a Republican presidential bid in 2016.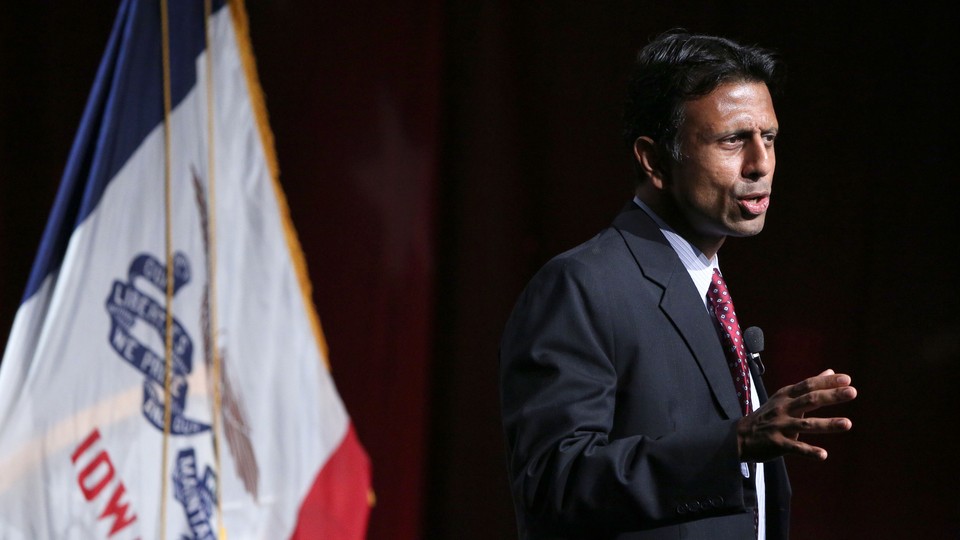 Republican presidential hopefuls are quickly picking wings in the party's foreign-policy divide, and Bobby Jindal on Monday came down forcefully on the muscular side.
The Louisiana governor delivered a detailed argument for higher levels of defense spending during a policy speech in Washington, blaming President Obama for squandering America's prestige on the world stage.
Once a GOP wunderkind, Jindal has been overshadowed in recent years by the likes of Chris Christie, Marco Rubio, Paul Ryan, and Rand Paul. He didn't help his cause with a shaky national debut responding to Obama's State of the Union address in 2009, which drew unfavorable comparisons to a sitcom character and cast Jindal as unready for prime time. But as the 43-year-old finishes his second and final term in the statehouse, he is trying to raise his stock as he weighs a run for the party's presidential nomination.
To that end, Jindal checked off a key box for a governor on Monday by outlining his views on foreign policy. Aligning himself alongside the interventionist Rubio rather than the more inward-focused Paul, he called for maintaining defense spending at 4 percent of the GDP, which would mark a sharp reversal from the budgets that Obama has outlined.
"We must be willing to pay the price for peace," Jindal said in his 25-minute address at the conservative American Enterprise Institute. "We must undo the president's harmful spending cuts, and ensure that our fighting men and women always have the tools they need to succeed."
Jindal painted a gloomy portrait of America's domestic and global standing in the Obama era, and in a nod to the upcoming race for the White House, he made sure to link Hillary Clinton to the policies of the president she served as secretary of state.
Today, we are living with the consequences of the Obama-Clinton ideas when it comes to foreign, domestic, and defense policy. And those ideas have set America on a path that will create more chaos, more conflict, and more wars.
He also sought to reconcile his call for more defense dollars with his self-described identity as a "fiscal conservative." Jindal backed a proposal to require audits of the Defense Department, and in renewing his push cuts to healthcare and entitlement spending, he reiterated that he wanted "to shrink the costs of government in other ways."
Jindal's twist on a now-familiar foreign-policy critique of Obama was that he also faulted the administration of President George W. Bush.
"By the time President Obama took office, the American military was in an increasingly fragile condition," he said.
In outlining his views and releasing a detailed defense plan with former GOP Senator Jim Talent, Jindal is getting out a bit ahead of some of his rivals in the 2016 race. But whether the Louisiana governor can break out in a crowded field next year is another question entirely.