Do Campaigns Actually Produce More Voter Apathy?
"People are a whole lot more interested in themselves than they are in the candidates."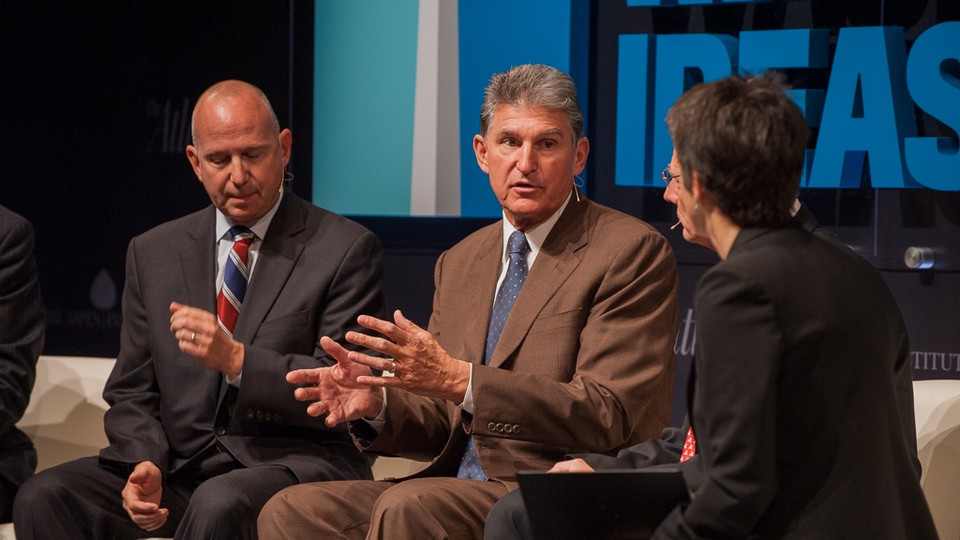 "When you spend this much money trying to tell us who we should be for and why we should be against somebody—and most of it's negative ... If you care that much about my state, why don't you just invest something? Do something." That was West Virginia Senator Joe Manchin's explanation for the statistic that only 68 percent of registered voters are paying attention to the midterm elections next Tuesday.
Control of the Senate may be at stake, but as the Cook Political Report's Amy Walter noted at the Washington Ideas Forum on Wednesday, the percentage of voters who say they're following the race is nearly 10 points lower than it was during midterms four years ago. Manchin, part of a panel of elected officials assembled to discuss politics at the forum, cited campaigns themselves as part of the problem. The millions of dollars pouring into states like West Virginia, rather than getting voters to turn out, may instead just be encouraging them to tune out.
And the money itself may be another part of the issue. Many voters feel, said Delaware Governor Jack Markell, that big money is drowning out their voices, and "that the appeals that so many elected officials or candidates make to them have absolutely nothing to do with their own lives ... And I think one of the big lessons is that people are a whole lot more interested in themselves than they are in the candidates."
There's a risk, moreover, that the remaining moderates in the Senate will lose their seats. This means that a race Cook characterized as a "referendum on inaction" could end up producing more of it. There are plenty of issues with bipartisan support—earlier in the morning, Commerce Secretary Penny Pritzker cited the need for infrastructure investment as one thing both parties agree on—but, said Manchin, "you have to have that moderate middle to work with."
His simple formula for bipartisanship? "Don't embarrass the other side."