Anthony Kennedy's Barrier to the Latest Advance for Gay Marriage
The Supreme Court justice temporarily blocked an appeals court ruling striking down same-sex-marriage bans in Idaho and Nevada.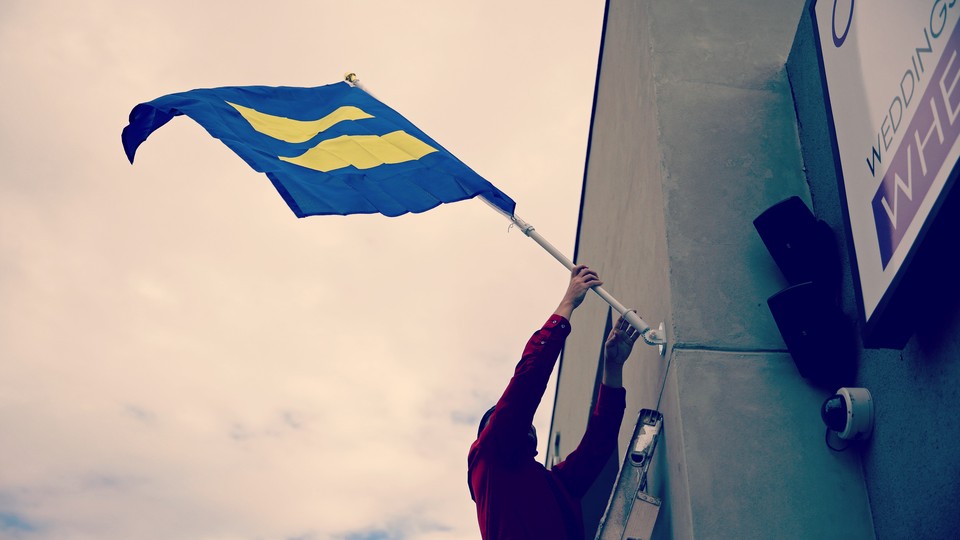 Updated 4 p.m. October 8
Not so fast, Idaho.
Supreme Court Justice Anthony Kennedy temporarily blocked a federal appeals court ruling that struck down bans on same-sex unions in the two states.
Kennedy's injunction followed an emergency request from Idaho officials, who said they would have otherwise begun issuing licenses on Wednesday morning, the Associated Press reported.
It was not immediately clear whether the ruling applied to Nevada, which had already begun preparing to allow same-sex marriages following Tuesday's decision by the 9th U.S. Circuit Court of Appeals in San Francisco to invalidate the bans in the two states. The AP reported that because of Kennedy's order, Clark County officials were telling gay couples not to line up for licenses that Las Vegas planned to begin issuing Wednesday afternoon. But Kennedy issued a clarification saying that his order applied only to Idaho because Nevada was not challenging the ruling of the 9th Circuit.
The delay is a hiccup in the rapid advance of legal gay marriage across the country following Kennedy's majority opinion last year striking down the federal Defense of Marriage Act and clearing the way for same-sex nuptials in California. That advance went into overdrive this week when the Supreme Court on Monday declined to hear appeals from five states whose bans on gay marriage had been struck down in the wake of that decision, and the 9th Circuit ruling came a day later.
Kennedy gave the Idaho plaintiffs until Thursday to respond to the latest motions, according to the AP.
The ramifications of the high court's inaction were already felt in South Carolina, where a judge cited the decision to issue a marriage license to a gay couple despite a state ban on the unions.