'American Schools Are Disturbingly Racially Segregated'
Education Department official says Americans have low expectations for minority students.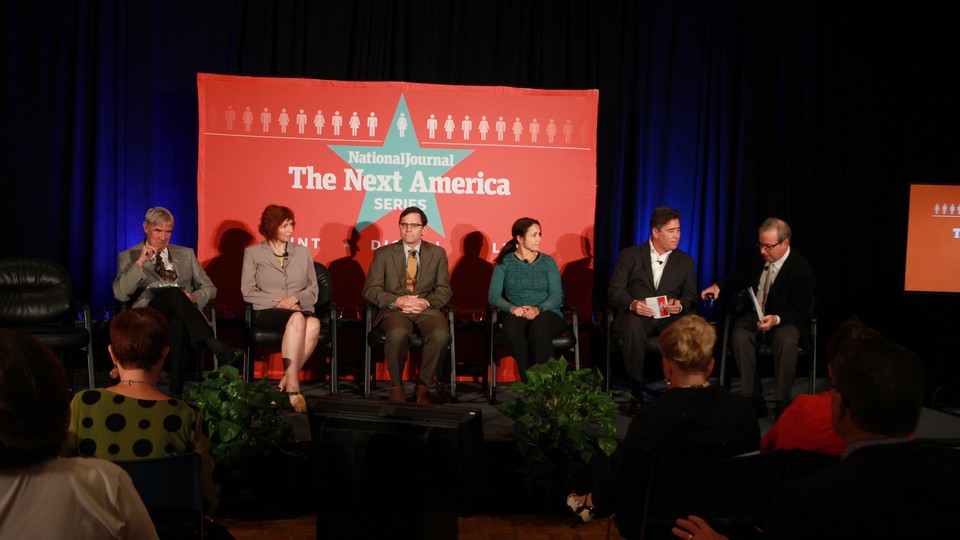 For the first time in American history this fall, students from racial and ethnic minorities represent a majority in public schools. That even Des Moines, Iowa is an example of this growing diversity may surprise some, but the population of white students in the city's public schools has dropped to 45 percent, and the district is home to students representing more than 100 languages and dialects.
That diversity is a source of pride to many—but Catherine Lhamon, assistant secretary for Civil Rights at the U.S. Education Department, warns that the trend hasn't been accompanied by equal access to quality education for students of all races.
"American schools are disturbingly racially segregated, period," Lhamon said Wednesday in Des Moines at a National Journal event presented with support from Emerson Collective. "The reality is that northern schools are more segregated than they ever have been, that all too many southern schools are reverting back to segregation, and we are not seeing the kinds of schooling that the Supreme Court promised us that we should see in the Brown vs. Education decision, and that I want for our kids."
Lhamon used the Des Moines Public School District as a case study. The school system has committed to hiring teachers from more diverse backgrounds to better reflect the student population, and to focus more resources on helping black and Latino males, who are disproportionately more likely to drop out or be suspended. While she praised progress already made and continued efforts at improvements, Lhamon noted that the city had much more work to do in correcting "poor performance."
The Office for Civil Rights collects data on each American school district's demographics and to what extent educational opportunities are provided to each of their students. Although white students in Des Moines schools account for just under half of enrollment, the OCR reports they are disproportionately overrepresented in gifted programs and in advanced classes such as algebra, calculus, and chemistry, and underrepresented in counts of suspensions and expulsions.
"That is consistent nationally, but it's very disturbing to me," Lhamon said. "What we're saying is that we are reserving our expectations for our highest rigor of courses, the courses we know our kids need to be able to be full and productive members of society, but we are reserving them for a class of kids who are white and who are wealthier. We know we can't do that if we want to be the rich and diverse nation that we are."
Lhamon and her office are pushing schools and districts to expand access to and increase expectations for all students, no matter their socioeconomic background, ethnicity, or race. It will require schools to believe that all students can be—and encourage them to be—high achievers, she said.
For example, Lhamon described a school district in Cleveland that offered advanced STEM courses to its high school students, yet many of the seats in those classes went unfilled. The OCR intervened, realizing that the district had not advertised the class to all students, and pushed the district to commit to reaching out to all families and advertising the class in Spanish as well as in English.
Minority students are more likely to live in low-income neighborhoods and attend schools that do not provide the full selection of higher-level courses in subjects like algebra, chemistry, calculus, and physics. OCR data finds that 57 percent of black students and two-thirds of Latino students simply do not have access to the full range of those classes that are provided to schools educating their white and Asian peers.
"We have to change those practices so that we are ready for each of our students in every school," Lhamon said, "and that we are communicating to them that they are beloved, valuable learners."