A Tale of Two Republican Campaign Ads
The GOP goes Willie Horton-style in Nebraska, while a gay candidate proudly cites his husband in Massachusetts.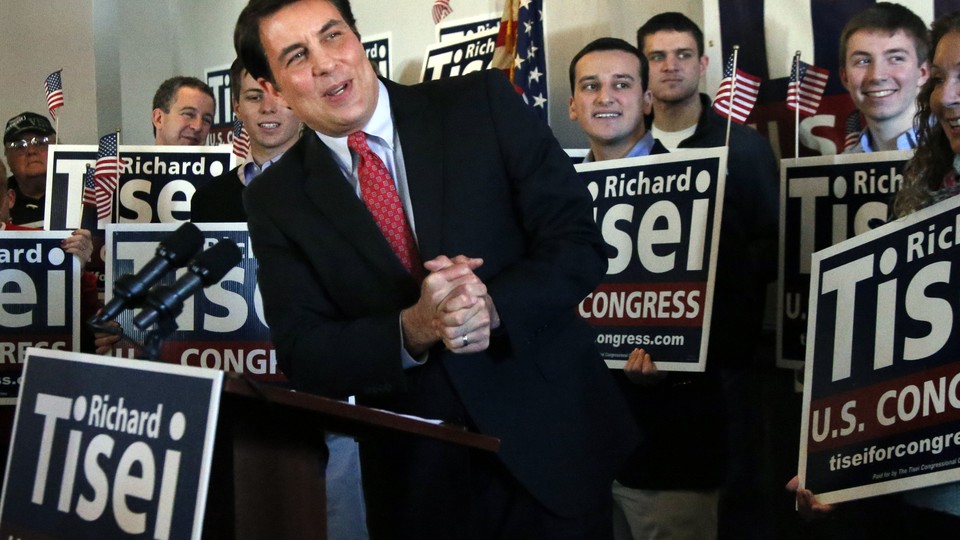 Amid the flood of television ads in the closing weeks of this year's congressional elections, two 30-second spots released by Republicans on Friday morning stood out to paint starkly different images of a party in transition.
One harkened back to the GOP's aggressive anti-crime tradition to fend off a Democratic challenger in Nebraska, while another, of a gay candidate proudly mentioning his husband, heralded a more tolerant party seeking to make inroads in the Northeast.
In a tight House race in Nebraska, the National Republican Congressional Committee channeled perhaps the most infamous ad of the last three decades in American politics: the Willie Horton attack devised by GOP strategist Lee Atwater and used against Democratic presidential nominee Michael Dukakis, which blamed a vicious murder on the prison furlough policy of the Massachusetts governor.
The NRCC's ad against Democratic candidate Brad Ashford cites his support for Nebraska's so-called "Good Time Law" and links it to a killing spree by Nikko Jenkins, who murdered four people in 11 days after being released from prison despite having served only half his sentence. Republicans in the state had criticized Ashford for opposing a change in the law following the Jenkins case.
While the Willie Horton ad was criticized for stirring racial fears in 1988, the NRCC spot similarly places the candidate Ashford alongside an African American criminal in Jenkins.
"Brad Ashford supported the Good Time Law, and still defends it," a deep-voiced narrator intones. "Allowing criminals like Nikko Jenkins to be released early."
Ashford is challenging longtime GOP Representative Lee Terry in Nebraska's most competitive congressional district, in Omaha. "The fact that Brad Ashford still defends this law is disgusting and he has no business running for Congress in the first place," party spokesman Tyler Houlton said of the ad. He did not address comparisons to the Willie Horton attack.
The Democratic Congressional Campaign Committee demanded that Republicans remove the ad early Friday afternoon. "This repellent, race-baiting ad has no place in America, and national Republicans should apologize and take it down immediately," committee spokeswoman Ashley Lewis said. "Republicans should be ashamed that they have resorted to divisive rhetoric, playing up racial stereotypes and fear-mongering to save their sinking candidate."
The Nikko Jenkins spot is far from the only scare ad of the season, and they are not limited to Republicans. In the hard-fought Alaska Senate race, Democratic incumbent Mark Begich aired and then removed a commercial attacking Republican Dan Sullivan, the state's former attorney general, over a case in which a sex offender murdered a couple after finishing his prison sentence. The ads also come at a time when some Republicans, most notably Rand Paul, are talking up criminal sentencing reform, albeit for non-violent drug offenses. In the heat of the midterm campaign, however, the Republican establishment has returned to its roots in attacking Democrats as soft on crime and—in the case of ads stoking fears of ISIS—soft on terrorism.
But in Massachusetts, another portrait of the GOP emerges in a new ad from Richard Tisei, a gay candidate running for the second time to win a Democratic-held seat north of Boston. Tisei, a former minority leader in the state Senate, on Friday released what begins as a typical negative ad, questioning Democrat Seth Moulton's ties to Wall Street and special interests. Tisei then appears on camera to present himself, by contrast, as a wholesome family man.
"My husband and I live right on Main Street, next to my mom," Tisei says, in a reference to his same-sex marriage that is presented as so ordinary many voters will likely miss it.
Tisei is one of two candidates who could become the first openly gay Republicans to serve in Congress. The other, Carl DeMaio, featured an image of himself along with his partner in a campaign ad earlier this year. And in Oregon, GOP Senate nominee Monica Wehby ran a spot featuring a testimonial from a plaintiff in the lawsuit that resulted in the legalization of gay marriage in the state.
Taken together, the ads are not incompatible. Either political party can both welcome gay candidates and support gay rights while issuing harsh anti-crime attacks. But the jarring contrast in tone suggests a GOP that has one foot in the past and one in the future.