The Same-Sex Marriage Fight Is Over
By refusing to take a stand on lower-court decisions, the justices have effectively settled the fight—in favor of gays and lesbians who want to marry.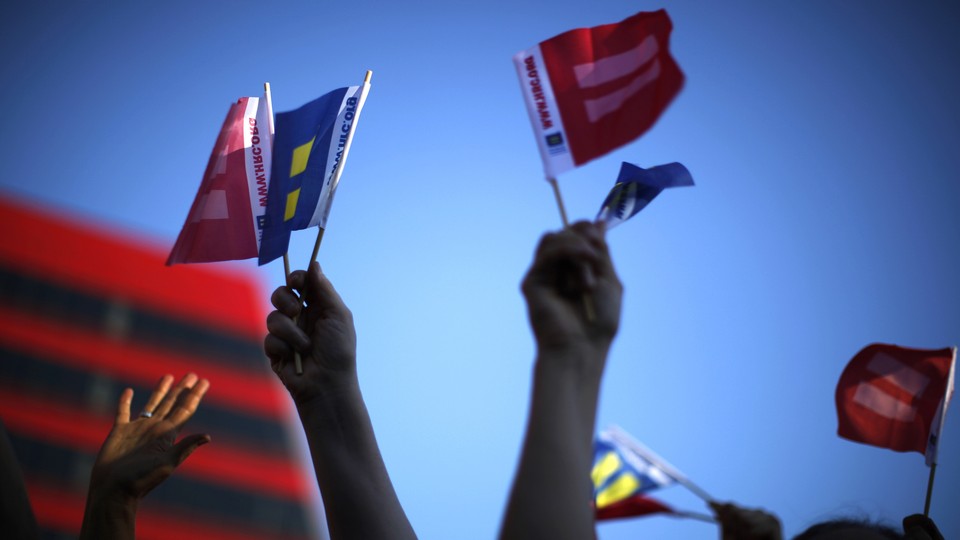 At the annual William and Mary Supreme Court Preview in September, leading appellate lawyers and journalists speculated on what the Court would do with several pending same-sex marriage cases. The one thing that was agreed was that the Court would not simply deny the petitions for review.
On Monday, at the official start of the October 2014 Term, the Court did exactly that.
As late as this morning, the National Law Journal was hailing the beginning of "a low-key term." Instead, the term began with global news—and a chaotic scene in the press room reminiscent of the confusion over the Affordable Care Act cases and even Bush v. Gore. Not only was the Court's decision to deny certiorari in all the same-sex marriage cases a surprising one. Complicating matters was a clerical mistake that led the press office to distribute to reporters a printed list of "orders"—meaning, among other things, denials of cert.—that was missing 33 pages. And the big news was in those 33 pages. A number of reporters went upstairs for oral argument, not knowing that history was being made. (I was one.)
A quick explanation is in order: The Supreme Court does not have to take most cases. It has discretion over most of its jurisdiction. A party who lost a case below may petition the Court for review; the technical term is "writ of certiorari," or "cert." for short. It is hornbook law that a denial of cert. has no legal meaning. It doesn't mean the Court approves of the decision below. It just means the Court doesn't want to look at the issue now.
So the Court officially gave no hint as to how it would rule when—or, as of today if—the same-sex-marriage issue comes before it. Unofficially, I don't see how that can be true. I don't see how today's decision doesn't signal that even within the Court, the fight is over.
The reason is this: When cert. is denied, the judgment below becomes final. In every one of the marriage cases below, a federal court of appeals held that the parties before it are entitled to recognition of their marriages, or entitled to be legally married in their state or residence. Laws and state constitutional provisions limiting marriage to "one man and one woman" are void. In each case, either the court of appeals itself or the Supreme Court had "stayed the mandate" pending Supreme Court review. Today those stays began to disappear. They cannot survive.
In the days and weeks ahead, couples will be allowed to marry in their states. In fact, Virginia Attorney General Mark Herring has announced that marriages can begin in the commonwealth as early as 1 p.m. today.
So two things have changed as of 9:30 this morning, when the orders issued. First, there will soon be thousands of same-sex couples married by order of the courts. And second, the lower-court opinions, which said the Constitution provides a right for same-sex couples to marry, are now the law.
That sounds redundant, but it's not. As long as cert. was pending, the lower-court opinions were in limbo. Meanwhile the issue is pending in the Fifth, Sixth, Ninth, and 11th Circuits. Any panel in one of those circuits must now confront a huge weight of federal authority affirming same-sex marriage. True, other circuits' decisions are not "binding"; true, the Supreme Court did not give any hint of its position. But that's still a lot of contrary authority to move against. Any judge writing an opinion that bars same-sex marriage must explain why he or she is ignoring all the previous decisions.
That still could happen. The press has speculated that the Sixth Circuit may soon issue an opinion allowing state bans to stand. The Fifth and 11th are among the most conservative of the circuits. If one of them breaks step, then the Court will have to take that case. And it would seem to most observers that it would be granting to reverse.
The four dissenters in United States v. Windsor—the Defense of Marriage Act case—may have looked around the conference table last week and realized they would never get five votes to overturn the lower courts; that is, that Justice Anthony Kennedy was committed to taking his Windsor opinion to its fullest extent. Such an opinion might not only affirm same-sex marriage; it might hold, as some lower courts have held, that sexual orientation is a "heightened scrutiny" classification, like race or sex. All laws that discriminate against gays and lesbians would be in danger then. Chief Justice John Roberts and his allies may hope that every circuit will come to the same decision, so that gay marriage will become the law without a broad Kennedy opinion upholding the rights of gays in other areas.
No one really knows what is happening on the upper floors of One First St. N.E. This Court is an enigma in many ways. Thus anything is possible.
One thing, however, I will not believe is that this Court will allow thousands of couples nationwide to celebrate marriages, change names, jointly adopt children, become legally one family—and then, in an opinion later in the term, baldly announce that their marriages are in jeopardy or even void.
If the justices were later to decide against same-sex marriages, a number of the states where, in a few days, it will be legal, would be back at the Court asking for reconsideration. That would be, as Lyle Deniston of SCOTUSblog wisely wrote, "an invitation to legal chaos." Beyond that, it would be an act of cruelty that I hope is beyond any five of the nine human beings who sit on this Court.