The President's Top Lawyer Doesn't Want to Be His Attorney General
Kathryn Ruemmler, the former White House counsel and Obama's good friend, won't replace Eric Holder.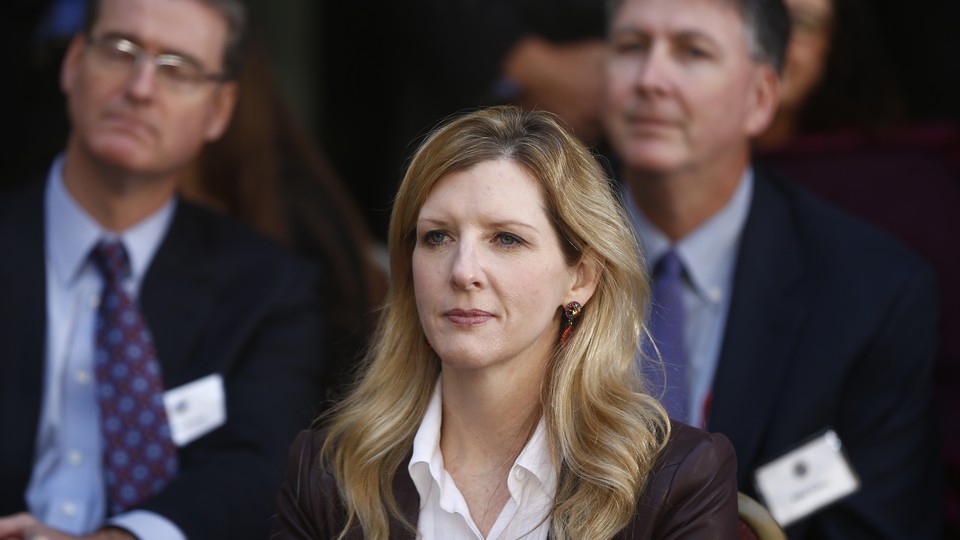 President Obama will not nominate his former White House counsel, Kathryn Ruemmler, to succeed Eric Holder as attorney general after she withdrew her name from consideration for the post.
White House officials confirmed on Friday both that Obama had asked Ruemmler to think about replacing Holder and that she informed him this week that she did not want to be nominated. "Kathy took this step this week on her own volition—as she always has done: putting the president and administration first," a White House official wrote in an email, commenting on the condition of anonymity.
Her withdrawal shakes up the field of contenders to lead the Justice Department for the next two years, as she was seen by some as Obama's preferred choice for the job. Labor Secretary Thomas Perez and the solicitor general, Donald Verrilli, have also been mentioned as top contenders.
While not a household name outside of Washington, Ruemmler is known as a close adviser to the president, which could have been a liability during a Senate confirmation process for attorney general, a position traditionally viewed as demanding the most independence within the Cabinet. Holder has become a political lightning rod for Republicans, in part because of his tight friendship with Obama.
"It became clear to her that the nomination of a close adviser to the president in this partisan, polarized climate would prolong and distort the confirmation process into an opportunity for partisan attacks rather than an examination of the needs of [the Department of Justice]," a person familiar with Ruemmler's decision said Friday.
More recently, Ruemmler was named as a key figure in a critical Washington Post report about the White House's handling of the 2012 Secret Service prostitution scandal in Cartagena, Colombia. She left the White House in June and returned to private practice as a partner at Latham & Watkins.
"Anyone who knows Kathy knows she has impeccable judgment, extraordinary foresight—and is a formidable force," White House chief of staff Denis McDonough said in a statement Friday. "But she is also as selfless as they come, and the president is proud to call her a close friend."
Although Ruemmler may have feared a difficult confirmation process, it is unclear if there is anyone Obama could nominate at this juncture in his presidency—short of a Republican—who would not be subjected to a partisan fight. The White House has already said he'll wait until after the November election to announce his pick, but the timing does not get easier from there. If Obama chooses a liberal favorite like Perez, he may have to rely on Senate Democrats to rush him through a vote in the lame-duck session of Congress this year rather than wait until January, when it is increasingly possible that Republicans will hold the majority.
If the GOP takes the Senate, Obama could also wait until the new Congress gavels in and essentially dare Republican leaders to block his attorney general nominee as their first act in the majority. Alternatively, the president could seek a consensus pick—perhaps by dipping into the ranks of U.S. attorneys—that would pass muster with both parties, but in this highly polarized political environment, that might be easier said than done.