The First Republican Primary Debate for 2016 Is Already Scheduled
Let's get ready to rumble.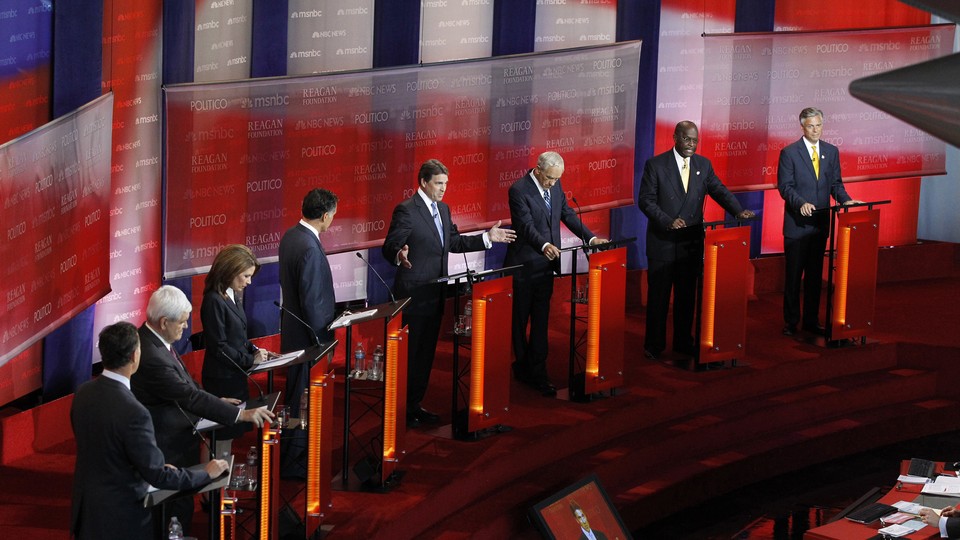 There will be a Republican presidential primary debate in less than 11 months.
The Ronald Reagan Presidential Foundation announced that it intends to invite the yet-to-be-declared candidates to a debate on September 16, 2015. It will be the third presidential election in a row that the Reagan Library in Simi Valley will host, and judging by the long list of contenders who are considering a White House bid, it could be a free-for-all.
It remains to be seen whether the debate will officially be sanctioned by the Republican National Committee, which moved in May to exert more control over the nominating process. The RNC's decision could be important, because according to the new rules, candidates that participate in non-sanctioned debates won't be allowed on stage at the official ones. The change was made to limit the number of acrimonious debates in which attacks on the party's eventual nominee will produce gaffes and fodder for Democrats in the general election.
The RNC said it was focused on Tuesday's midterm election, naturally. But it will be difficult for the party to skip out on the Reagan Library debate and risk offending its honorary host, former First Lady Nancy Reagan, who will turn 94 next July. She issued a statement along with the foundation's announcement on Thursday.
"While the candidates are still considering whether or not they will seek America's highest office, we are less than a year away from presidential debates that will start the national conversation on important issues.
I can't think of a better way to honor my husband than to keep the tradition of Reagan Library-hosted debates alive."
The last two presidential elections have featured primary debates earlier than September, and the 2008 campaign really got going early in 2007. But there's pressure for Iowa Republicans to scrap their August straw poll neat year, and the RNC is likely to hold off on its sanctioned debates until closer to when the primaries begin in 2016.
At the same time, Republican candidates could start declaring their intentions to run within weeks after Tuesday's election. Senator Rand Paul has been acting like a candidate for months, and few people expect him to wait long. Governors Rick Perry of Texas and Bobby Jindal of Louisiana could jump in soon after, judging by their aggressive travel and speech schedules in 2014.
On the Democratic side, all eyes are on Hillary Clinton, as they've been since the day after President Obama won re-election. While it had long been assumed that Clinton could wait as long as she wanted to enter the fray—thanks to her near-universal name recognition—there are signs she could make her intentions clear much sooner. Politico Magazine reported this week that top Obama adviser David Plouffe personally urged Clinton to "dispense with the fiction" and announce her candidacy immediately, perhaps before the end of the year.
Whether Clinton has to debate any fellow Democrats at all depends on how successfully she can clear the field. As for Republicans, while the candidates may not share a stage for many months, the jousting for the nomination won't wait nearly that long.