16 Questions: The North Carolina Senate Race
In the fourth edition of The Atlantic's Midterm Cheat Sheet, Jessica Jones discusses the contest between Kay Hagan and Thom Tillis.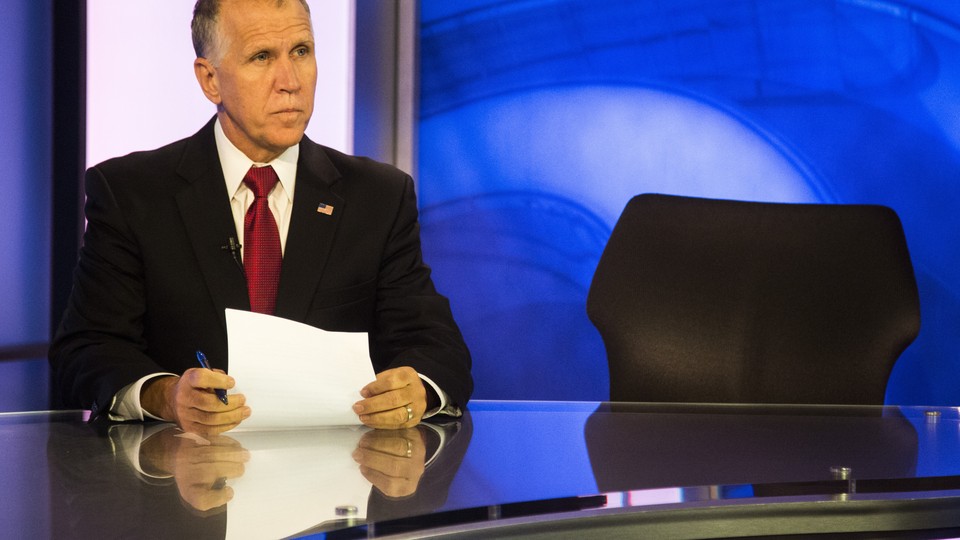 It's no secret that Americans are turned off politics and disgusted with Congress. Pundit after pundit has stepped forward to declare the 2014 midterms "an election about nothing." There are surely good reasons to be pessimistic, but for voters in states with crucial races, the election really is about something—local jobs, God-given freedoms, the right to control one's body, or how people in the state feel about President Obama. And the stakes are real: Control of the Senate hangs in the balance.
To understand what's going on in some of the hottest Senate races, The Atlantic has put together its own version of the Proust Questionnaire, focusing on the midterms. And we've asked top political reporters and columnists from those states to help understand what's going on and how it will affect the country.
The North Carolina edition features Jessica Jones, a political reporter at Chapel Hill's WUNC public radio. Jones analyzes the battle between incumbent Democratic Senator Kay Hagan and the state speaker of the house, Republican Thom Tillis.
---
What's the biggest issue in this race?
Whether Hagan has performed well in her job as Senator or whether Tillis has performed well in his job as the state Speaker of the House.
Describe Tillis's campaign operation:
A well-organized group that's hoping visits by national Republican political stars will encourage enough voters to come out to help Tillis win the race. In serious attack mode.
Describe Hagan's campaign operation:
A group that previously seemed to be riding on incumbent coattails, but is now making big efforts to try to bring more Democratic supporters to the polls in this mid-term election year.
What you'll remember in 10 years:
The onslaught of negative ads, especially on Sunday-night television. It's never-ending.
Best/worst ad:
In some of the ads supporting Tillis, it's clear there are actors playing roles. We think some of those actors appear more than once.
Biggest surprise:
Having so many national Republican luminaries visit North Carolina. Sometimes they look excited to be here, sometimes they don't. Rand Paul seemed bored, but maybe that's just his affect. Chris Christie seemed really excited.
How nasty has this race been on a scale of one to 10?
There's lots of mudslinging in the ads, especially the ones funded by outside groups. The debates have been somewhat heated, but things haven't gotten too personal, with the exception of dueling ethics accusations made by both campaigns. I give it a 6.5.
Biggest gaffe:
The empty chair left beside Tillis in an hour-long Time Warner Cable interview. Hagan's campaign had made it clear long before that she would not participate in another debate with Tillis, but Time Warner Cable made it seem like she had just backed out of a fourth debate. I thought Clint Eastwood made empty chairs passé, but I guess not.
How his party sees Tillis:
The most moderate-seeming conservative they could come up with.
How her party sees Hagan:
The most moderate liberal who can still pull votes on key issues in what is now a purple state. But some Democrats, especially transplants, complain she's not liberal enough.
Which group of voters will decide the race?
It all depends on who comes out to the polls in this election. Will older, conservative, predominantly white voters who dislike President Obama and who are opposed to same-sex marriage show up at the polls? Or will Democrats, especially African Americans and unmarried women, who are not happy with the state legislature's conservative agenda, vote this year? Only my Magic 8 Ball knows.
How the man on the street sees Tillis, in 10 words or less:
Successful former consultant who's helped lead a conservative legislative agenda.
How the man on the street sees Hagan, in 10 words or less:
Successful former state senator who beat Republican Elizabeth Dole.
Favorite North Carolina food:
Many people, especially male political reporters, tend to answer this question by talking about barbecue. But as someone who loves to cook, I always make sure to bring fresh seafood back from the coast whenever I get the chance. After the third Hagan-Tillis debate in Wilmington, I bought a couple of pounds of fresh shrimp, packed it in ice, and drove it two and a half hours straight to my house in Durham, where I made shrimp scampi.
Favorite ever North Carolina politician:
That's easy: former Governor Terry Sanford. He is venerated for many reasons, but he's my favorite because he fought for racial desegregation at a time when it was not popular.
Favorite North Carolinian, period:
It's too difficult to narrow it down to just one. Back in 2010, I had the opportunity to cover the then-three surviving members of the Greensboro Four, the young men who as college students led a six-month sit-in to desegregate a Woolworth's lunch counter. That was the spark that led to the end of segregation across the South. All four are so inspirational.