Is D.C. Statehood a Matter of Civil Rights?
Activists are mounting their latest—and likely doomed—push to grant residents of the nation's capital more voice in their government.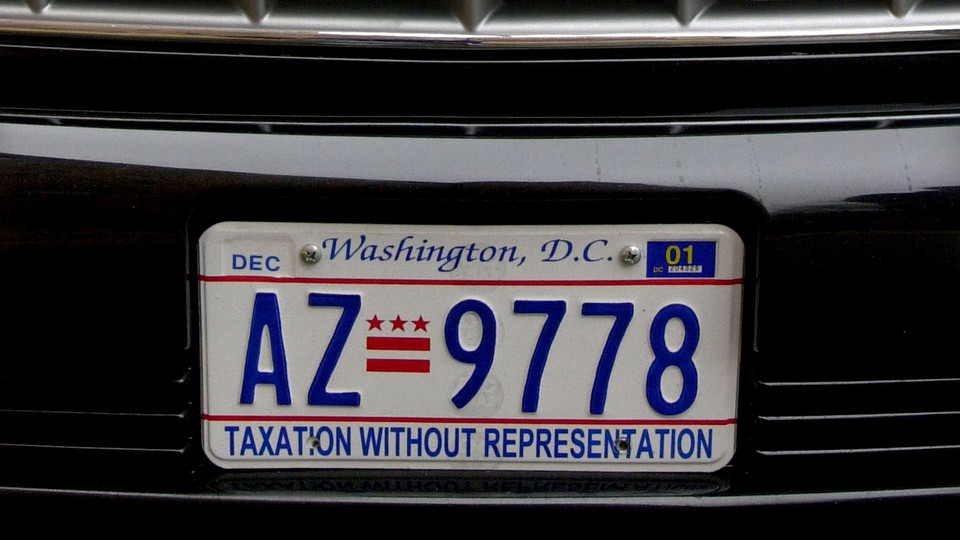 "No taxation without representation" has been a cliché of American politics almost since the nation's founding, but for citizens of Washington, D.C., those words have been anything but a guarantee.
Last week, a Senate committee held a hearing on the unlikely possibility of D.C. statehood. In attendance were Senators Thomas Carper, a Delaware Democrat, and Tom Coburn, an Oklahoma Republican, Mayor Vincent Gray, and Eleanor Holmes Norton, the district's non-voting delegate for the House of Representatives. Along with nine panelists, they were there to discuss the New Columbia Admission Act, a bill that would incorporate the lion's share of D.C. as the 51st state in the Union, preserve a federal enclave of monuments and buildings within the new state, and grant the district's nearly 650,000 residents full representation in Congress. Currently, citizens of the nation's capital are denied voting equality at the congressional level and significant autonomy locally. This set-up makes D.C. an anomaly among American municipalities and arguably relegates its residents to second-class citizens.
"In the 21st century, Congress simply cannot ask our residents to continue to be voyeurs of democracy, as Congress votes on matters that affect them—how much in federal taxes they must pay, whether their sons and daughters will go to war, and even their local budget and laws—without the vote in the House and Senate required for consent of the governed." Norton said in a prepared statement.
The bill is not expected to move through Congress, largely because of partisan politics: The vast majority of Republicans have no intention of welcoming two almost certainly Democratic senators and at least one congressman to the Hill. (Admission would require approval by both houses of Congress and the president.) But nonprofit and legal experts say the statehood debate is, at heart, part of a larger conversation about fundamental civil rights in the U.S. At stake are the voices of a population that has swelled by almost 100,000 over the past decade, reversing shrinking trends during 60 of the past 70 years.
It's a racially charged question as well, informed by D.C.'s historical identity as the "Chocolate City"—a home to African Americans since the capital was cleaved from two slaveholding states (Virginia and Maryland) in 1791. Though the district's demographics are changing rapidly, with blacks now composing just less than half of the population, the status quo has left all D.C. residents partially disenfranchised.
James Jones, communications director of DC Vote—a non-profit organization devoted to voting equality—points out that there's more to the district than just the federal government and its monuments. D.C.'s population, he notes, is greater than those of two states—Wyoming and Vermont—and is denied a degree of self-determination because the feds control much of the city's budget.
"We still live in a situation where members of Congress whom we did not elect hold ultimate sway over our budget and our legislative agenda," Jones explains. "Most Americans would find that abhorrent."
Edward H. "Smitty" Smith II is one of those Americans. A former federal lawyer who is now running for D.C. attorney general, Smith is a third-generation Washingtonian whose family has lived in the district since 1943 and has never had a voting representative in Congress. (D.C. residents have only had a vote for president since Congress ratified the 23rd Amendment in 1963.)
Monday's Senate hearing demonstrated the moral and practical reasons for D.C. statehood, Smith says. "As Americans, under no conditions should issues of political convenience or expedience dictate fundamental rights," Smith says. "The fact that [D.C. statehood] might prove politically inconvenient for either party is not a just reason for continuing to deny citizens those rights."
Jones may be right that most Americans object to taxation without representation in theory, but ask them a specific question about Washington and things get fuzzy. One recent poll found that "only 24% of Likely U.S. Voters" believe D.C. should be a state. Indeed, critics of D.C. statehood have argued that the district is not a "state-like entity," and that such a change would require a constitutional amendment, based on the fact that the district was originally carved out of two contiguous states. Furthermore, some conservatives argue that the new state would exercise undue influence over the federal government, and mainly represent urban, not rural, interests.
Whatever the consequences might be, few constitutional issues would bar the district from becoming America's 51st state. Rob Richie, executive director of FairVote—a non-profit organization in support of electoral reform—notes that there isn't even an explicit right to vote in the Constitution, which "misses Americans who don't happen to live in a state." And Peter Raven-Hansen, a law professor at George Washington University, explains that the Constitution only limits the seat of government to "10 miles square"; the Framers were concerned that the district would be too large, not too small.
Yet, for some critics of D.C. statehood, size does matter: "There is no indication that the Constitution contemplates a district expandable and contractible at Congress's whim," R. Hewitt Pate wrote in a 1993 report for the Heritage Foundation, a conservative think tank based in D.C. "Making the district a full state would be an abrogation of power that the Constitution explicitly assigns to Congress alone."
But Raven-Hansen thinks the strongest argument against D.C. statehood is that it would create a "redundancy" with the 23rd Amendment, since residents already have three electoral votes in presidential races. Accordingly, it would be "tidier" to rescind that amendment and give D.C. statehood.
"One fault of the politicians who debate this is to couch political arguments in constitutional garb," he says. "It would be at least a more enlightened debate if we clarified the legal issues at stake. But given the dysfunctional nature of Congress right now, I don't know if this is another false hope."
False hope or not, equal voting rights for the District's more than half-million residents are once again on the table. It remains to be seen whether such a proposal will gain traction or be dumped into the bin.