What Does Thom Tillis Want?
The Republican candidate for Senate from North Carolina has shown a remarkable knack for moving up in the ranks, but he seems less sure what to do once he gets there.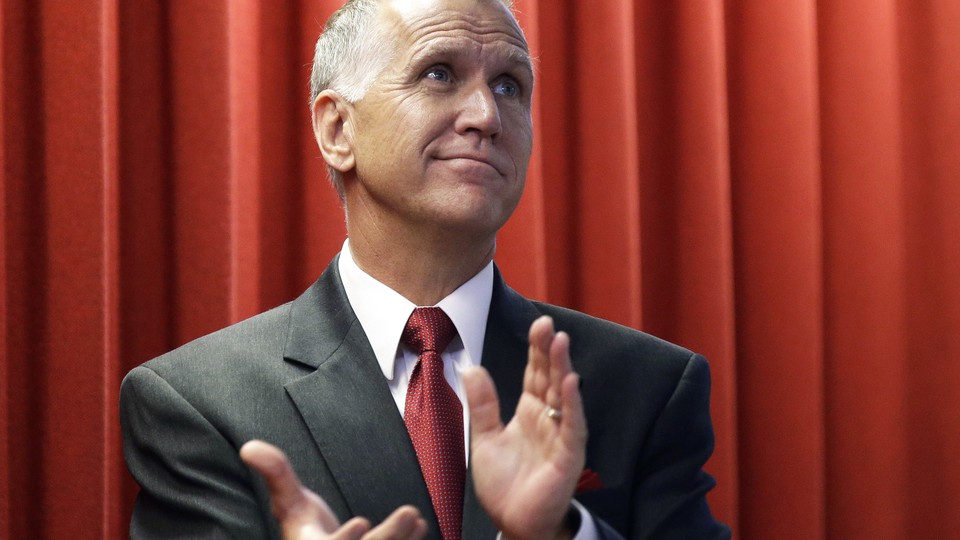 Thom Tillis is a man in a hurry. He went from city councilor to North Carolina House speaker in just five years. Four months into his second term as speaker, he was running for U.S. Senate. The man who would hand the Republicans control of the Senate has been a lot of things in a short amount of time. And while he seems to know where he's going, it's less clear that he knows what he'll do once he gets there.
Tillis started his political career as a city councilor in Cornelius, a wealthy suburb of Charlotte. In 2006, after a single term, he upset a Republican incumbent in a primary for a state House seat. Like all freshmen, Tillis arrived in Raleigh as a backbencher, but he quickly impressed his Republican colleagues, who chose him freshman leader. In just his second term, he joined the House GOP leadership as minority whip.
Despite the drubbing Republicans took in North Carolina in 2008, Tillis saw an opportunity and took a gamble. In 2009, he left his job as a $500,000-a-year business consultant and worked tirelessly in the 2010 election to recruit and elect GOP candidates. Safe in his own seat, Tillis crisscrossed the state helping House candidates organize and raise money. The bet paid off when Republicans won control of the House in the 2010 landslide. Tillis impressed enough members and accrued enough favors that he was narrowly chosen speaker over House Minority Leader Skip Stam, a six-term veteran. The more socially conservative Stam became majority leader.
The 2011 session of the legislature marked the first time in North Carolina in more than a century that Republicans controlled both houses of the General Assembly. Tillis arrived with ambition and a pocket full of political IOUs but few legislative accomplishments. And while previous speakers, both Democrat and Republican, brought years of experience and relationships to the job, Tillis had only two terms in the House and one in the GOP leadership.
In contrast, his Senate counterpart, President Pro Tempore Phil Berger, spent 10 years in the Senate watching his predecessor, Democrat Marc Basnight, run a disciplined and focused caucus. Berger understood both the formal and informal rules of the legislature and the dynamics that made it work. He also had a veto-proof majority, something Tillis lacked in the House. After six years of quickly climbing the political ladder, Tillis initially seemed to focus on passing legislation and maintaining peace in his caucus. He and Berger appeared to work well together. They held joint press conferences, and most of their legislative priorities aligned.
Tempered by Democratic Governor Bev Perdue and the House Democrats, Tillis and Berger pushed an agenda that would later seem modest. They ended a one-cent sales tax, put a constitutional amendment on the ballot to ban gay marriage, required counseling before an abortion, cut funding to public schools and universities, and implemented tort reform. Most importantly, they passed a gerrymandered redistricting map that ensured their electoral success in 2012.
If Tillis put his ambition on hold during the 2011 legislative session, it reappeared in 2012. This time, it caused problems within his caucus and with Berger. Both men were rumored to be looking at Democrat Kay Hagan's U.S. Senate seat. The pair seemed to be staking out opposing political ground. In a state that had narrowly voted for Obama in 2008, Tillis tried to build his credentials as a moderate. He made compensation for victims of the state's eugenics program his top legislative priority and supported a measure to expand gambling on the Cherokee reservation in western North Carolina. Members of his caucus publicly criticized him for not holding to conservative principles.
Berger, for his part, established himself as the more conservative leader. He rolled out an education-reform plan that catered to his right flank. The measure took Tillis by surprise and the House delayed most of the education measures. In response, the Senate killed Tillis's eugenics-compensation package. Tillis and Berger insisted they were still unified on key issues, but the 2012 session left obvious strains in their relationship. Instead of the frequent joint press conferences of 2011, they only appeared together to announce the budget deal.
While Democrats across the country were celebrating Barack Obama's reelection in 2012, Tar Heel Republicans were consolidating their power. For the first time in more than a century, they controlled all of state government. Former Charlotte Mayor Pat McCrory beat Democratic Lieutenant Governor Walter Dalton to become the first Republican governor in 20 years; Tillis now enjoyed a veto-proof majority in the House.
Theoretically, Tillis and the new governor were natural allies. Both were elected as moderates and both came from Charlotte, a buttoned-down town that's home to the GOP's business wing. They were cast in the mold of Jim Martin, another Charlotte moderate who had been North Carolina's last Republican governor, more than 20 years ago. Both also needed to keep an eye on a statewide electorate. North Carolina had a long history of electing moderates at the top of the ticket. Business-friendly Democrats had held the Governor's Mansion in part because primaries had forced Republican candidates too far to the right, making it difficult for them to win moderate voters necessary for victory in a general election.
But if Tillis or McCrory thought they could steer the new legislature down a moderate path, the opening days of the 2013 session must have been a shock. The new batch of jubilant legislators had all the answers and was champing at the bit to put them into practice. Like a conquering army, they hit Raleigh plundering and pillaging. They introduced voter-ID bills, anti-Sharia-law bills, and drug testing for welfare recipients. They "revised" boards and commissions to end some appointments and expand others. They cut taxes for the wealthy and ended the earned-income tax credit for the working poor. They took control of Asheville's water supply and Charlotte's airport. They redistricted county commission and school-board districts that were controlled by Democrats. There was no one to stop them.
McCrory in particular couldn't seem to find his footing. He came to Raleigh from a moderate New South city to implement his pro-business, free-market agenda. He didn't count on raging social conservatives and Tea Partiers who wanted to dismantle as much of state government as possible. And he didn't count on a press corps watching his every move.
The new governor's first dustup with the legislature came just a month after his inauguration, in the opening days of the 2013 session. Perdue had begun setting up a state insurance exchange under the Affordable Care Act and had received millions of dollars in federal grants. McCrory's transition team was working with the state Department of Insurance to establish the exchange, and the governor seemed open to expanding Medicaid. Senators, in response, introduced legislation to forbid Medicaid expansion or a state exchange. McCrory publicly urged legislative leaders to slow down but was ignored. When the bill passed along party lines, McCrory quickly shifted gears, claiming Medicaid was too broken to expand.
Instead of coming to McCrory's aid, Tillis kept his head down. In 2011, he too had passed a bill to establish a state exchange. During the spat between the Senate and the governor, he never spoke up, and the Senate bill passed the House unamended. While Tillis might have understood the need for moderation in a general election, he could clearly see the peril of crossing the raging conservatives. Before he could become a U.S. senator, he would have to get through a primary with at least some conservative support; supporting an exchange or Medicaid expansion through Obamacare would be construed as consorting with the enemy.
An alliance between McCrory and Tillis that could have promoted a more moderate agenda or reined in the most radical notions never materialized. Instead, they were repeatedly rebuffed by the Senate. When Tillis and McCrory got behind a plan to sell a large piece of state property to the city of Raleigh, senators rejected the proposal, saying they hadn't been consulted. When the governor supported a House tax-reform measure at odds with a Senate proposal, then-Senate Finance Committee Co-Chair Bob Rucho retorted, "If Pat had real business experience, he would not make such a poor policy decision."
While the Senate was causing Tillis headaches, his own caucus was running off without him. The flurry of bills coming out of the House was staggering. Members introduced legislation to restrict voting, ban Sharia law, exempt the state from recognizing federal laws, and allow silencers on hunting rifles. Two representatives introduced a bill that would allow for a state religion, making the state a national laughingstock. One member publicly criticized Tillis for holding up bills about guns and religion and another resigned his chairmanship of the House Finance Committee in a dispute with the speaker. In an unusually public appeal, Tillis posted a message on his Facebook page warning his colleagues about overreach. The next day, the House passed a bill to allow guns in bars, on college campuses, and on public greenways and walking trails.
To add to the pressure, Moral Monday protests were attracting crowds of thousands every week and the national press was focused on the most radical aspects of the Republican agenda. Tillis tried to strike a moderate tone by calling for a dialogue but was drowned out by partisans on his right flank. The Republican base was in battle mode and in no mood for niceties. One senator penned an op-ed calling the protests "Moron Mondays."
Meanwhile, Tillis still had his eye on the looming U.S. Senate race. Initially, he tried to dampen speculation while the legislature was in session, but rumors about Berger's plans to run apparently made him uneasy. At the end of May, four months into the session, Tillis announced he was running. The announcement was met with questions about his motives. The press criticized him for fundraising in Washington during the legislative session and asked whether his appointments of donors to the University of North Carolina Board of Governors had been a political ploy. Berger emerged as the more serious legislative leader while Tillis morphed into the ambitious politician seeking higher office.
It's unclear how seriously Berger considered a Senate bid, but speculation kept Tillis off balance. The final 2013 tax-reform bill, with deep cuts to personal and corporate income taxes, more accurately reflected the Senate version than the House's more moderate bill and completely undermined McCrory's promise of revenue-neutral reform. The budget also had the mark of the Senate on it, including many of the education reforms Berger had tried to pass in 2012.
For North Carolina, the 2013 legislative session meant a hard shift to the right. For Thom Tillis, it was a missed opportunity. He could have been the leader who restrained the most divisive legislation while still pursuing his small-government, free-market agenda. Instead, he stopped leading and started running. His attention and his priorities shifted from accomplishing his legislative goals to pursuing his political ones.
In the process, his greatest accomplishment turned into his greatest liability. His ads never mention that he's speaker of the North Carolina House. He's the businessman he was before he entered politics or he's the short order cook or he's the paperboy learning to make a buck. The only time he mentions his legislative career is to rebut criticism of his legislative record. Meawhile, Tillis seems to be struggling in his race to defeat the vulnerable Hagan. It's still a close race, but Tillis has never managed to open up a large lead, and the most recent polls consistently show Hagan up by a few points. Nonetheless, Tillis seems more comfortable trying to be something than trying to do something. If he becomes a senator, what will he want to be next?