What Does It Take to Get Voted Out of Congress?
Some lawmakers are plagued by their scandals, while others repel them like Teflon. Just how invincible are incumbents?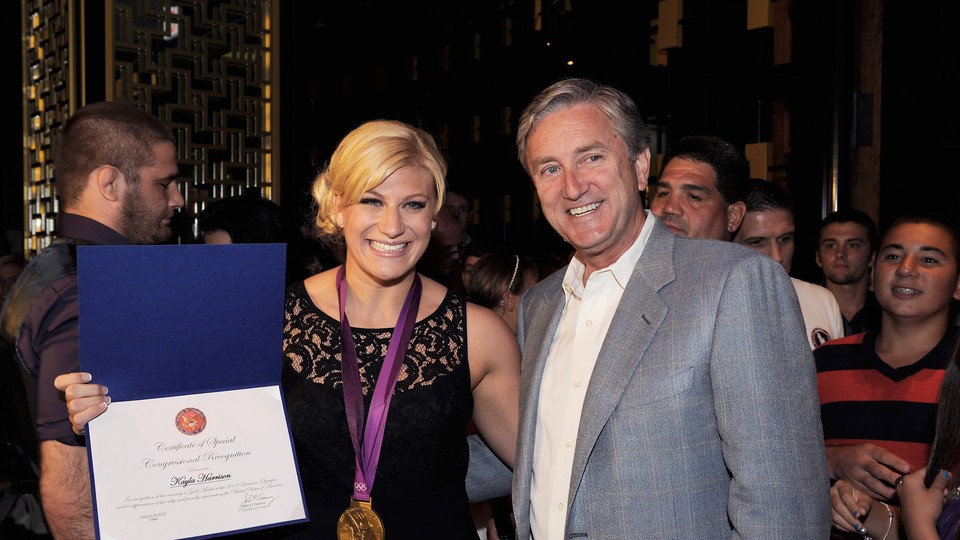 On the campaign trail in 2012, Mitt Romney's staff often quoted a tagline from the TV show Friday Night Lights: "Clear eyes, full hearts, can't lose."
For candidates who have faced consequences for political scandal, a tweak might be, "Bad press, bad polls, still can't lose."
Yes, Rep. John Tierney, D-Mass., lost his primary Tuesday night, but he remains an exception to the rule. Just four congressional incumbents have lost their seats in primaries this election cycle — former House Majority Leader Eric Cantor; Rep. Ralph Hall, who is 91; Rep. Kerry Bentivolio, a Santa Claus impersonator; and Tierney. Taken together, they make up a motley crew, as the The Washington Post's Aaron Blake pointed out:
To recap, 4 2014 primary losers: 1) Oldest member of Congress 2) House majority leader 3) Santa Claus guy 4) Guy whose wife served hard time

— Aaron Blake (@AaronBlakeWP) September 10, 2014
It may seem like a flip observation, but so far this Congress, just one member — Rep. Trey Radel, R-Fla. — lost his job because of the direct blowback from a scandal. In October 2013, Radel was caught trying to buy cocaine from an undercover federal agent. He resigned shortly thereafter.
In a year when scandalized politicians keep winning primaries and are keeping it tight in polling, is there anything an incumbent can do to lose his job? We took a look at the defeated Tierney, and the three congressmen beset by scandal who are so far still chugging along, and ran the post-mortem.
Rep. John Tierney
Tierney, who has served in the House for 18 years, lost his primary Tuesday night to fellow Democrat Seth Moulton. Tierney had been virtually tied with Moulton in recent polls.
Tierney has faced scrutiny for his own indiscretions and those of his family. Tierney's brother-in-law, Robert Eremian, has been convicted of drug smuggling and tax evasion. Eremian also ran a "massive gambling ring" out of his house in the Caribbean, and was indicted by federal prosecutors.
In 2011, Tierney's wife, Patrice, was also convicted for helping her brother file false tax returns. She was sentenced to one month in prison followed by five months of house arrest. While Tierney himself maintained ignorance of his wife's and brother-in-law's lawlessness, the scent of scandal stuck to him, too.
Tierney himself has been accused of failing to disclose income to the IRS, and for illegal campaigning. Despite earning the endorsements of Sen. Elizabeth Warren and Rep. Nancy Pelosi, Tierney lost to Moulton, a political newcomer and an Iraq War veteran. Tierney barely pulled out a win in 2012, helped largely by Obama being on the ballot in a blue state. It would appear that, when voters are given a choice between an ethically ambiguous incumbent and the platonic ideal of an All-American politician, they'll choose the latter.
A spokesperson for Tierney did not respond to requests for comment.
Rep. Scott DesJarlais
DesJarlais, R-Tenn., an abortion opponent and a doctor, was accused of sleeping with his patients and encouraging both his ex-wife and his former mistress to have "multiple abortions."
Last year, Roll Call named DesJarlais its No. 1 most vulnerable House candidate in the primaries. So did National Journal. But in late August, DesJarlais defeated his GOP primary opponent, Jim Tracy, despite Tracy outraising DesJarlais 5-to-1. Tracy lost by just 38 votes.
A number of factors contributed to DesJarlais' primary victory. Chief among them, pro-life groups did not try to take down DesJarlais. A spokesman for DesJarlais's campaign attributed the congressman's success to his "24/7/365 operation to engage constituents."
"We have focused on his official work in Washington and Tennessee and left the negative personal mudslinging to political opponents knowing that voters want a focus on issues, not personal attacks," spokesman Robert Jameson told National Journal.
Rep. Michael Grimm
While Grimm, R-N.Y., did not face a primary challenger, he continues to be dogged by two scandals going into the general election, and so far does not appear to be fatally wounded.
Grimm, a former FBI agent, compounded one potential scandal with another, when he was caught on camera threatening a reporter. In January, after a reporter tried to ask Grimm about a federal investigation into Grimm's campaign finances, Grimm responded under his breath, "I'll break you in half. Like a boy." The video quickly went viral, and Grimm apologized.
Some New York Republicans expressed frustration with Grimm running unopposed in June's primary. Grimm was arrested and charged with fraud just after the deadline for a Republican opponent to file. "We are essentially handcuffed with him as a candidate," one state GOP aide told ABC News in April. "This is no accident that it was just after the petitioning period."
If Grimm survives the general election, it would be a coup. The Democratic Congressional Campaign Committee and the Democratic House Majority PAC have pledged to spend more than $1.1 million in advertising against Grimm going into the election. The Cook Political Report gives the edge to Grimm's Democratic contender, New York City Councilman Domenic Recchia.
A spokesman for Grimm avoided specifically addressing the effects of bad press in a statement.
"It takes a relentless work ethic to form the bond that Congressman Grimm has with his constituents," Grimm spokesman Nick Iacono told National Journal. "Congressman Grimm puts his constituents first regardless of politics, and his landmark flood-insurance reform bill proves just that."
Rep. Charles Rangel
Over his 43-year career in Congress, Rangel, D-N.Y., has caught multiple ethics complaints for his failure to disclose financial information, and more recently, an all-expenses-paid trip to China with members of the Congressional Black Caucus.
Still, Rangel continues to win the steadfast affection of his constituents in Harlem. In June, Rangel faced the same primary challenger that he barely defeated two years ago, and won the rematch. Rangel, who has served in Congress since 1971, called his 2014 victory his "one last fight."
"The congressman is respected and reelected by his constituents because he's very personable and his love for the community is really palpable," Rangel spokeswoman Hannah Kim told National Journal. "They know how tirelessly and passionately he works to improve their lives and to make America better. Seriously — you just can't fool people for 43 years!"
How to Survive
Of course, many politicians have voluntarily left or have been pushed out of office for scandals both profound and trivial. So what kind of scandal does it take for you to actually get promptly pushed out of office? In 2011 alone, three House members — Anthony Weiner, Chris Lee, and David Wu — resigned after having their acts of sexual impropriety revealed.
Members of the House may be more susceptible to political retribution over scandals than their Senate colleagues. A two-year election cycle is brutal enough — even the attention-deficit media outlets will remember your indiscretions by the time November rolls around.
But there's one politician who has practically written the user manual on how to outlast a scandal.
"These days if you stand strong through your scandal and play to your base, apparently you're golden," Corey Hutchins wrote in Slate last year. "Ask Sen. David Vitter."
Indeed, Vitter seems to be the gold standard for surviving a political scandal. In June 2002, when Vitter was running for governor of Louisiana, the Louisiana Weekly ran a story about Vitter's relationship with a New Orleans prostitute. The news — which broke shortly after he resigned from the race, citing "marital problems" — scuttled his campaign. But he went on to successfully run for Senate in 2005.
In 2007, Vitter admitted to being a client of the "D.C. Madam," rekindling the prostitution scandal he tried to leave behind five years earlier. But Vitter may well be the Teflon Don of political sex scandals. This January, Vitter announced he will run for governor once again. He's considered a front-runner in the race.
The evidence suggests that, if you can trudge through the first few weeks of bad press and public outcry, voters will eventually leave you alone — or better yet, forget all about you. As Hutchins wrote, there are three simple steps to overcoming most scandals as a politician: apologize, move on, and never forget about your loyal base. Or, as Matt Yglesias simply put it in 2011, there are really just two steps: "(a) be an incumbent and (b) don't quit!"
Rep. Vance McAllister, R-La., has followed that advice to a tee. After being caught on camera making out with a female staffer, he apologized and tried to move away from the news as quickly as possible.
"Congressman McAllister is human, and all humans make mistakes," Jennifer Dunagin, a spokeswoman for McAllister, told National Journal. "He took accountability for his wrongdoings, addressed the situation, and is ready to move forward."
Incumbents can glide by on voters' biases to keep electing the same people who already held their job. While approval for Congress as a whole is at a historic low, few people seem to blame their own representative. Congressional approval sits at a lowly 11 percent, and yet very few incumbents lost their primary in 2014. Still, candidates who want to do battle with incumbents can take heart: Incumbents keep winning primaries, sure, but with slimmer margins than in past elections. And fewer of them have the luxury of running unopposed.
As humans with functioning egos, we like to attribute blame to others, not to ourselves, at almost any cost. And that ego-protection instinct ultimately pays off for politicians who were lucky enough to get voted into office in the first place. As The Boston Globe's Matt Viser points out, the last time a sitting congressman in Massachusetts was kicked out of office was in 1996, by a young upstart named John Tierney.
Correction: A previous version of this story said Elizabeth Warren and Nancy Pelosi endorsed Seth Moulton. They endorsed John Tierney.