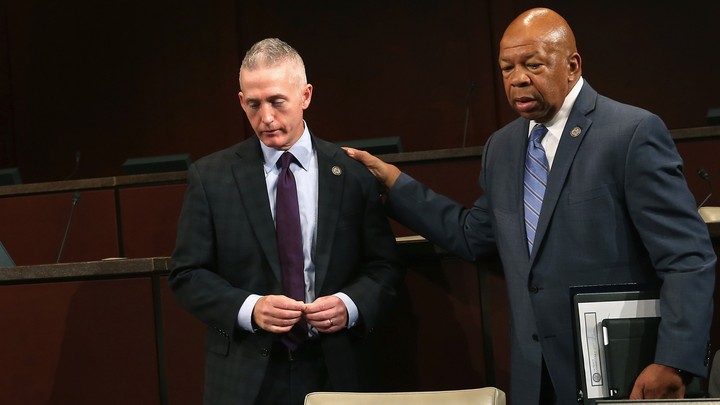 When a Republican member of Congress invokes the Sept. 11, 2012, attack on the U.S. Consulate in Benghazi, Libya, that killed four American diplomats, he is never more than a hair's breadth away from being accused of partisan grandstanding.
So it's understandable, if surprising, that the first hearing Wednesday of the House Select Committee on Benghazi was as apolitical as any hearing on the attacks so far. At the hearing, Rep. Trey Gowdy, R-S.C., civilly conducted the committee's business—an almost eerie departure from some of his past behavior in hearing rooms. His previous tone of righteous indignation was replaced with gravitas.
"Given the gravity of the issues at hand, I would rather run the risk of answering a question twice than run the risk of not answering it once," Gowdy said at the start of the hearing.
On the whole, the hearing was nowhere near as explosively partisan as some were expecting. As The Wire's Russell Berman notes, the words "Obama" and "Clinton" were all but absent from the three-hour-long hearing. It was so subdued, in fact, that some observers nodded off in the middle of it. If that was political grandstanding, it was a particularly boring way of going about it.
As the hearing wore on, however, Republican members became increasingly testy with those testifying, especially Gregory Starr, the State Department's assistant secretary for diplomatic security. So while Gowdy, a former federal prosecutor, played the good cop, he could rely on fellow Republicans like Reps. Mike Pompeo, Jim Jordan, and Peter Roskam to put Starr through the ringer.
So, what has changed since the 2012 Benghazi attacks? For one, the State Department has categorized 30 "highest risk" embassy posts, and has sent out teams to ensure that they meet security standards. Starr also readily admitted areas that the Benghazi embassy personnel's 30-day rotations, for example, were not conducive to their safety. "Constantly rotating like that was not in our best interest," Starr said. "We needed to change it."
The State Department's failure in Benghazi remains at the forefront of many conservatives' minds. Last week, Fox News commemorated the two-year anniversary of the attack with a special called 13 Hours: The Inside Story. Media Matters found that, in the 20 months following the attack, Fox broadcast more than 1,000 segments focused on Benghazi—an average of about 13 per week.
And two years after the attack, new accusations are still coming to light. Raymond Maxwell, a former State Department deputy assistant secretary, recently told Sharyl Attkisson that State Department employees had instructed him to scrub negative information from documents before they were handed over to investigators. If his allegations are true, they would blow the Benghazi investigation into the stratosphere of political scandal. But, as Slate's Dave Weigel asks, why did Maxwell wait so long to come forward?
We should get answers to these questions soon. Rep. Jason Chaffetz told Fox News that Maxwell will testify before the select committee "at some point." At the hearing Wednesday, Gowdy said he hoped to reconvene the committee in December, with further testimony from Starr.
Maxwell has testified about the State Department's reaction to Benghazi in the past, in front of the House Government and Oversight Reform Committee. The Oversight Committee's Democratic ranking member, Rep. Elijah Cummings, has expressed bewilderment over the fact that Maxwell never mentioned the document shuffling in front of his committee.
"Maxwell was interviewed by our committee, the Oversight and Government Reform Committee," Cummings told Slate. "He was called by Chairman [Darrell] Issa as a witness. And he never talked about this. He had plenty of opportunities to do it."
Members at the hearing Wednesday did not, surprisingly, mention Maxwell's allegations, but stuck to the playbook: trying to figure out what security measures the State Department has implemented since 2012.
Gowdy displayed restraint for the first two and a half hours of the hearing, but took his closing remarks as an opportunity to rip into Starr and the State Department writ large. He pointed out that, in 1999, then-Secretary of State Madeleine Albright reacted to the 1998 embassy bombings in East Africa by calling for the creation of an undersecretary for diplomatic security—the same position that the Accountability Review Board called for after the Benghazi attack.
Of the 40 recommendations a separate, independent best practices panel made to the State Department, 38 were accepted, 30 were implemented, eight are ongoing, and two were rejected. One of the two recommendations the State Department rejected was the panel's No. 1 suggestion: the creation of the undersecretary position for diplomatic-security oversight.
"What is it about that recommendation that is so talismanic that it couldn't have been made prior to the Benghazi attack?" Gowdy asked Starr. "Why is State Department clinging to this legacy of power that has failed?"
Starr—who, as it stands, is the closest thing the State Department has to such an undersecretary—argued that the undersecretary position would distract from the matter at hand because they typically get assigned a variety of duties.
"I am not distracted by that role," Starr said. "I can focus exclusively on security."
It would appear that Republicans have figured out a way to keep Benghazi a priority—albeit a smaller one, now that the threat of another war in Iraq is dominating news—without appearing that they are grasping for negative headlines ahead of an election. The old playbook: Badger State Department officials to the point of tears while darkly asking what Secretary Clinton knew and when she knew it. The new playbook: Muddle through the more sober, ponderous questions of diplomatic policy, and hope to turn up a lead. So far, the latter seems to be working.
Correction: A previous version of this story misstated Chairman Gowdy's plans for a December hearing. He plans to call back Asst. Secretary Starr to testify again, not Secretary of State John Kerry.
We want to hear what you think about this article. Submit a letter to the editor or write to letters@theatlantic.com.
Emma Roller
is a former staff correspondent for
National Journal
.