Vote on Spending Bill Postponed Amid Syria Debate
Obama seeks authority to arm and train rebels.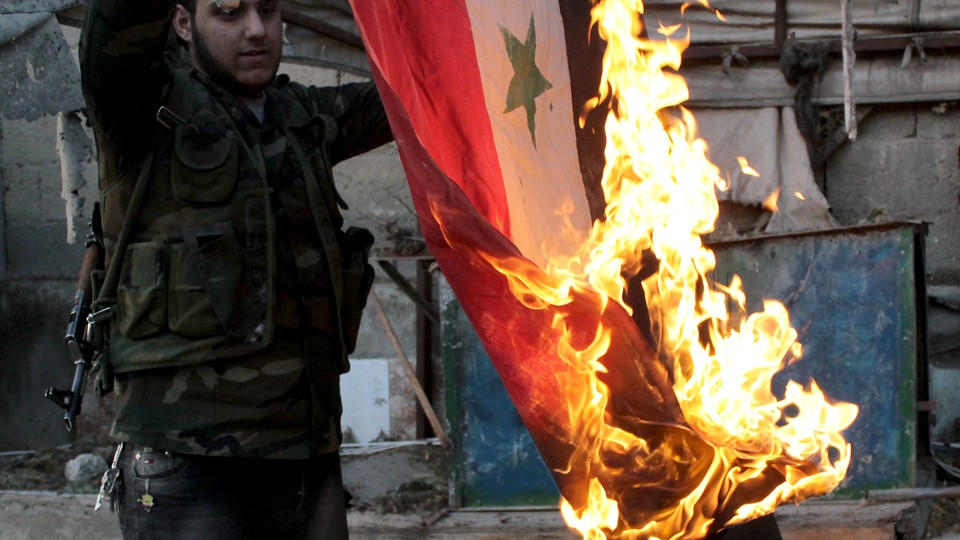 House Republicans have postponed a vote that was planned for Thursday on a must-pass spending bill, as they grapple with an eleventh-hour request from the White House to include an authorization to arm and train Syrian rebels.
House Majority Leader Kevin McCarthy announced the postponement Wednesday afternoon after the White House dispatched officials to the Capitol for a classified briefing with bipartisan stakeholders, including members of the leadership and the Appropriations, Armed Services, Foreign Affairs, and Intelligence committees.
That came after President Obama requested the authorization from leaders at a White House meeting Tuesday, and as the administration followed up with a flurry of late-night phone calls to members of leadership and the Appropriations committees asking that they include the authorization in a continuing resolution.
House Republicans are reticent to include the measure in the CR. But GOP leaders are concerned that Democrats will withhold votes for the CR if they do not include the authorization in the measure. Democratic votes will be paramount to pass the bill, since many conservatives object to the Export-Import Bank reauthorization included in it and the fact that the measure extends spending authority into December, not into 2015.
House Minority Leader Nancy Pelosi said Wednesday that Congress should give Obama the authority he sought "as soon as possible."
Asked whether it should be attached to the spending bill, she said: "Well, we want it to be on whatever engine is leaving the station, and that's one that is leaving the station. That's for sure a must-pass bill in a time-certain period of time. And I would hope that it would be on there."
House Intelligence Committee Chairman Mike Rogers said a similar request faced opposition in the past because members felt the mission was not clear, but he is waiting to hear from the administration before deciding whether to support this request.
"It's a big issue, it's critically important. A lot of members have a lot of strong feelings about it," said one GOP aide. "It's sort of an issue that's too big for a CR. It rises above the traditional constraints of a continuing resolution."
Another top Republican aide said "this isn't a new request, and it has thus far faced bipartisan opposition."
But the politics are difficult to ignore. Republicans are wary of seeming unsupportive of a president in the run-up to a military campaign heavily supported by the American public. As one Armed Services Committee Republican noted, the GOP heavily criticized Democrats for pushing back against President George W. Bush during his campaign in Iraq, so they cannot be perceived as doing the same to Obama.
Still, the concerns are bipartisan. One Democratic aide noted there are many questions about the administration's ability to arm Syrian moderates while keeping weapons and equipment out of the hands of forces loyal to Syrian President Bashar al-Assad, against whom Obama asked Congress to authorize military strikes last year.
There is also the matter of procedural hurdles. The continuing resolution is already written, and would have to be rewritten to include the military authorization. A House Rules Committee hearing that had been scheduled for 2 p.m. has been postponed as lawmakers sort through the Syria issue.
Either way, members are pushing back against the idea of adding an authorizing measure to a spending bill. Proponents of the military measure, however, are also pushing back, noting that the CR already includes at least two major authorizations: the Export Import Bank and an Internet tax measure.
House Republicans will hold a special conference meeting Thursday morning to discuss the situation in Iraq and Syria, and any requests included in the president's speech on the situation scheduled for Wednesday night.
Senate Majority Leader Harry Reid has already expressed support for granting the administration's request. And Senate Democrats could choose to move separate legislation on the subject if the House does not attach it to the CR they send across the Capitol.
"It's clear to me that we need to train and equip Syrian rebels and other groups in the Middle East," Reid said on the Senate floor. "It's called Title 10 authority. The president has tried to get that from us and we should give it to him. That's one way of helping to build an international coalition. Congress should do that."
Senate Appropriations Committee Chairwoman Barbara Mikulski would not say whether she would add the measure into a CR and send it back to the House if the House does not include it in their spending measure.
"We want to see what the House is going to do," she said in an interview on her way to meet with Reid about the matter. "It's not my decision alone, it's something in consultation with the leadership, but we're waiting for the House's actions."
A Senate Democratic aide, however, noted that the chamber could pass the authorization as a freestanding measure and send it back to the House separately from a continuing resolution, if need be.