Verdict: Charges Dropped on Account of Climate Change
District attorney in Massachusetts dismisses charges against activists, citing threat of global warming.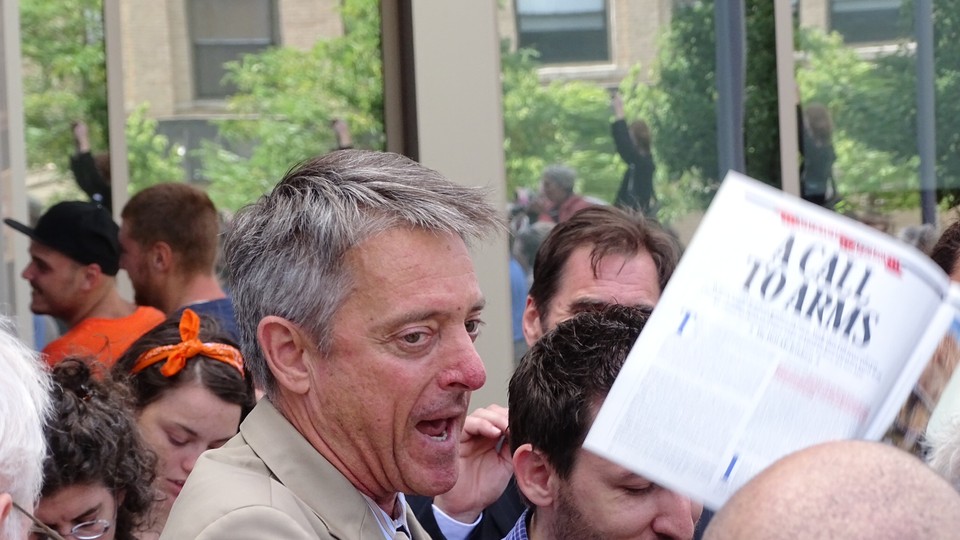 When two environmental activists used a lobster boat to block a shipment of coal to a power plant, they planned to cite the urgency of climate change to justify their actions if the case went to trial.
As it turns out, a Massachusetts county was one step ahead of them. Bristol County District Attorney Sam Sutter announced Monday that he had reached a deal to dismiss or downgrade the charges against the two activists because of the need to address climate pollution.
"Climate change is one of the gravest crisis [sic] our planet has ever faced," Sutter said in a statement. "In my humble opinion, the political leadership on this issue has been sorely lacking. I am heartened that we were able to forge an agreement that both parties were pleased with and that appeared to satisfy the police and those here in sympathy with the individuals who were charged."
Ken Ward and Jay O'Hara had faced four charges following their May 2013 blockade, during which they anchored a lobster boat in the path of a freighter delivering 40,000 tons of coal to the Brayton Point power plant in Massachusetts, delaying the shipment for a day. Ward and O'Hara—who bedecked their boat with a banner reading "#coalisstupid" and another with the logo of the green group 350.org—said the blockade was meant to show that bold action was needed to combat climate change.
The two also prepared a novel defense for their trial: They didn't dispute the facts of their blockade, but instead sought to "prove the necessity of their doing so," according to their website. They were set to argue that the "urgency and necessity of dramatic steps to curb carbon pollution to mitigate the global climate crisis" justified their actions.
It's unclear how far the "necessity" defense would have taken them. In a piece for The Boston Globe, Harvard law student Joseph Hamilton pointed to historic examples of the defense, including the San Francisco mayor who in 1920 was found not liable for destroying several homes to combat a raging fire. Activists on issues from nuclear power to abortion had mounted the defense to mixed results in recent decades.
Massachusetts courts require that defendants prove "clear and imminent danger," that the actions "would be effective in directly reducing or eliminating the danger," and that there was "no legal alternative which would have been effective" to combat the danger.
Ward and O'Hara said that their case would have explained why "legal avenues are inadequate to address this threat" and told "a story which emboldens and energizes the climate movement."
The trial, however, is off after the county reached a deal to drop or downgrade the charges, although Ward and O'Hara will be required to pay restitution to the town of Somerset, where the coal plant is based.
In a statement, Ward said that Sutter had "in effect accepted our necessity defense," calling it a victory for the environmental movement. "Protest works, indeed protest may be the only thing that can save us," he added.
Sutter, who unsuccessfully sought a congressional seat in 2012, used the deal to position himself as tough on climate, saying that the district attorney's office would "take a leadership role on this issue."
According to a transcript, he also spoke to supporters outside the courtroom brandishing a copy of Rolling Stone with an article by Bill McKibben on climate change. (McKibben, a Middlebury College professor and environmental activist, had been scheduled to testify at the trial.) Sutter said that he would join environmentalists at the People's Climate March this month in New York City coinciding with a United Nations climate summit.