Republicans Say Gas Prices Are Rising. They're Not.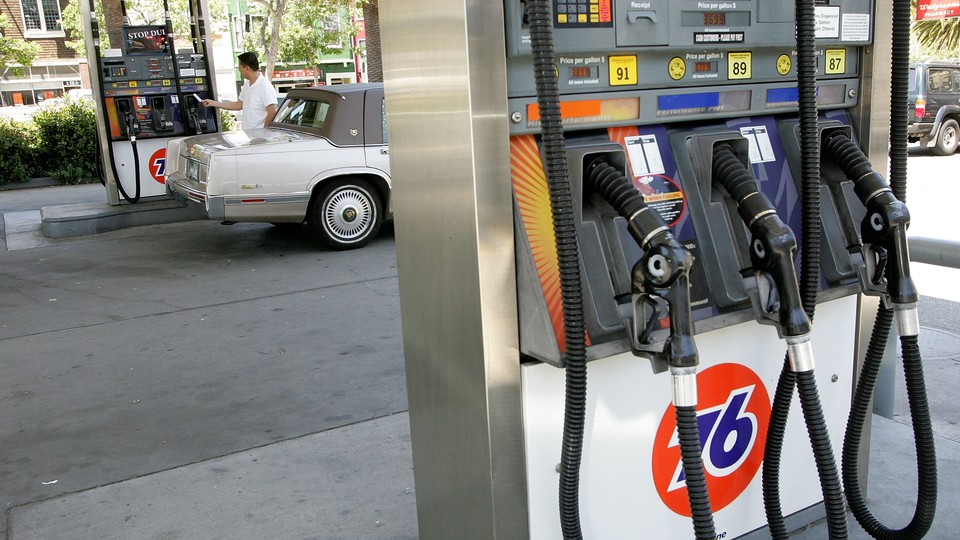 Gas prices are falling.
U.S. drivers paid an average of $3.43 for a gallon of gas Friday, the lowest they've been at this time of year since 2010. A month ago, on Aug. 4, drivers paid $3.49 a gallon.
Those figures, from AAA, come after a steady decline in fuel costs that analysts say will continue in weeks to come. And that's despite massive unrest in the oil-rich Middle East and Ukraine. Barring any major oil shocks, prices are projected to keep dropping—some regions could even see prices lower than $3.00 a gallon.
Brushing those facts aside, the House Natural Resources Committee's website reads: "House Republicans are committed to addressing America's rising gasoline prices [...] and stopping the Obama administration's policies that are driving up prices at the pump."
So how does the GOP explain the apparent mathematical contradiction? Republicans say they're taking the long view.
"Gasoline prices have nearly doubled since President Obama took office and his administration has done virtually everything possible to block increased American energy production on our federal lands and waters," said Michael Tadeo, spokesman for the Natural Resources Committee. "Prices at the pump could be even lower than they are today if we continue to expand American oil and natural-gas production."
That doesn't meet the technical definition of "rising"—which would suggest that prices are increasing right now—but the "nearly doubled" part is true. When Obama took office in January 2009, nationwide gas prices for regular fuel blends averaged a rock-bottom $1.84 per gallon. In May 2011, during the president's first term, that price had jumped to $3.96 a gallon.
The push on prices is part of a larger GOP critique of the White House: By curtailing access to fossil fuels, Obama and his environmentalist allies have pushed up fuel prices. But how much of that increase—or the current price slide—is because of Obama?
Analysts say it has more to do with the U.S. economic recovery, and particularly with global energy markets, than it does with any domestic energy or environmental policy. After all, Obama inherited 2009's low fuel prices courtesy of a cratering economy that had curtailed demand.
Before the economic havoc wrought by the burst housing bubble and ensuing financial crisis, President George W. Bush was presiding over then-record pump prices. And at that time, it was congressional Democrats ripping the West Wing for fuel costs.
Here's then-House Speaker Nancy Pelosi when prices topped $3.00 a gallon in the spring of 2007:
"Drivers are paying a heavy price for the Bush administration's failure to enact a comprehensive energy strategy," she said, vowing to pass Democratic legislation to make the country energy independent. "Years of Bush administration's policies that have favored big oil over the consumers have resulted in record dependence on foreign oil, leaving American families and businesses to pay even higher prices."
So what explains Washington's nonsensical relationship with fuel prices?
In short, it's political candy that's too tempting to pass up—economics (or math) be damned.
Fuel costs strike a chord with voters, and politicians are continually confident that they can turn pump-price indignation into electoral results. And a small slide in prices isn't likely to mollify a public accustomed to the oil prices of the 1990s or early 2000s.
Surveys show that above a certain point, price fluctuations come across to the electorate as mere degrees of bad news. In a AAA poll conducted in April, 50 percent of drivers said that gas prices were "too high" when they reached $3.30 a gallon, and 65 percent felt $3.50 was too high.
"We're seeing a situation where gas prices are a little bit less," said Michael Green, a spokesman with AAA. "That saves consumers lots of money throughout the year, but it's not yet at a point where people are happy."
---
Stephanie Stamm contributed to this article