Proof That the Left Is Ready for a Clinton Presidential Run
Progressives' fast pushback against Rand Paul shows they're determined to give Hillary Clinton the upper hand politically on climate change.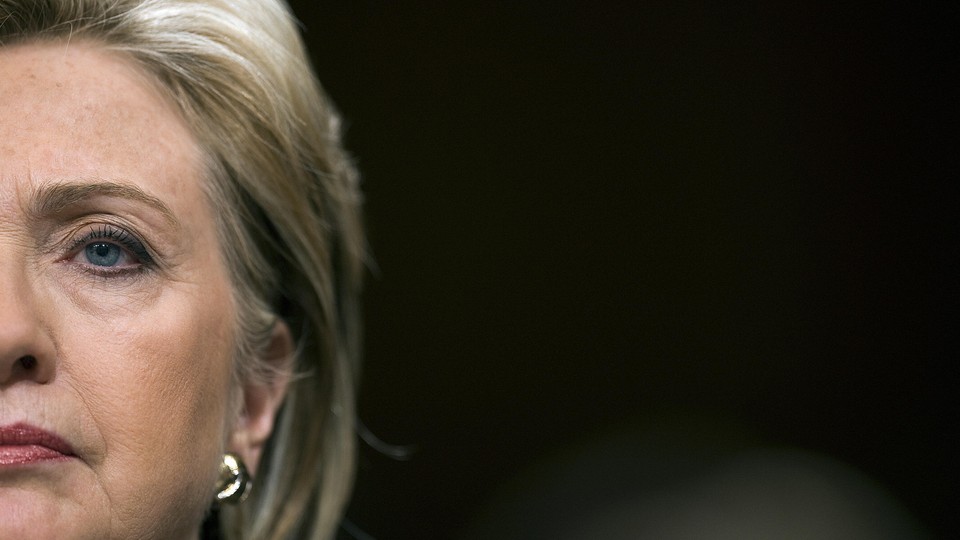 At midday Friday I posted a short item about GOP Sen. Rand Paul bashing Hillary Clinton over climate change.
Clinton called climate change "the most consequential, urgent, sweeping collection of challenges we face." Paul accused Clinton of wanting to battle climate change instead of terrorism.
It was a noteworthy exchange between a pair of potential 2016 contenders, but the disagreement itself is not particularly surprising: Clinton is a longtime proponent of climate action. Paul is a critic of Clinton's and lives on the other side of the partisan divide.
It was what happened next that caught my eye: Shortly after Paul's remarks, a pro-Clinton "rapid response" group called Correct The Record circulated a statement attacking the Kentucky senator. They also emailed me personally to (politely) inquire if I might add it to National Journal's story.
And they weren't alone.
Later in the afternoon, the League of Conservation Voters chimed in with a defense of Clinton's remarks at a green-energy conference Thursday night in Nevada, claiming that Paul's response "reflects a profound lack of understanding of how serious a threat" climate change poses.
NextGen Climate, the group backed by billionaire green activist Tom Steyer, also went after Paul for his stance on global warming: "A real threat would come from a science-denier as the leader of the free world."
It remains to be seen whether Clinton will run in 2016—she says she'll decide early next year. But Friday's press flurry demonstrates that environmental groups and others on the left are already circling the wagons behind their potential front-runner. And it's demonstrative of the campaign infrastructure that would be awaiting Clinton the moment she entered the race.
So what did Paul say that set off the green fury?
He attacked Clinton during a Fox News interview about battling the radical Islamist group ISIS, arguing: "For her to be out there saying that the biggest threat to our safety and to our well-being is climate change, I think ... goes to the heart of the matter or whether or not she has the wisdom to lead the country, which I think it's obvious that she doesn't."
That prompted environmentalists to offer reminders of military planners' warnings about the security dimensions of climate change. They said:
"Rather than repeating tea-party and Koch Brothers talking points to deny the science of climate change, Senator Paul would be better served reading the Department of Defense's latest Quadrennial review, which recognized that the impacts of climate change like extreme weather, drought, and sea-level rise will act as 'threat multipliers that will aggravate stressors abroad such as poverty, environmental degradation, political instability, and social tensions—conditions that can enable terrorist activity and other forms of violence.' "
NextGen Climate, which is billionaire climate activist Tom Steyer's group, also made the military link in a statement titled "Science-Denier-In-Chief Rand Paul Thinks He Knows Better Than the Military."
"Rand Paul, listen to the four-star generals: 16 retired three- and four-star generals and admirals issued a report and identified climate change as a 'catalyst for conflict,' " the group said in a statement.