Obama's Global-Warming Warning: 'Nobody Gets a Pass'
The president, speaking before a United Nations summit, made the case for reaching an "ambitious" climate-change agreement in Paris next year.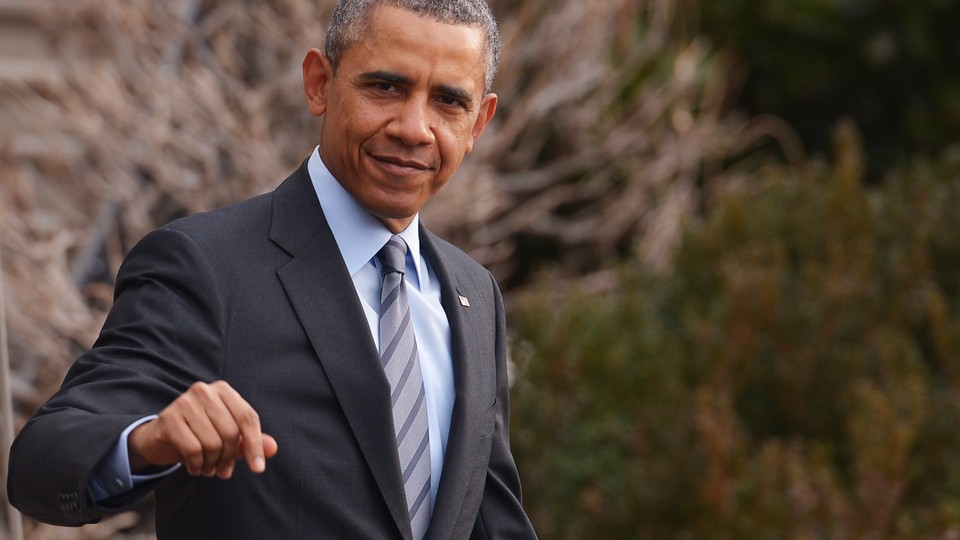 President Obama used his speech at the United Nations' climate summit Tuesday to push for a strong global climate deal in 2015 that requires action from nations including China, which is now the world's largest source of carbon pollution.
Obama touted U.S. actions, such as EPA's plan to limit power-plant emissions, and he sought to leverage those plans into more "collective ambition."
"We recognize our role in creating this problem, we embrace our responsibility to combat it. We will do our part, and we will help developing nations do theirs. But we can only succeed in combating climate change if we are joined in this effort by every nation, developed and developing alike. Nobody gets a pass," Obama said.
His remarks were part of a major one-day summit that U.N. Secretary General Ban Ki-moon convened largely to try to create momentum for rocky negotiations aimed at reaching a new accord in Paris late next year.
Obama pointed out that the emerging economies that experienced some of the biggest economic growth have also emitted rising levels of carbon pollution.
"It is those emerging economies that are likely to produce more and more carbon emissions in the years to come," he said. "So nobody can stand on the sidelines on this issue. We have to set aside the old divides. We have to raise our collective ambition, each of us doing what we can to confront this global challenge."
The 1997 Kyoto Protocol's emissions limits did not extend to developing nations. And the U.S. never joined the pact, which could not have made it through the Senate. The U.S. is the largest historical source of greenhouse gases, but its current emissions are the world's second-largest and well behind China's. India is now the world's third-largest source of greenhouse-gas pollution.
Obama singled out China, stating during the speech: "Just a few minutes ago, I met with Chinese Vice Premier Zhang Gaoli, and reiterated my belief that, as the two largest economies and emitters in the world, we have a special responsibility to lead. That's what big nations have to do."
The Chinese vice premier, speaking at the summit, said China would make an "even greater effort" to battle climate change and seek to have its rising emissions peak as early as possible.
Negotiations heading into Paris are focusing on a deal in which, unlike the "top-down" Kyoto pact, nations would decide on their own "nationally determined" emissions targets.
Those voluntary pledges would be wrapped into a larger pact that has some form of legal force. But there's a strong possibility that it would not be a formal new treaty that would demand ratification by the U.S. Senate—which would be nearly impossible to secure absent a sea-change in climate politics on Capitol Hill.
The U.S. plans to offer a post-2020 emissions-reduction pledge by early 2015, and Obama said the U.S would meet its current target, pledged five years ago, of reducing its emissions by 17 percent below 2005 levels by 2020. U.S. carbon emissions have dropped by around 10 percent over the past decade.
"Early next year, we will put forward our next emission target, reflecting our confidence in the ability of our technological entrepreneurs and scientific innovators to lead the way. So today, I call on all major economies to do the same," Obama said.
The U.S. and other nations used Tuesday's summit to announce or promote partnerships on deforestation, climate aid for poor countries, curbing methane emissions, and other topics.
Neither India nor China sent their heads of state to the summit, but they are represented by very high-ranking officials.
The summit occurs two days after a release of a report showing that global emissions soared to record levels in 2013, and are slated for another record this year.
In his climate speech, Obama echoed his second-term inaugural address and his major June 2013 climate speech, framing climate change as a sweeping threat. He pointed to extreme weather events like Hurricane Sandy, the longer Western wildfire season, and temperature records over the last decade.
He cited "deepening science that says this once-distant threat has moved firmly into the present, and into the sting of more frequent extreme weather events that show us exactly what these changes may mean for future generations."
"So the climate is changing faster than our efforts to address it. The alarm bells keep ringing. Our citizens keep marching. We cannot pretend we do not hear them," Obama said, an apparent reference to the march in New York on Sunday that drew hundreds of thousands of people. "We know what we have to do to avoid irreparable harm. We have to cut carbon pollution in our own countries to prevent the worst effects of climate change. We have to adapt to the impacts that, unfortunately, we can no longer avoid."
Obama also issued an executive order Tuesday that requires federal agencies to factor climate-change "resilience" into international development programs and spending.