Meet the Trackers: Inside the Strangest Job on the Campaign Trail
There's a whole caste of young staffers who follow candidates all day every day, hoping to capture the next "47 percent" or "Macaca" moment.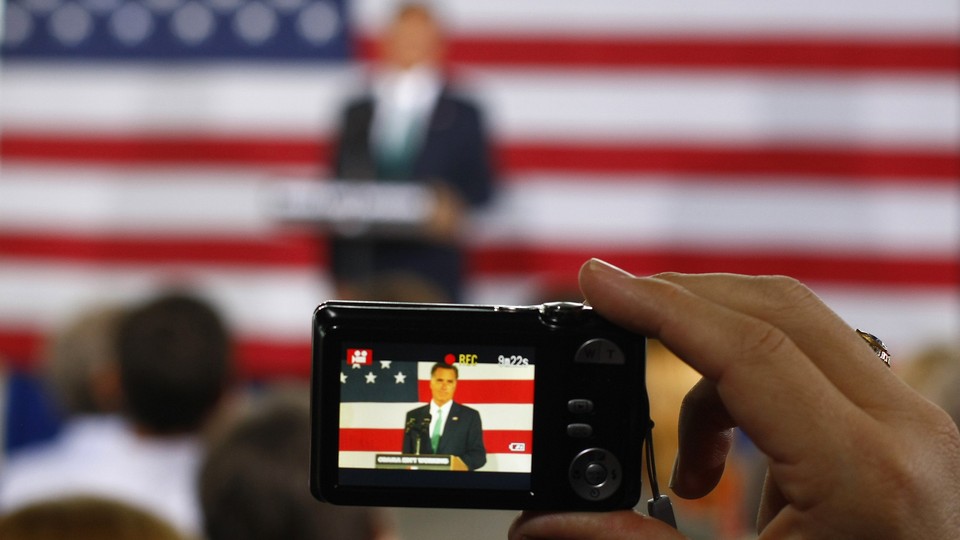 Kelli Farr remembers running through a cornfield after getting yelled at by a crowd of Sarah Palin fans.
It was 2008, and Farr was working as a campaign tracker—someone employed by an opposing political party to follow a candidate on the campaign trail, documenting his or her every move, in hopes of capturing a slipup.
The cornfield incident occurred when Farr was tracking Palin's 2008 campaign for vice president. "There were many times when the crowd would get pretty angry," Farr told National Journal. "We had to be escorted out of some events for the crowd getting a little angry at the people in the press riser. People like to blame the people filming."
Farr is now the vice president and director of tracking at American Bridge, a Democratic organization that is sisters with Media Matters and Correct the Record, two organizations that are at constant war with Fox News and conservative media at large.
American Bridge employs 43 trackers to cover 39 states. Since 2012, the organization has tripled the number of events its trackers cover. In 2012, Bridge's 20 trackers recorded 3,000 events in 33 states. In 2014, they have tracked more than 9,000 events and traveled a cumulative 693,000 miles.
"When it's a presidential campaign, you're going from flight to flight to flight to event," Farr said. "Their schedule is your schedule. So if you have a candidate that's having eight events a day, you have eight events a day. And you're obviously usually surrounded by people that have different opinions than you, and are definitely fighting for the exact opposite of what you are."
Some trackers have been following the same candidate for years—around the state, around the country, on planes, on buses, in town halls, in swanky fundraisers—all on the off chance that they'll get the candidate on tape saying something politically distasteful or flip-flopping on a position. A new "47 percent" or "Macaca," if you will.
"Political commentator Michael Kinsley once said that the definition of a gaffe is when you catch a politician telling the truth," American Bridge's about page reads. "That's exactly what we plan to do."
On the Republican side is America Rising, a super PAC formed in 2013 by Matt Rhoades, who served as Mitt Romney's 2012 campaign manager, along with other veteran Republican operatives. (Ironically, the same people who may have lost a job in the West Wing because of a stealthily taped gaffe are now trying to take out Democrats using the same methods.)
America Rising employs 27 full-time trackers in 24 states, as well as a "few dozen" part-time trackers to cover miscellaneous events, or in congressional districts where the candidate doesn't do enough events to justify having a full-time tracker.
"The kinds of people that are part-time trackers really run the gamut, from College Republicans that are still in school, to people who work in Republican politics whose bosses would give them the flexibility to leave for an hour and go do an event, to stay-at-home moms who are making a little extra money on the side," America Rising cofounder Tim Miller said.
While the two groups may look like mirror images of each other—a political "Spy vs. Spy"—the Democratic organization is much more well-heeled than its Republican counterpart. American Bridge has more than five times the cash on hand as America Rising, according to their most recent Federal Elections Commission filings. At the end of July, American Bridge had more than $1.7 million in the bank, while America Rising had roughly $329,000.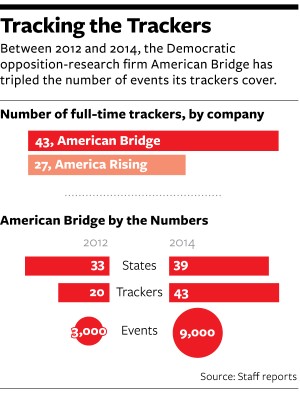 There is a weird symbiosis between trackers and the campaigns they're covering. Some trackers will actually develop an amiable relationship with the campaign staff. "It really depends on the candidate," Farr said. "We've definitely had candidates that were very respectful and even created friendships with some of our trackers."
"It's a mix," Miller said. "There are friendly staffers. I'm having trouble thinking of an example where it's completely amicable."
There are definitely stories to the contrary. In August, one of America Rising's trackers caught heat for recording a public event for Alabama's Democratic candidate for attorney general, Joe Hubbard. At the event, Hubbard accused the tracker of "dirty tricks" and retaliated by tweeting out photos of the tracker, his America Rising ID badge, and his LinkedIn profile. In June, two trackers employed by the Republican Party were caught using "spy glasses" to record a private fundraiser for Michigan's Democratic candidate for governor.
Ideally for America Rising and American Bridge, though, the campaigns will eventually ignore the tracker altogether and let her do her work. In exchange, the tracker won't hassle the campaign—until her video gets uploaded to YouTube later that night.
"In the vast majority of cases, we tell our trackers we want them to be a fly on the wall," Miller said. "We want them to go stand in the back of the room, not be a problem, and get as much video as possible. This is not like the old days where you'd jump somebody out from behind a bush and try to create a news story. That's not our objective."
He added, "Now, if candidates are hiding from the cameras and refuse to let us into any events, then in those cases we look to other strategies."
The fly comparison is especially apt. For a candidate's communications team, who try to make sure their boss sticks to talking points and doesn't go off script, trackers are like pesky flies who won't leave them alone.
Miller worked as Jon Huntsman's press secretary during Huntsman's 2008 campaign for president, so he knows the other side of tracking. While Huntsman's advance staff would sometimes try to shoo away trackers from Democratic organizations, those higher up in the campaign didn't care as much about their presence.
"I do think that the press people's initial instinct is to be hostile," Miller said. "It's more trouble than it's worth to be wasting a staffer's time trying to kick out a tracker when they should be signing up volunteers."
So, who are these trackers? It's hard to say, since neither American Bridge or America Rising let their trackers talk to the press. "A lot of people think it's just an intern sent out with their iPhone," Farr said. "These kids have to know everything about that race. They follow these people three years at a time and become experts of everything they've ever said."
America Rising's trophy hunting paid off this year—with Bruce Braley, a Democratic candidate for Senate in Iowa. At a campaign event in March, an America Rising tracker caught Braley on camera deriding Senator Chuck Grassley as a "farmer from Iowa who never went to law school" serving as the next chair of the Senate Judiciary Committee—a critique some said was blown out of proportion, but not quite the populist image politicians like to evoke. (Braley's campaign says he knew he was being videotaped.)
Miller is proud of his group's bounty, as he should be—Braley's "farmer" quote has caused his campaign to falter. The Des Moines Register called the race "the epicenter of the GOP battle to reclaim power in the U.S. Senate." Political prognosticators are now more hesitant about his chances. "Braley is a solid recruit, but he has taken several missteps, including insulting Senator Chuck Grassley, who is very popular in the state," writes the The Cook Political Report, which considers the race a toss-up.
"The Bruce Braley video was the most significant thing that we've done," Miller said, referring to the 2014 cycle.
The Braley campaign has kicked America Rising's tracker out of at least 27 events, according to the The Des Moines Register. Miller says America Rising's strategy is to use carrots and sticks—they'll send trackers to cover a campaign and be cordial "at the start," but if the campaign gives them trouble, they'll become more aggressive. That aggression can translate to hyping up "gaffes" that aren't substantial. Take, for instance, this America Rising video calling Braley the "John Edwards of 2014." (Conservative outlets like the Washington Free Beacon and Breitbart took the comparison and ran with it.)
The video uses tracker footage of Braley supposedly getting his makeup done before a CNBC interview, and mashes it up with the infamous video of Edwards obsessing over his hair before an event. The video is scored by the song "I Feel Pretty" from West Side Story.
CNBC didn't take kindly to the clip. "Fact-check: Braley is getting wiped off by @CNBC crew AT OUR REQUEST bc we prefer our guests not sweating on TV," CNBC's John Harwood tweeted.
Braley isn't the only success trackers have had this cycle. Aside from Braley's farmer gaffe, America Rising's trackers have bagged some big game. Most recently, one of their trackers caught Senator Harry Reid joking to a crowd at the Asian Chamber of Commerce that, "I don't think you're smarter than anybody else, but you've convinced a lot of us you are." Another video shows Representative Scott Peters of California joking about a gay female Republican in his district, "Who does she have lunch with?"
On the Democratic side, an American Bridge tracker caught Scott Brown, who is running for the Senate in New Hampshire, flip-flopping on climate change. Another tracker caught Senator David Vitter of Louisiana telling a crowd, "I think the Koch brothers are two of the most patriotic Americans .... God bless the Koch brothers." The story that was quickly snatched up by left-leaning news outlets.
None of these revelations exactly add up to a "47 percent" moment, for Republicans or Democrats running this year. But that won't dissuade groups like American Bridge and America Rising from doggedly pursuing candidates, in this cycle and beyond.
American Bridge employs three trackers in Florida alone, and "multiple" trackers in Iowa. "We just have the sheer numbers," Farr said. "We have people we can shift all over the country when need be."
America Rising, the Republican group, has a Democrat "rising star program" to track Democrats who may have presidential ambitions—which mainly means Hillary Clinton, along with Senator Elizabeth Warren, Maryland Governor Martin O'Malley, and Senator Bernie Sanders.
"Anybody who's looking at 2016, we'll track 'em," Miller said. "We've got a tracker in all of the early states—Iowa, South Carolina, New Hampshire, Nevada—and we anticipate keeping people there through 2016."