McCain: It's a 'Fundamental Fallacy' That U.S.-Armed Rebels Will Fight ISIS in Syria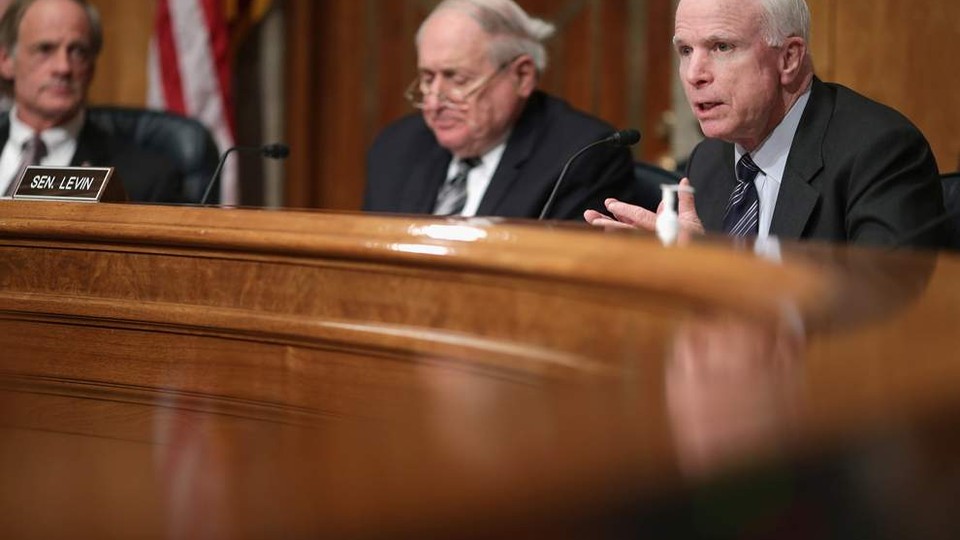 In defending President Obama's strategy on ISIS, Joint Chiefs of Staff Chairman Martin Dempsey and Defense Secretary Chuck Hagel suffered the wrath of committee member John McCain.
The Republican senator from Arizona on Tuesday slammed the administration officials over Obama's plan to arm and train 5,000 Syrian rebels to fight the Islamic State, declaring that they had a "fundamental misunderstanding of the entire concept of the Free Syrian Army."
There would be no way, he said, to ensure that the rebels would focus entirely on destroying ISIS, when their primary enemy thus far has been the regime of Syrian dictator Bashar al-Assad.
"Our focus is on ISIL," Hagel told the committee, using the administration's preferred acronym for the terrorist group.
"You don't think that the Free Syrian Army is going to fight against Bashar Assad, who has been decimating them?" McCain asked incredulously. "You think these people you're training will only go back to fight against ISIL? Do you really believe that, general?"
Dempsey demurred. "We do not have to deal with it now," he said.
"For to us say that we will help and train and equip these people only to fight against ISIL, you're not going to get many recruits to do that, general," McCain said. "That's a fundamental fallacy in everything you are presenting this committee today."