Marco Rubio Flaps His Hawk Wings
The senator painted himself as a student of neoconservatism Wednesday.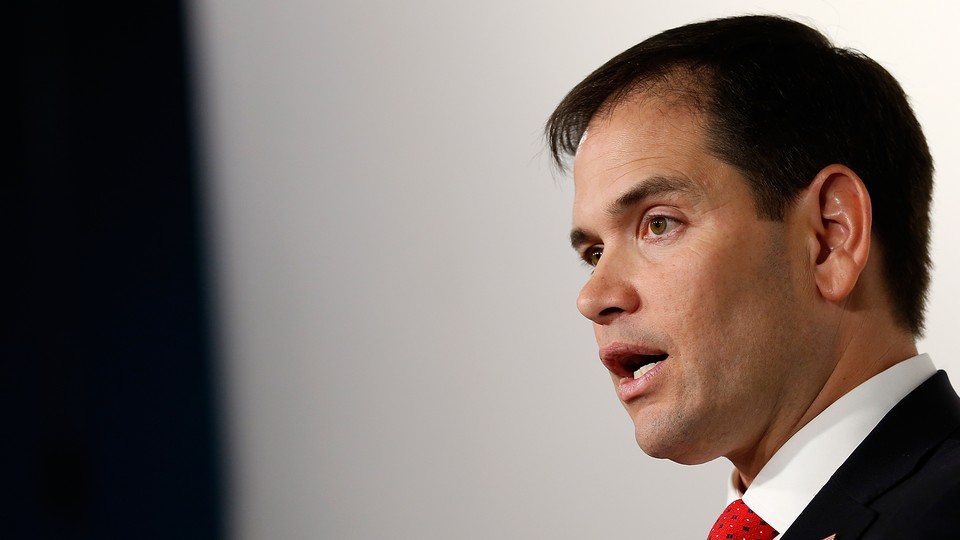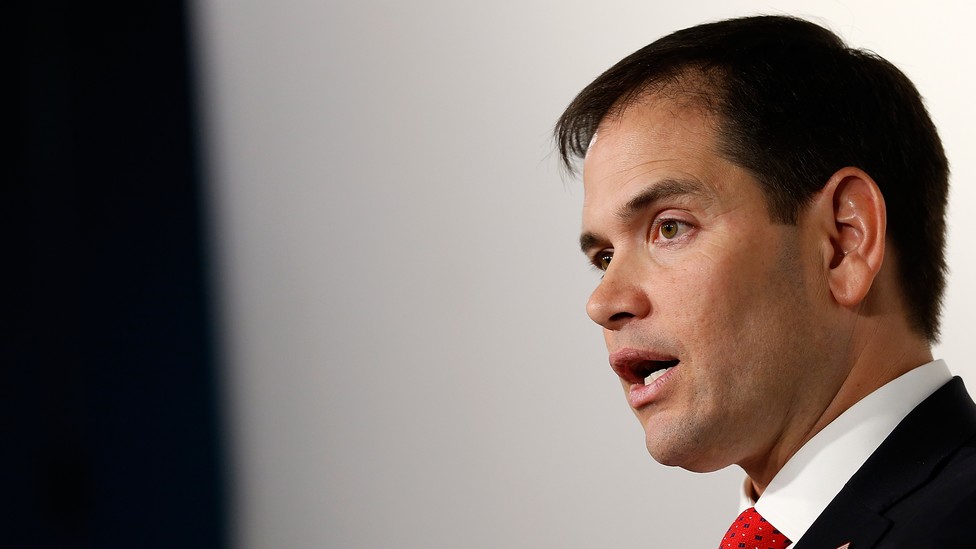 Dick Cheney has finally found the Harry Potter to his Albus Dumbledore—Sen. Marco Rubio.
In a speech Wednesday, Rubio, R-Fla., called Edward Snowden a "traitor," outlined an aggressive foreign policy platform, and took some not-so-subtle jabs at President Obama and some of his less-hawkish fellow Republicans.
Rubio's speech was sponsored by the John Hay Initiative, an organization that doesn't have its own website. The group, which is the brainchild of Mitt Romney's former foreign policy team, has been discreetly working over the past year to help potential presidential contenders sharpen their foreign policy chops.
And 2016 provided the subtext to Rubio's speech on Wednesday, as he verbally subtweeted his colleague and fellow potential 2016 candidate Sen. Rand Paul.
"Too many leaders in both parties, including our president and some who aspire to be president, have shown they would rather wait for poll numbers to change than demonstrate the leadership necessary to shape them," Rubio said. "Instead of outlining the costs of inaction to our people months ago when they should have, they were content to take the political path of least resistance."
Rubio also used his speech to urge Congress to authorize more defense spending—echoing a very similar pitch that former Vice President Dick Cheney made at the American Enterprise Institute one week ago.
"National defense is not an area where we can flip a switch when a need suddenly arises," he said. "Modernization, innovation, and training must be sustained priorities, even in times of relative peace."
Compare that to part of Cheney's speech at AEI last week: "President Obama seems willfully blind to one of the key facts about the post-9/11 security apparatus: It is not self-sustaining. Those programs and policies must be kept strong and current."
Rubio and Cheney's simpatico philosophies are not new. Last year, while discussing Rubio on Sean Hannity's radio show, Cheney said, "Marco's great.... I'm a big fan of his." Nor is it news that Rubio has become the Republican Party's new face of neoconservatism, whether he wants to be or not.
Still, his speech was more definitive—and at times, more damning—than past remarks he's given on the situation in Iraq, and American defense in general.
On "declining American strength":
"The trend of declining American strength had been largely incidental among previous administrations, but now it is an active priority. Previous presidents had merely taken their foot off the gas pedal of American strength, but President Obama has stomped on the brake."
On defense spending:
"First came defense cuts of $487 billion over 10 years. Then, adding insult to injury, the savings found in the defense budget were redirected to already bloated domestic programs."
"The Army is set to be reduced to pre-World War II levels. The Navy is at pre-WWI levels. And our Air Force has the smallest and oldest combat force in its history."
"Some argue our equipment is more capable, so our force doesn't need to be as large. But the world is still the same size. Even the most advanced combat aircraft, ship, or soldier can only be in one place at a time."
On intelligence operations:
"When our intelligence community is fully resourced, it is better positioned to identify potential threats before a single one of our troops or citizens is put at risk. Unfortunately, our intelligence capabilities have been badly damaged under this president, and are going to have to be rebuilt."
"When our capabilities are exposed by leaks from within the administration and from traitors like Edward Snowden, we are endangered. When we cease collecting on legitimate targets, we reduce our awareness."
On drawing down ground troops in Afghanistan:
"Recent reductions to our Army and Marine Corps have risen from the dangerous illusion that America will never again have significant ground forces in combat. But as we've learned in Iraq, declaring wars over does not end them. Even as we continue to draw down in Afghanistan, for instance, we need a sizable force if we want to avoid repeating the mistakes of Iraq."
On cybersecurity:
"The FBI has warned that cyberattacks are fast becoming the primary domestic threat to the United States. Our cyber superiority has been dwindling for the last decade, and now the U.S. needs to make up for lost time. Enemies should be just as afraid to hack our servers as they are to lob bombs at our cities."
---
Rebecca Nelson contributed to this article