Is Cathy McMorris Rodgers More Than a Token?
Her social-media and tech efforts are meant to boost the GOP, but will the highest-ranking woman in the House find the motivation to boost herself?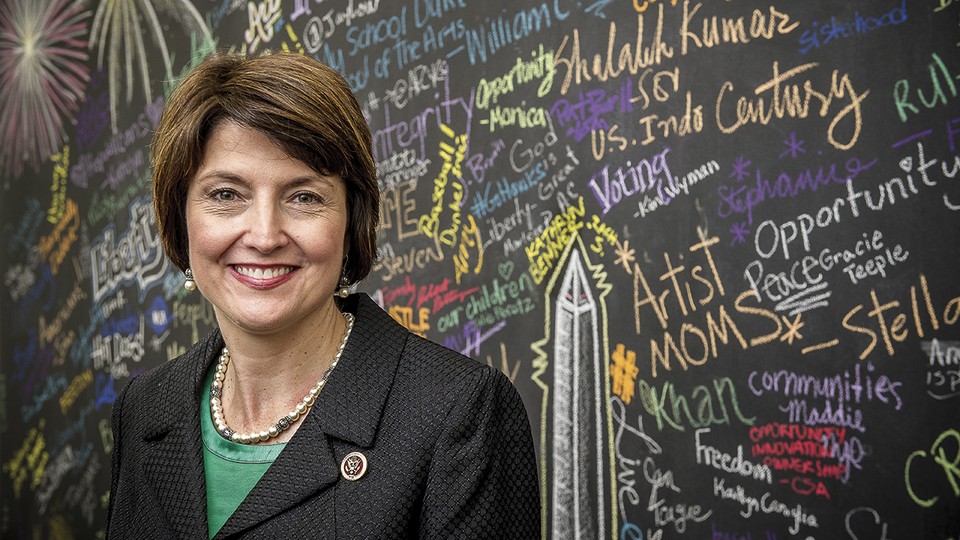 Not long after Cathy McMorris Rodgers was elected to the state Legislature, her mentor, Mark Schoesler, traveled with her to Washington State University for meetings in the district she now represents. The previous few years had been a whirlwind for the 25-year-old freshman Republican. McMorris Rodgers was not long out of college when her father got her a job on a political campaign. That quickly turned into a position as a legislative aide in the state House and then an appointment to her boss's seat when he ran for the state Senate. The new lawmaker headed to WSU with Schoesler by her side.
While Schoesler, nearing 40 and in his second term in the Legislature, attended meetings, McMorris Rodgers stayed outside, entertaining his 15-year-old daughter before a football game.
For Schoesler, who is now minority leader in the state Senate, that scene is important to the tale of McMorris Rodgers's career. It illustrates how personable McMorris Rodgers is, and how easily she relates to and charms young women—the very type of voters her party needs to attract. She was "shy," he said, "a very humble person, very down-to-earth" and willing to spend time talking with a teenager while he spoke with constituents and community leaders in Eastern Washington's hub of agribusiness and research. Schoesler did not intend to denigrate McMorris Rodgers by emphasizing her interaction with his daughter over any legislative accomplishment or demonstration of political skill. He didn't think it might lead anyone to wonder whether her peers in the Legislature thought she was a capable politician, or if they instead saw her skills as better suited to child care.
Yet the story highlights themes that have characterized McMorris Rodgers's entire career: her tendency to sit on the margins instead of around the table, and the frequency with which her peers and political watchers remark upon her gender and her abilities as a mother (or, in this case, a babysitter) instead of her accomplishments. It underscores a reputation for taking a backseat that she has never been able to shed, and which has driven colleagues to whisper about tokenism and allies to assume she will never rise above her current job as No. 4 in House leadership. Even in the face of success, her gender is given credit for her position, not her hard work or skill.
When McMorris Rodgers was floated as a potential running mate for Mitt Romney in 2012, for example, the press and political analysts alike focused on her gender and her ability to fit in better with the campaign than some of her female colleagues, such as Michele Bachmann. McMorris Rodgers, for the record, says that the Romney campaign never reached out to her, and she doesn't believe she was ever truly on its list of possible running mates. But her potential candidacy was, nonetheless, dismissed as nothing more than an opportunity for Republicans to tick off an item on their diversity checklist, despite the lawmaker's eight-year record on Capitol Hill, where she had already begun to climb the leadership ladder.
Again, when she was selected to respond to President Obama's State of the Union address earlier this year, McMorris Rodgers was seen as a diversity pick, not the best person for the job. Some Republicans and pundits hinted at tokenism, but Democrats came right out and said it, with Rep. Steny Hoyer calling her selection nothing more than a "transparent" ploy by the GOP to appeal to female voters. One of her 2014 primary opponents even called it a "Miss Congeniality" speech in both his campaign literature and a radio ad.
And when asked about her future in House Republican leadership, her male colleagues and friends don't just discuss her successes or failures in evaluating McMorris Rodgers's merit. They talk about her motherhood, citing three young children at home who take up so much time that she cannot possibly form the kind of tight-knit relationships with colleagues that she would need to get a promotion on Capitol Hill.
McMorris Rodgers is easy to overlook, and, as her visit to WSU with Schoesler demonstrates, she often makes it even easier. A disdain for self-promotion and an apparent lack of ambition have cast a shadow over her political career—a career she often planned to leave for something lower-profile. Indeed, almost every time she moved up in Washington state or in Congress, it wasn't because she wanted a new job. It was because she received a call. Most often, that call came from an older, more politically experienced man, who was openly calculating the benefits of promoting a young, intelligent, hardworking woman in a party that has been hammered for a lack of diversity. McMorris Rodgers truly is a convenient woman for the party to promote, a diversity win with an interesting background and an ability to stay on message.
But that's a thin tale, one that's too easy, too obvious, and doesn't tell the full story. The truth is, it's precisely these qualities that tailor McMorris Rodgers to her House leadership job. Allies call McMorris Rodgers "unassuming," while colleagues refer to her as "consensus-building" and "conciliatory." And those close to the 45-year-old congresswoman, at home and in the Capitol, say these traits are a deliberate component of a well-thought-out strategy.
McMorris Rodgers's willingness to take a backseat has won over colleagues across her conference, from conservatives such as Rep. Thomas Massie of Kentucky to leadership allies like Tom Cole of Oklahoma. Even Democrats have little negative to say about the highest-ranking woman in the Republican House.
So why can't she shake the pernicious characterization that she is where she is only because she's a she?
CATHY MCMORRIS ROGERS never saw herself where she is today.
She left home in Eastern Washington to study in Florida at Pensacola Christian College, a small conservative Baptist school that was not accredited at the time. McMorris Rodgers majored in pre-law—not to go to law school, not to become a lawyer or to go on to a career in politics, but to be a paralegal. Even her academic adviser thought she was crazy, McMorris Rodgers recalls.
Throughout her career, McMorris Rodgers planned to live her life in the background. But time and again, someone urged her to step out in front. Like so many of the women she has recruited to run for Congress since, McMorris Rodgers needed a nudge.
When Bob Morton was looking for a campaign manager to assist in his first run for the state Legislature, he called McMorris Rodgers's father, a county Republican Party chairman. McMorris Rodgers had no political experience, but she was young and smart and Wayne McMorris's daughter, so Morton hired her and then kept her on as his legislative assistant. "I honestly imagined myself working more behind the scenes," McMorris Rodgers says. "Although, from the very beginning, Bob Morton was always encouraging me: 'Go represent me at this meeting,' 'Go give this speech.' You know, I was, like, 'Huh?' And I, I look back on it now and I think he saw something in me that I didn't see in myself, really."
When Morton ran for the state Senate, he needed someone to take his place. Once again, Morton called McMorris Rodgers, and he persuaded the reluctant 25-year-old to accept an appointment to his seat. And in 2002, when the party's leader of 16 years, Clyde Ballard, decided to retire, McMorris Rodgers listened to some of her colleagues eager for a "new look"—as the state party chairman put it at the time—and took down two members of the leadership to become the state House's first female minority leader.
Despite her win, that same year she enrolled at the University of Washington to get an M.B.A. so she could leave the Legislature altogether and begin a business career.
But then, two years later, she got yet another call. This time it was from Rep. George Nethercutt, who had decided to run for the Senate and urged McMorris Rodgers to take his place in Congress. Once again, McMorris Rodgers thought to herself: "Ah, I'm not sure that's right for me." But Nethercutt recognized what all of the other callers had as well: McMorris Rodgers's profile would give her an advantage in the race.
"I'll be frank. Without being rancorous, it's hard to run against a woman. It's different, I'll say. I thought that might give her a little bit of edge," says Nethercutt, who eventually lost his bid to unseat Sen. Patty Murray.
But Nethercutt and other Republican leaders in the state also saw a personal story that would work well in a congressional race: a 34-year-old district resident who grew up in rural Washington and worked on her family's farm before taking a job at McDonald's; a descendant of Oregon Trail-traversing pioneers; and the first in her family to graduate from college. "I just thought, if you don't try, you're guaranteed to lose," Nethercutt says.
That call persuaded her to run. "It meant a lot for him to believe in me," McMorris Rodgers says now.
Nethercutt had been right. Once again, McMorris Rodgers won an election she hadn't expected to be in. It was the first of many landslide victories in the House.
JOHN BOEHNER SPOTTED McMorris Rodgers early in her career on Capitol Hill. Then chairman of the House Committee on Education and the Workforce, he sought her out to join his panel. "She impressed him as being energetic, sincere, hardworking, a team player, and someone people kind of relate to very well," Boehner spokesman Michael Steel says.
Come 2008, Boehner had ascended to House minority leader, and his leadership roster was dominated by white men, despite two straight elections in which Republicans had lost badly thanks in part to a widening gender gap. Boehner and his then-chief of staff, Paula Nowakowski, decided they needed to add a woman to the team. They quickly turned to McMorris Rodgers to ask her to run for vice chair of the GOP Conference.
She said yes—and ran unopposed.
McMorris Rodgers took over as vice chairwoman with a severely limited budget and lofty goals, specifically to help her party close the digital divide after Barack Obama's Web-savvy campaign in 2008. Even given the constraints of her budget and of having a "vice" in front of her title, McMorris Rodgers expanded the party's digital imprint, significantly increasing the GOP's online presence with a contest pitting members against one another in a "New Media Challenge." She launched conference calls with bloggers, featuring members of the Republican majority, to help get out the party's message online. In her two terms as vice chairwoman, the number of GOP members on social media skyrocketed from 30 percent to 90 percent.
A turning point came when, after two terms of working at the whim of the chairmen above her—first Mike Pence and then Jeb Hensarling—McMorris Rodgers called Boehner and announced her intention to run for the chairmanship. For the first time in her political career, McMorris Rodgers knew what she wanted to do and was actively working to get herself there.
The prospect of helping her party grow and her conference communicate in a way that it had been failing to do for decades ignited a passion in McMorris Rodgers that had been missing in much of her earlier career. That she could do it best by taking a backseat and helping others to speak only made the opportunity seem brighter. "I just saw conference chair as being a place where I could really have a greater influence ... to change the culture on Capitol Hill," she says.
This time, she would not be unopposed. Standing in her way was Tom Price, a Georgia Republican and former chairman of the conservative and increasingly influential Republican Study Committee, who was more than a decade her senior. McMorris Rodgers pitched herself as a tech-savvy campaigner, highlighting her work as vice chairwoman and the money she'd raised for Republican candidates. Her motto: "We have to modernize, as Republicans, not moderate."
Although neither Price nor McMorris Rodgers said it at the time, it was clear to many in the conference that the contest came down to a fundamental disagreement about the party's prospects in the wake of its 2012 defeat. It had been only two weeks since Election Day, and Republicans were still reeling from a second loss to Obama, who again entered the White House on a wave of young, Hispanic, African-American, and female voters. Obama won female voters by 18 points, and the down-ticket trends weren't any more favorable to the GOP. The party's top three Republicans in the House were all older white men. So was Price.
Republican leaders would not admit it then—or even now—but Speaker Boehner, then-Majority Leader Eric Cantor, and then-Majority Whip Kevin McCarthy backed McMorris Rodgers for the job. Hensarling, who had worked with her as the outgoing conference chairman, stood by Price. In a closed-door vote, McMorris Rodgers came out the winner.
Many whispered that McMorris Rodgers's victory over Price came down to her gender. Even Cole, who helped to count votes for McMorris Rodgers, had touted the importance of having a woman in a leadership position in pitching her candidacy. But McMorris Rodgers dismisses the idea that her gender was responsible for her colleagues' decision to hand her the chairmanship. "I think it's an easy shot for people to make, to say that it's just because I was a woman," she says. "There was a lot taken into consideration, and it was the leadership that I had shown in the past."
McMorris Rodgers became the highest-ranking woman in the House, flanked by two other women: Lynn Jenkins, who serves as her vice chairwoman, and Virginia Foxx, who won election as conference secretary.
CONFERENCE CHAIR is a thankless job that calls on its occupant to put aside ambition and personal agendas to prioritize the needs of the conference. It requires a single individual to disseminate a coherent message for a party that right now is better known for its divisions than for its commonalities.
Previous conference chairs, including Boehner, have used the job as a leadership springboard. But McMorris Rodgers so far has not. How could she when she seems almost uncomfortable talking about herself? She stumbles—injecting "wow" and "oh, boy" into her normally well-delivered talking points—when asked questions quite standard for a politician: Why did you get into politics? How do you work with others? By contrast, ask her about the party and she will easily rattle off messages she's taken months to hone.
That discipline, and a preference for amplifying the voices of her colleagues, has generated goodwill for McMorris Rodgers. But it has also led her to have a much lower profile than other members of leadership in either chamber. Consider her Washington colleague Murray, also No. 4 but on the other side of the Capitol, who has been tasked by the Democratic leadership with brokering massive financial deals with Republicans, including last year's Ryan-Murray budget agreement.
Meanwhile, McMorris Rodgers spends most of her time behind the scenes, crafting messages. "I'm trying to promote a Republican cause," she says. "And part of that is [about] message as well as messengers. It's not about me, it's not about my profile, it is about doing that which I think is going to help our overall effort to advance the conservative cause."
To promote that "cause," McMorris Rodgers has turned to the tech world for guidance. She overhauled her office to resemble her idea of a Silicon Valley start-up. One wall in the entryway is now covered in chalkboard paint and announces to visitors: "WELCOME! In one word: What makes America GREAT?!" Staffers are on hand with pieces of brightly colored chalk, and everyone who enters the office is encouraged to offer his or her ideas. ("Potatoes" is a staff favorite.) Everywhere there are sharply stylized posters with quotes that urge: "Move fast and break things." A slide from the Republican Conference produced in early August. (House GOP)
She has four full-time staffers dedicated solely to creating banners and video products for other members to use on social media and in their districts, a luxury most rank-and-file offices can't afford. The team operates like a small advertising agency, creating modern tools to help members talk to their constituents. It's all part of a new, brighter, more image-conscious GOP.
Her team's work was evident in the party's swift and coordinated response to the Supreme Court's Hobby Lobby decision. And when members returned home in August to campaign, McMorris Rodgers's graphics touting the number of bills the House has passed, and how many jobs have been lost since the recession, could be seen across Republican members' Twitter, Facebook, and Instagram accounts. All of this in an attempt to keep 234 members on a predetermined and coordinated message.
She's also started training seminars for members and their staffs, particularly the relatively inexperienced Class of 2010, bringing in experts to teach them management skills and how to navigate congressional rules and procedure. She holds lunches for the conference where CEOs from companies such as Cabela's and Wells Fargo give TED-style talks, advising members on everything from changing Washington's image to management. "I have done a number of those, and they, from an intellectual standpoint, have been the most interesting of the different visits that you get on Capitol Hill," Rep. Mark Sanford of South Carolina says.
Indeed, her efforts aren't just tolerated, they're popular. And they've won her unlikely allies. "I think she's doing a great job," says conservative Rep. Raul Labrador of Idaho, a frequent critic of GOP leadership. "Her job is made more difficult, I think, by our lack of an agenda. I think she wants to have one, and she wants to have one that we can communicate to the American people."
AND YET, WHEN TWO higher positions in leadership opened in June, McMorris Rodgers was quick to say she would not compete for either. Though some outside the Capitol were surprised, those within its walls hadn't expected her to run, and many don't see a path forward for her at all.
McMorris Rodgers felt that this year wasn't her time to seek a promotion, her staffers say. For one thing, although her staff dismisses its significance, she's still under the shadow of a congressional ethics investigation over allegations that she used campaign funds for congressional business, and that she spent taxpayer dollars in her race against Price and for campaign activities, all of which is against the law. McMorris Rodgers has denied the allegations, but the former staffer who initially brought them to the forefront has continued to make headlines with the scandal.
Perhaps most important, where Boehner and Hensarling used the job to maximize their profiles, appearing frequently on television and inserting themselves into the inner workings of House leadership, McMorris Rodgers has taken another path. "She runs the conference once a week, and other than that I don't see many signs of her influence there through other policies. ... I just haven't seen any fingerprints of Cathy McMorris [Rodgers]," Rep. Tim Huelskamp of Kansas, another leadership critic, says. That is, in part, intentional, her allies insist. David Condon, the mayor of Spokane, Washington, and a former McMorris Rodgers staffer, notes that when the congresswoman was interested in championing a new issue, she would often tell staff to see if any other members had legislation on it. She prefers to collaborate rather than offer her own bills, "realizing that perhaps her colleagues have thought of this before," he said.
What that means, however, is that in addition to lacking a profile, she lacks a lengthy list of signature legislation, all of which adds up to a belief among her colleagues and allies that McMorris Rodgers is not moving up. Several Republican members, including Price, her former opponent for the chairmanship, said they'd never even considered the idea that she might run for majority leader or speaker.
"I don't know if [the conference chairmanship] prepares you well, either, because you're basically just doing the bidding for a couple of folks above you, whether you like it or not," Huelskamp says, adding that he wasn't sure where her support would come from. "I mean, she's not known as being a conservative. She would be kind of the moderate's candidate, I guess, in the conference, which is a very small number. So no, I haven't heard anything [about her moving up] at all."
But what does Cathy McMorris Rodgers think? Perhaps not surprisingly, she says she doesn't know. "It's an amazing course of events that's led me to where I am. And I am committed to doing everything I can to help advance the goals that I've laid out. And I'm not sure where that leads."
Her staff, however, holds that she is absolutely open to climbing the leadership ladder; this year simply wasn't the right moment. For now, she has more work to do as chairwoman and will seek reelection to that job in November.
THROUGHOUT HER career, McMorris Rodgers has been dismissed by critics as a token woman, not a serious force within her party, someone who was thrust into the limelight by calculating party bosses just trying to improve the GOP's image. But McMorris Rodgers's record demonstrates that she has more to offer than that.
She defeated the primary challenger who mocked her "Miss Congeniality" speech by more than 40 points. And the high praise for her State of the Union response—a speech that has turned other rising stars like Bobby Jindal and Marco Rubio into punch lines—coupled with her effective, behind-the-scenes messaging, should be enough to silence naysayers. But in a city like Washington, there will always be critics, particularly of young female up-and-comers. Just ask Sen. Kirsten Gillibrand, who says her male colleagues comment on her weight, one of them calling her "porky" and another insisting that she not lose too much weight because, "I like my girls chubby!"
That isn't to say that gender hasn't helped McMorris Rodgers to advance. It has. The Republican Party knows it needs more female leaders, and McMorris Rodgers has happily stepped in.
"As I was growing up, I remember being told you can be anything that you can be," she says as she walks outside the Capitol after an event outlining a new female-centric Republican agenda. "It never was emphasized 'man versus woman,' and I never thought of there being an advantage or a disadvantage. And yet, since I've been elected to Congress there's been more of a focus on gender issues, especially recently."
Clearly, she understands the political reality, as the party seeks to expand its reach and beat back the "War on Women" attacks that were so successful for Democrats last cycle. It's slow going on Capitol Hill, where members are reluctant to change. But few in Congress speak as well to the voters Republicans seek as McMorris Rodgers does. If she is willing to step up, McMorris Rodgers is now well positioned to guide the party through the re-branding it so desperately needs, whether she landed there because she is a she or not.