Inside Ad-Makers' Outrageous Arkansas Senate Strategy
From cows and Bibles to Ebola, Mark Pryor and Tom Cotton are peppering Arkansas voters with some of the most remarkable political ads of the year.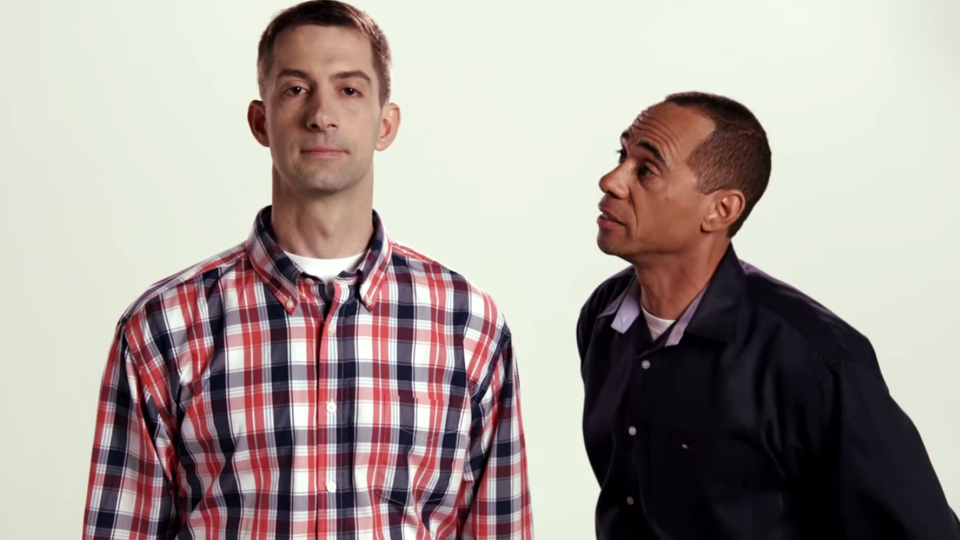 Cows. Bibles. Drill sergeants. Ebola. More than 18 months into the longest ad campaign of the 2014 season, just about everything—including, literally, Republican Rep. Tom Cotton's kitchen sink—is showing up on Arkansas television.
Fatigued voters in the state have now been force-fed more than 36,000 political ads supporting, or often attacking, Democratic Sen. Mark Pryor and the Republican challenger.
The Club for Growth ran the first ad in Arkansas of the 2014 midterms, attacking Pryor for voting with President Obama. Since then, no fewer than 26 outside groups have joined a loud and cacophonous chorus, the largest set of players to appear in any Senate race this year.
The result has been some of the year's most talked-about TV ads, as both campaigns pushed the limits to capture voters' attention and cut through the avalanche of outside spending. Pryor looked into the camera to tell voters about his fight with cancer and tout parts of Obamacare, setting political watchers abuzz. Cotton introduced voters to his drill sergeant from boot camp and discussed his mom's childhood without running water. The Ebola outbreak in Africa leaped straight from the headlines into an anti-Cotton attack ad.
To the veteran ad-makers behind these campaigns, every second of airtime is precious. There is no silly ad, they argue. Instead, each of these spots is strategically crafted to build on a nuanced image of the candidate.
National Journal spoke with both camps' ad consultants about the longest-running political media campaigns of 2014. Here's how they described their strategy:
Karl Struble: "Mark's not sexy"
The most memorable ad from Pryor's campaign has been the one that made Republicans salivate: the pro-Obamacare spot. It was more than a decade in the making.
When Democratic adman Karl Struble met Pryor 13 years ago, the young Senate hopeful was just happy to have both legs. Pryor had been playing basketball with friends when he felt a pain in his Achilles tendon that was later diagnosed as a rare form of cancer. Though the hospital offered him treatment, his insurance would only cover amputating the leg.
"I make it my business to sit down and spend a lot of time with the people I work for," Struble said. "I want to hear their life's story in their own words, and I remember writing that down "¦ it's always stuck with me. That, in many ways, demonstrates the type of person he is and how he makes decisions."
Fighting his insurance company for money to pay for the treatment got Pryor interested in how individuals navigate the health care market. Fast forward to 2014, and Struble calls up the story to create what many called the first "pro-Obamacare" ad for a Senate Democrat.
+ (Mark Pryor/YouTube)
"When Mark was diagnosed with cancer, we thought we might lose him," former Sen. David Pryor says of his son, seated next to him at the kitchen table. "My family and my faith helped me through the rough times," the younger Pryor chimes in. "But no one should be fighting an insurance company while you're fighting for your life. That's why I voted for a law that prevents insurance companies from cancelling your policy if you get sick or denying coverage for preexisting conditions."
Struble is still frustrated that the ad was seen as a pro-Obamacare spot because he aimed to accomplish something else, including reminding voters of Pryor's father, a popular former senator and governor. "It really was much more than that," Struble said. "It really showed the kind of relationship he has between he and his father, and related a very dark moment in both their lives."
In a race where Republicans want to make the senator's name synonymous with "Obama," Struble uses ads like this, and his early production "North Star," to tell Arkansans that Pryor votes in Congress with his heart, not with his party or the president. Run in December 2013, the "North Star" ad received considerable attention for suggesting the Democrat was taking his directives straight from the Bible. Seated in his living room, Pryor says he's "not ashamed" to say he believes in God, and that "the Bible teaches us that no one has all the answers."
+ (Mark Pryor/YouTube)
"There is this inner serenity about Mark that really does come from his faith," said Struble. "His faith really is important to him, and in the way that you want faith to be important to someone, not fire and brimstone, but in a larger sense, that you have a responsibility to the whole, to those that have less."
Struble's got more in reserve with a set of constituent-based ads, only a few of which have run so far. He said this series, which continues the sentimental theme, is his favorite. "[These ads] represent the humanity of who he is. That isn't sexy, Mark's not sexy. Mark's a workhorse that doesn't try to get a lot of credit for what he does, it's good enough that he's made things better."
Brad Todd: "Tom does the hard things"
For Tennessee native Brad Todd, a Republican consultant with OnMessage, the best way to combat a candidate with a popular family name has been to introduce Arkansans to a family that might look a lot like their own. Cotton's mother Avis, a middle-school principal, and his father Len, a Vietnam veteran who runs the PA at local football games, aren't well-known outside of Dardenelle, but Todd says their experiences ring familiar to many rural Arkansans.
"Tom's story is one a lot of people in Arkansas can relate to," Todd said. "He grew up on a cattle farm outside a town of 4,500 people, served in the military, played high school basketball, worked hard and got a good college education, came back home to his small town and tried to pitch in."
That approach has driven Cotton's entire media approach. His ads are filled with many hometown validators: his wife promising to keep him rooted in Dardenelle; his mom saying she'll watch his moves on seniors' issues; and his dad, standing outside with the cows, telling viewers he taught his son the value of a dollar. In Cotton's previous campaign, the 2012 House race that Todd also worked, Cotton sought out his old basketball coach and high school principal to vouch for his dedication and character.
+ (Tom Cotton/YouTube)
"When you're getting to know a person, you want to know the people who made them who they are," Todd said. "It's just obvious his dad would do anything to help anyone he could, and his mom, she's very thoughtful and has a lot of horsepower. You can see both of those traits in Tom."
But perhaps the best advocate Cotton brought into his ads was his drill sergeant, former Army Reserve Master Sgt. George Norton, who starred in a spot titled "At Ease." The ad responded to comments Pryor made suggesting that Cotton's military service had given him a "sense of entitlement" to political office, by light-heartedly reminding voters of the dues Cotton paid at boot camp.
"It was after Pryor's 'sense of entitlement' comments, and of course, Tom's mind immediately went to his face in the mud giving Sergeant Norton pushups," Todd said. "He certainly didn't feel very entitled at that point."
Todd called that spot Cotton's most popular ad, viewed nearly 300,000 times on YouTube. It also opened the door to Todd's second goal for Cotton: showing off his work ethic.
"Tom does the hard things at a time when people are frustrated that government doesn't do the hard things," Todd said. "I've talked to his Army buddies, his friends from Dardanelle. Everyone who knows him knows Tom doesn't take the easy way out."
Those conversations led Todd to make one of Cotton's most recent ads, in which the candidate explains his decision to go into the military.
"One of his Army buddies talked to me about how he went through basic training, then he went through officer candidate school, then he went through airborne training, all in a row," said Todd. "Most people don't pass ranger school the first time, it takes several times, but you definitely don't go straight through without a break." Asked why he did it, Cotton said, "I didn't sign up for the Army to get trained, I signed up to go to Iraq."
And then there was Ebola
This one gets Struble riled up. "It's emergency preparedness," he quickly counters.
Late in the dog-days of August, Struble became responsible for one of the most widely mocked ads of the cycle, labeled by critics as everything from "scare tactics" to just plain looney. The spot opens with scary music and clips of newscasters, then a narrator comes on to say, "Tom Cotton voted against preparing America for pandemics like Ebola."
+ (Mark Pryor/YouTube)
"Everybody got into, 'Oh my God, we're accusing him of letting Ebola spread,' " said Struble, who stands by the ad. "What we're saying is: He's one of 29."
The ad maker was referring to the small number of House members who voted against reauthorization of public health and emergency programs in January 2013. It's a theme that has driven Struble's entire opposition strategy: that Cotton is consistently the odd man out in his six-member delegation.
"He's the only one who voted against disaster relief five times, he's the only one who voted against the farm bill, the only one that voted against some of the more radical things about school loans; this is a guy who really is out there," said Struble. Some of his other ads have focused on Cotton's vote to shut down the federal government, as well as votes against funding Hurricane Sandy relief.
"It was timely, and yes, we wanted to talk about something different, all those things are true, but I don't think that's the most important thing that's going on," said Struble. "We're talking about preparing the country for pandemics, for the research and the infrastructure to be able to handle it."
Much like the Obamacare ad, the Cotton campaign chalked up Ebola as a win, forwarding it out to their own press list and calling it "desperation."
"Once you get Ebola out there, yeah, you've pretty much done everything," laughed Todd.