Hillary Clinton Winks and Nods Her Way Through Iowa
The likely presidential candidate dropped hints about 2016 left and right as she appeared in Iowa for the first time since she lost the state's Democratic caucuses to Barack Obama in 2008.
This article is from the archive of our partner
.
Hillary Clinton gave a 23-minute speech in Iowa on Sunday that, on the surface, was a standard political tribute and midterm get-out-the-vote push.
But this being Hillary Clinton, and this being Iowa, the talk was littered with winks, nods and asides to the fact that she is very much running for president in 2016.
It started with the first words she uttered on stage.
She's 'Baaaaack'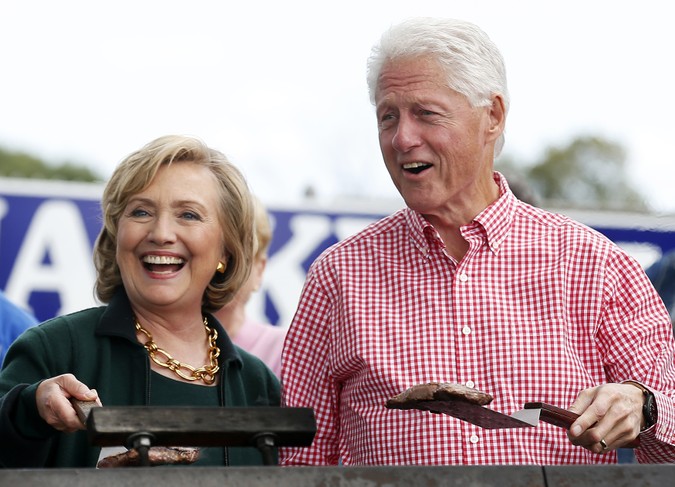 Clinton's overly exuberant introduction was much more than a standard hello to an excited crowd. This was not merely a declaration that she was back in Iowa for the first time in seven years, when she lost the Democratic caucuses to a man named Barack Obama. It was a knowing reference to her return to the political arena in full after a nearly six-year break from campaigning. The crowd, which numbered in the thousands, ate it up.
The Clintons were in Iowa for the 37th and final steak fry hosted by retiring Sen. Tom Harkin (D). The event has been an annual stop for governors and senators with presidential ambitions, even though this year the focus was on the upcoming 2014 midterm congressional elections.
And She'll Be Back Again Soon
Clinton bookended her speech with another semi-subtle tease about 2016. "It's great to be back," she said, before quickly adding: "Let's not let another seven years go by."
Translation: See you all again in a few months when I'm a declared candidate, if not sooner.
She's 'Thinking' and 'Excited' About It
The closest Clinton came to overtly mentioning the 2016 campaign was a line in which she didn't even say the words president or White House. "I've got a few things on my mind these days," she began. First and foremost, she said, was the grandchild that daughter Chelsea could be delivering to President and Secretary Clinton any day now. She warned that if the crowd saw the Clintons rush off the stage at any point, that would be the reason why.
"Then, of course, there's that other thing," Clinton went on to say.
There was no need to spell it out, but the former secretary of state made sure the crowd knew it was on her mind, too.
"Well, it is true I am thinking about it," she said. "But that's not why I'm here. I'm here for the steak."
Later in the speech, Clinton mentioned the presidential campaign by way of imploring Democratic voters not to take their eye off the election right in from of them.
"Too many people only get excited about presidential campaigns," she said. And then in another wink-wink moment, she added: "Look, I get excited about presidential campaigns, too."
Campaign Theme Preview?
Beyond the teasing and the hints, the substance of Clinton's speech offered clues as well. For one, she touched frequently on issues important to women, which is a core talking point for Democrats nationwide and one that is expected to be even more central to a second history-making Clinton campaign than it was the first time around. She touted her support for paid family leave and equal pay for equal work, and in talking about efforts to raise the minimum wage – a priority for Harkin – she made sure to mention that women "hold the majority of the minimum wage jobs in this country."
At the conclusion, Clinton also seemed to be testing out a new, if not overly novel, campaign slogan.
It's time to heed the push of our values and the push of our future. It's time to write that new chapter in the American Dream."
She Deigned to Mingle
Unlike her famously garrulous husband, Hillary Clinton is not known as a lover of retail politics. One of the main criticisms of Clinton's losing campaign in Iowa in 2008 was that she didn't engage the state's finicky voters in the way they prefer: up close and personal. She swooped in for big rallies, but she didn't stop to shake enough hands or knock on enough doors.
So it was notable that at the steak fry on Sunday, Clinton came over to chat, briefly, with reporters, and she stayed to work the rope line after her speech.
While limited, this day has a lot more of the handshaking, picture-taking, retail kind of politics that Clinton didn't do as much in 2008

— Cathleen Decker (@cathleendecker) September 14, 2014
You can watch Clinton's full speech on the C-Span website here.
This article is from the archive of our partner The Wire.