Half of Americans Believe Gay Sex Is a Sin
For the most part, acceptance of gay marriage is growing. But according to a new survey, acceptance of gayness is not.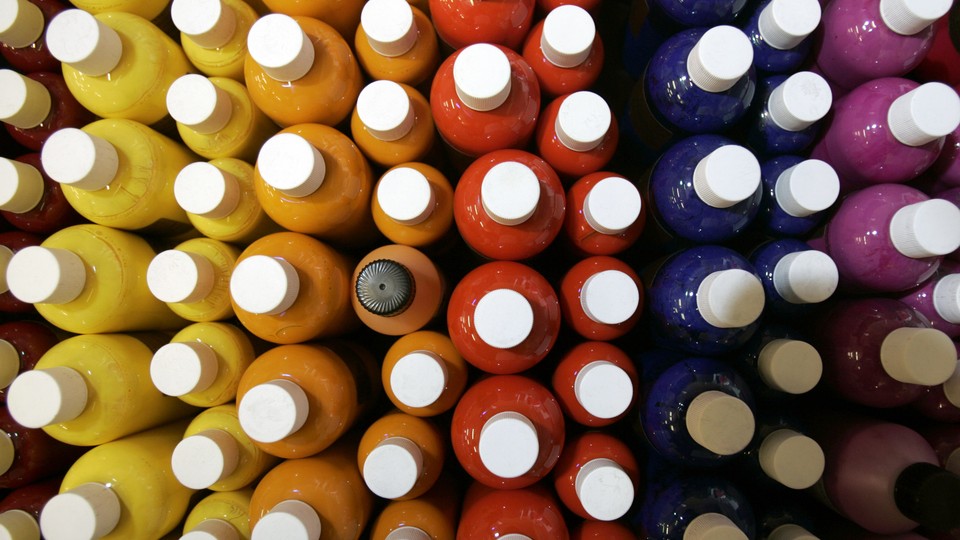 This has been a big year for gay rights in America. In state after state, either judges or voters have affirmed the constitutionality of same-sex marriage, and public support for gay unions reached an all-time high.
But there's still a tension between the acknowledgement of gay rights and the acceptance of gayness itself. A new Pew poll on religion in public life found that exactly half of respondents said they consider "homosexual behavior" sinful, a five-percentage-point increase since May 2013. This view is most prominent among white evangelicals and black protestants; more than three-quarters of each group said they see gay sex as a sin.
This bump is accompanied by a slight dip in the portion of respondents who said they support same-sex marriage—49 percent said they were in favor, which is a five-point drop since February. This is roughly the same level of support seen among Americans in 2013.
Another gay-rights issue—whether businesses should be forced to provide services, like catering or cake-baking, at same-sex weddings—split Americans in roughly the same way. Forty-nine percent said vendors should be required to serve at gay ceremonies, while 47 percent said they should be allowed to refuse.
These three data points represent a significant divide in how Americans see the gay community. Half of the country sees homosexuality as sinful, opposes gay marriage, and believes businesses should be able to refuse to serve gay couples' wedding ceremonies—maybe not quite the same half, but there's probably a significant overlap. A 2013 Pew poll suggested that there's a small group of Americans who see homosexuality as a sin but think gay marriage should be legal anyway, although that wasn't as evident in this latest poll. Either way, this is a big change from a decade ago, when only a third of people supported legalization but 55 percent saw homosexuality as sinful.
And that's what's so striking about this data: In 10 years of steadily increasing support for gay marriage, attitudes toward gay sex don't seem to have changed much at all. In a 2013 poll, people generally had a more "favorable opinion" of gay men and women than they did in 2003, and significantly more people said "homosexuality should be accepted by society." But when it comes to the most fundamental part of being gay—sex—opinions seem to be less malleable.
Pluralism relies on a tense kind of tolerance. Everyone has to live with and possibly listen to people who see the world differently—and, for that matter, have sex in different ways. This seems most important in the sphere of politics, in which pluralism is mostly about rights and peaceful coexistence. But there's a deeper kind of tolerance that seems like it may still be long in coming for gay Americans, one in which sexuality isn't framed in terms of sin—just as another way of being.