Gov. Cuomo Suffers Discomfort Even as N.Y. Democrats' Power Swells
Andrew Cuomo's primary challenger isn't an electoral threat, but she has become an outlet for some liberals' concerns about New York's Democratic governor.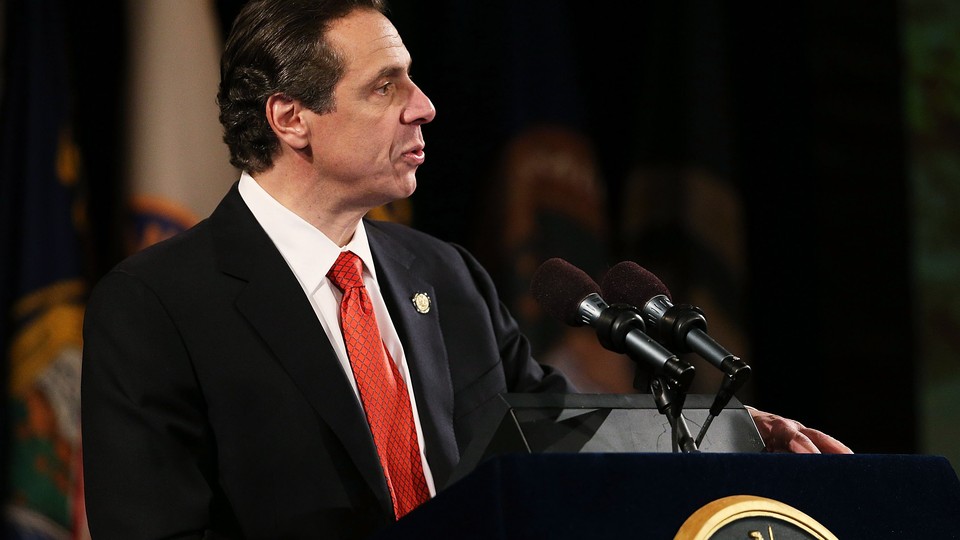 NEW YORK—New York Democrats could be on the verge of an unusually rare feat, considering their state's blue hue: total control of state government. Yet paradoxically, the months leading up to this expected triumph have been the most difficult period of Gov. Andrew Cuomo's first term.
Cuomo is expected to win renomination next week, despite a challenge from the left by law school professor Zephyr Teachout. After that, he and other Democrats are likely to not only sweep the state's elected offices again in the fall but also take command of the state Senate again, too. Democrats have only managed to control all the levers of state government once since the days of Franklin Roosevelt—and even that time (much of 2009 and 2010) was interrupted by a few Democrats' brief decision to caucus with Republicans.
But Teachout became an outlet for some New York progressives' long-simmering dissatisfaction with Cuomo, who they say has been too accommodating of Republicans in the state Senate, for example, in his quest to maintain a middle-of-the-road image and high approval ratings. Along with stories about his administration's meddling with its own anti-corruption commission and more liberal opposition to Cuomo's pick for lieutenant governor, it's made for an uncomfortable few months for the governor.
To be clear: Cuomo's governorship does not appear to be in any danger. The most recent public polling highlighted unassailable popularity, especially among Democrats, and a large general-election lead. But Cuomo has had to work harder than many expected to maintain that inevitability. Earlier this year, the Working Families Party, a liberal group with a popular ballot line in New York State, extracted numerous concessions from Cuomo for its endorsement in the spring. Had another candidate gotten the WFP line, it could have siphoned progressive votes from Cuomo in the general election.
Among those concessions: Cuomo finally agreed to work toward turning the state Senate blue. There are more Democrats than Republicans in the chamber now, but a small number of "independent Democrats" caucus with Republicans to control the state Senate, preventing the advancement of certain progressive priorities—and giving Cuomo some cover for not chasing them harder.
"It allowed a Republican voice to be heard in government, which, if there wasn't that arrangement, that would not have been the case," said Jason Weingartner, the executive director of the New York State GOP. The independent Democrats have since promised to rejoin their party.
That's part of the reason WFP activists considered nominating Teachout to challenge Cuomo this year. When that fell through after Cuomo's promises to the liberal base, Teachout decided to take her opposition to Cuomo to the Democratic primary, a long-shot effort.
But Teachout and her lieutenant governor "running mate," Tim Wu, have still managed to cause headaches for Cuomo. Allies of his tried to use a residency requirement to disqualify her from the ballot; ultimately, it just gave Teachout more attention. The New York Times even withheld its Democratic primary endorsement from the governor. More notably, The Times endorsed Wu over former Rep. Kathy Hochul, Cuomo's pick to be his next lieutenant governor, while several powerful unions have joined the underfunded push for Wu.
"I'm a traditional Democrat," Teachout said in a brief interview after a press conference on the Upper West Side in late August. "Andrew Cuomo has wandered off into the Republican Party. It is Andrew Cuomo who has become a Republican, and I have stayed at the center." Wu said at the press conference that Hochul "is running in the wrong primary."
Their advocates feel the same way. As supporters and New York media took their place for the photo-op in front of a statue of Eleanor Roosevelt, an elderly woman, seated on her walker and bedecked in campaign buttons, repeatedly chanted: "Cuomo's a DINO: Democrat in Name Only."
The New York Post reported that Cuomo's campaign had been forced to prepare for the eventuality of Wu beating Hochul, who compiled a conservative record during one House term in a GOP-leaning district. Hochul is already on the WFP and other third-party ballot lines with Cuomo for the fall, but if Wu wins the Democratic primary, there will be a different ticket on the Democratic line. Because of the way New York counts its ballots, that scenario would ultimately divide primary-election support in exactly the same way Cuomo sought to avoid by nailing down the WFP endorsement earlier this year.
Even if the more liberal Wu, a professor who coined the term "net neutrality," doesn't notch a surprise upset of Hochul, Cuomo's second term looks set to have a more liberal tinge than his first, thanks to the compromises he made to secure progressive support this year. Democrats are set to control the state Senate by only one vote right now, and both parties have difficult legislative races this fall that will fill out the balance of power there. Control would give the Democratic Party more leeway to push more legislation in 2015.
Not that Cuomo gets any credit for that approaching reality from Teachout. The prospect of greater political power on the horizon hasn't been a complete boon for the governor. "It should not take the pressure of a challenger for a Democratic governor to say that he's in favor of a Democratic Senate," Teachout said.