For Republicans in Massachusetts, It's Not 2010 Anymore
Republican Charlie Baker won't benefit from the favorable headwinds that handed Martha Coakley a loss in 2010.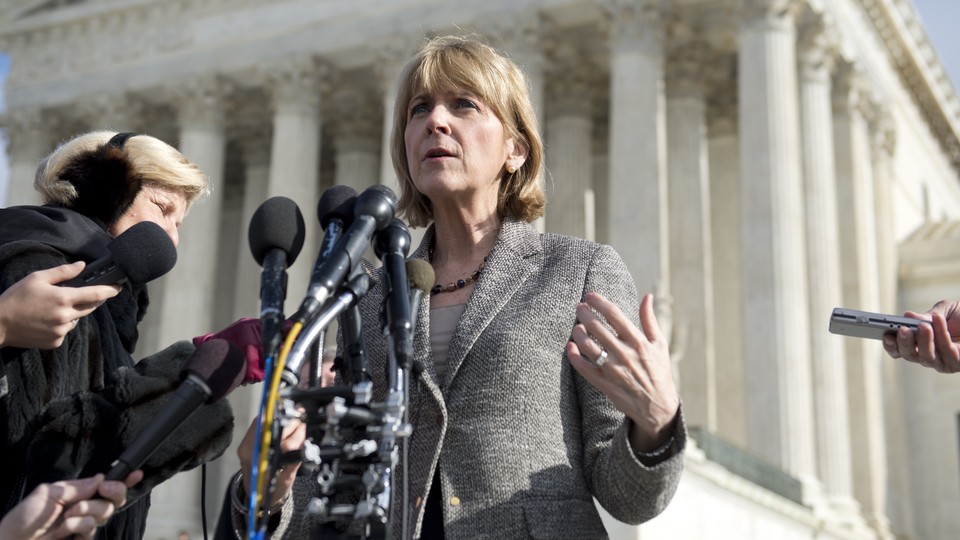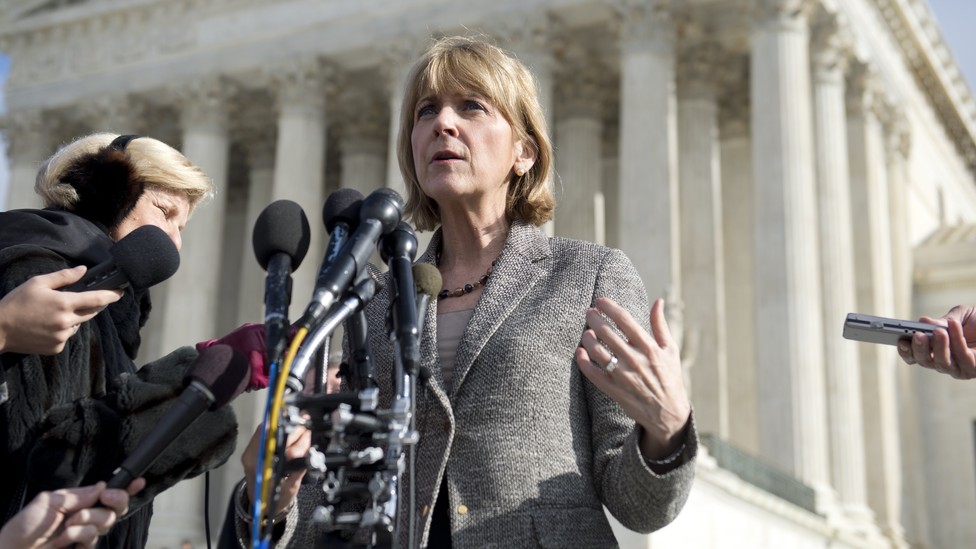 Assuming she clinches the Democratic gubernatorial primary Tuesday as expected, Massachusetts Attorney General Martha Coakley will be back on the scene, vying for one of her state's top offices. The comeback attempt, though, has many observers bracing themselves for the stomach-churning possibility of another loss, like her Senate special election against Scott Brown that defined her as a political failure four years ago.
By most standards, Coakley is running a better race this time around. If that holds, the real question may not be so much about Coakley's strengths and weaknesses but about her opponent's. But Charlie Baker may well be exactly the right kind of Republican to extend the state GOP's healthy gubernatorial tradition.
It looks completely possible. Baker, who lost to Gov. Deval Patrick by 6 percentage points in 2010, is socially moderate and fiscally conservative. He supports gay marriage and abortion rights but, like most Republicans, opposes higher taxes and proposals for new spending. He's running as a governmental Mr. Fix-It, pointing to his record restructuring Harvard Pilgrim Health Care during his tenure as CEO, and to his record working in the administrations of former GOP Govs. Bill Weld and Paul Cellucci.
John Walsh, who served as chairman of the Massachusetts Democratic Party during the 2010 cycle, says "Charlie Baker is a smart guy. He's raised a lot of money, though much less than he did four years ago, and he is the hope of the Republican Party in Massachusetts."
Walsh expects a close race between Baker and Coakley, but doesn't attribute the potential election's competitiveness to anything unique to Coakley. The state hosted Republican governors for 16 straight years before it elected Patrick in 2006, and in this year's race polls show Coakley consistently leading Baker, but with at least a few showing her up by only a small margin.
"When Republicans nominate serious candidates, elections are close. The problem is, a lot of the time, they don't," said Walsh.
Coakley and Baker both faced tough losses in 2010—and will head toward November with the benefit of those experiences behind them. The biggest change is in their personal demeanor, which most say cost them their respective races.
"The Martha Coakley and Charlie Baker you would see off the campaign trail, you never saw on the campaign trail," said Boston-based Democratic strategist Mary Anne Marsh. "You're seeing more of both of them, and who they are personally this year."
But the race won't all be about the politics of reinvention. Despite the easy comparisons to 2010, particularly for Coakley, the pair will be operating under starkly different political conditions, and those conditions are poised to work in Coakley's favor.
In 2010, Coakley's Senate loss was defined by the first iteration of anti-Obamacare politics, and Brown had the good fortune of riding the first crest of the tea-party wave against the Affordable Care Act to victory. Even though she was widely mocked for denying Democrats a supermajority in the Senate, scores of Democrats went down in defeat in similar fashion later that year. The politics of Obamacare has since changed, at least in the Bay State.
"Brown used it to win the first time here, and is now really beating the drum up in New Hampshire," Marsh said. "But Charlie Baker wouldn't throw the baby out with the bathwater. He would look for improvements."
Indeed, Baker is pledging to push for a narrow waiver from some aspects of the ACA that will require costly tweaks to Massachusetts' original set of reforms, and pointing to the state's error-riddled rollout of its new health insurance exchange as evidence the state needs a better manager in the corner office.
But if Obamacare is no longer the galvanizing force that it was for Brown in 2010, neither is the state of the local economy. Baker ran his first race at the height of the recession, but now, with an unemployment rate of 5.6 percent in July, the state continues to recover at a pace faster than the national average. Baker's challenge will be to abandon the angry, reactionary rhetoric he adopted in 2010 and instead present a more forward looking vision for the state's future.
The new politics of health care and the state's finances still present real potential pitfalls for both candidates. In June, Baker came under fire after offhandedly remarking that the Supreme Court's Hobby Lobby ruling "doesn't matter" for women in Massachusetts, while footage of Coakley wrongly guessing the state's gas-tax rate has already made its way into an attack ad from a super PAC supporting Baker.
Another new development is that although Baker is no longer a first-time candidate, it is his first time facing a female opponent, and the involvement of groups like EMILY's List could bring social issues, particularly concerning women's health, front and center in a way they weren't for Baker in 2010. The group's communications director, Jess McIntosh, hinted his Hobby Lobby comments may come back to haunt him.
"It's about giving lip service versus being a real champion," said McIntosh, pointing to Coakley's efforts as the state's attorney general to protect buffer zones around state abortion clinics in a case that went all the way to the Supreme Court. "There's nothing in his record that says he's happy to buck his party on behalf of women," she argued. "In contrast, Coakley's one of the loudest champions in the country on these issues."
Walsh also senses the past four years will play to Coakley's favor. Both candidates lost in 2010, but Walsh weighed the merit of what both have done since facing defeat. "Martha Coakley fought mortgage companies that defrauded homeowners and fought for gay marriage in court. Charlie went on to become a private equity guy," said Walsh, referring to Baker's post-loss position with General Catalyst Partners, and indicating the new narrative could essentially write itself.
But Baker, for his part, has been working diligently to distance himself from the national GOP brand and the standard attack lines that accompany it. Unlike most Republican candidates who faced conservative primary challengers this cycle, Baker communications director Tim Buckley said the candidate's primary debates against long-shot opponent Mark Fisher were "great opportunities to highlight Charlie's socially moderate, fiscally conservative stances against the extreme far right."
Looming larger than any of this, is that the race won't be the subject of singular focus from national groups in Washington, like the Senate race in 2010 when Brown benefitted from ad buys from at least half a dozen outside groups. This year the Coakley-Baker race sits behind nearly a dozen other priority gubernatorial races considered equally or more competitive, including those in Arkansas, Florida, Illinois, Maine, Pennsylvania, and Wisconsin, and a lengthy list of Senate battlegrounds swallowing up tens of millions or dollars in competing cash.
In addition, Massachusetts donors are pretty cash-strapped after a trio of unprecedented back-to-back Senate contests between 2010 and 2013 in their own backyard. Neither Coakley nor Baker has raised anywhere near what was on hand at this point in the state's gubernatorial race four years ago.
"On paper the winner should be Martha Coakley," said Marsh. But in reality, she acknowledged, "Whoever the better candidate is, is the one who's going to win the race."