Eric Holder and the Lonely President
The attorney general's departure removes one of Obama's few close friends in the administration.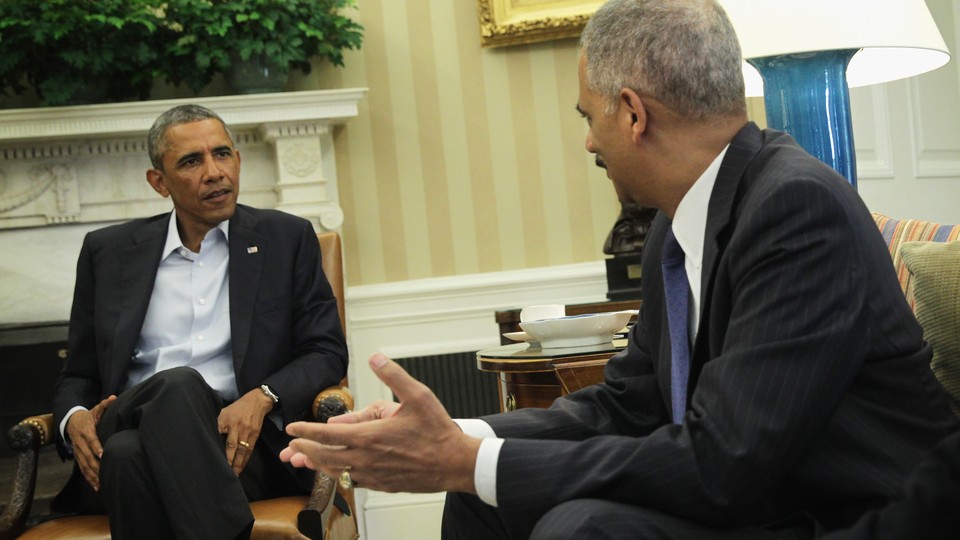 Barack Obama started worrying about the loneliness of the presidency even before he was elected in 2008. In the years since, it has been a recurring theme as he battled the isolation of the office and struggled to liberate "the bear" from his cage. Now, with the departure of one of the few personal friends he named to his Cabinet, the president may find himself even further isolated as he completes his sixth year in office.
Eric Holder, who is stepping down as attorney general, has been more than just an appointee. There was never any question that Obama was the boss. But Holder always was able to speak up to the president; he was someone the boss was comfortable having around him. In part, that kinship came from the obvious link between the first African-American president and the first black attorney general. In part, the comfort came from the close friendship of their wives. And, in part, it came from a shared agenda.
At the official announcement of his resignation, Holder made an emotional reference to his personal relationship with Obama while the president stood by his side. "We have been great colleagues," Holder said. "But the bonds between us are much deeper than that. In good times and in bad, and in things personal and in things professional, you have been there for me. I am proud to call you a friend."
Holder's tenure at the Justice Department was not always smooth. He stumbled right out of the gate when he marked Black History Month in 2009 with a speech that infuriated White House staffers. "Though this nation has proudly thought of itself as an ethnic melting pot, in things racial we have always been and continue to be, in too many ways, essentially a nation of cowards," Holder said at the time. To the White House, this suggested that Holder was tone-deaf and embarrassing the president. But to Obama, the sentiments were not out of line—even though the always-careful president would never have put them in those words.
Later, Holder would be more outspoken than the president on the death of Trayvon Martin, more forceful on voting rights, and more vigorous on pushing for the next items on the civil-rights agenda. And throughout, Holder would have Obama's ear as the families watched Super Bowls together and had pizza parties and shared an affinity for vacationing in Martha's Vineyard. Obama has few close friends in Washington—and Holder certainly would not be considered anywhere near as close as some of Obama's Chicago-based friends. But they shared a racial bond after growing up middle-class, both sons of immigrant fathers. "We are both basically a little bit outside the typical black experience," Holder told Politico. "But we have wives who remind us what that was like.... That's why we feel so comfortable around each other."
In Obama's Cabinet, that made Holder almost unique. Only Arne Duncan, a basketball-playing buddy from Chicago, could rival Holder for closeness to the president. In that regard, Obama's Cabinet and top White House staff were unusual. Most presidents like to surround themselves with people they have known long enough to trust. In the Obama White House, that included top aides Valerie Jarrett, Pete Rouse, David Axelrod, and Robert Gibbs. But now, with Holder's impending departure, that inside group has shrunk to only Duncan and Jarrett.
When Holder is gone, only two members of Obama's original Cabinet will remain—Duncan at Education and Tom Vilsack at Agriculture. This is about normal for two-term presidents since World War II. At this point in their sixth year, Bill Clinton had four, Dwight Eisenhower had three, and Ronald Reagan and George W. Bush each had two.
What is unusual in the long stretch of American history is the paucity of presidential friends in a cabinet, and that is particularly true when it comes to the post of attorney general. For the very first AG, George Washington turned to the man who had been his aide de camp in the Revolutionary War, Edmund Randolph. For his second AG, he picked a man who had been at Valley Forge with him, William Bradford. Those selections turned out well for Washington. Almost two centuries later, John F. Kennedy shamelessly picked his own brother for the job and saw Robert F. Kennedy become one of the most effective AGs ever.
Some other presidential picks have had less momentous outcomes. Warren Harding got into trouble with his fellow Ohioan Harry Daugherty, as did Richard Nixon when he selected law partner John Mitchell. Others friends served with varying levels of distinction: Dwight Eisenhower picked Herbert Brownell, the Republican chairman who pushed him to run for president. Jimmy Carter brought Griffin Bell from Georgia to be attorney general. Reagan picked his personal lawyer, William French Smith, and then moved his longtime aide, Edwin Meese, into the job. George W. Bush tapped Alberto Gonzales, who had been his gubernatorial general counsel.
The one constant, from Washington to Obama and Randolph to Holder, is that presidents wanted somebody they knew and trusted in the post. It is why Obama could support Holder through Fast and Furious, the prosecution of Khalid Sheikh Mohammed, the non-prosecution of the bankers who gave us the 2008 crash, the crackdown on journalists, and the historic vote by the House to hold the attorney general in contempt.
Having friends like Holder around can help combat something Obama worried about in 2008. Less than two weeks after he was elected, he told Steve Kroft on CBS's 60 Minutes that past presidents had warned him about the loneliness and isolation that comes with the job. "All of them recognize there's a certain loneliness to the job," said Obama, who added, "Even now, you know ... you can already feel that fact." And that has only grown worse in the succeeding six years. Vanity Fair dubbed Obama "The Lonely Guy," reporting that Jarrett had warned him after his election, "You'll never make any new friends."
So the loss of an old friend in Holder is likely to sting even more. The president has joked about the quote often attributed—inaccurately—to President Truman that if you want a friend in Washington, "get a dog." So maybe it is good, with Holder fleeing, that Obama already has Bo and Sunny in place. He just may need their comfort when Senate confirmation hearings begin on Holder's replacement.