Elizabeth Warren's Full-Throated Endorsement of EMILY's List
As progressive groups question the Democratic organization's commitment to a new wave of economic populism, the master of that movement is out fundraising for them.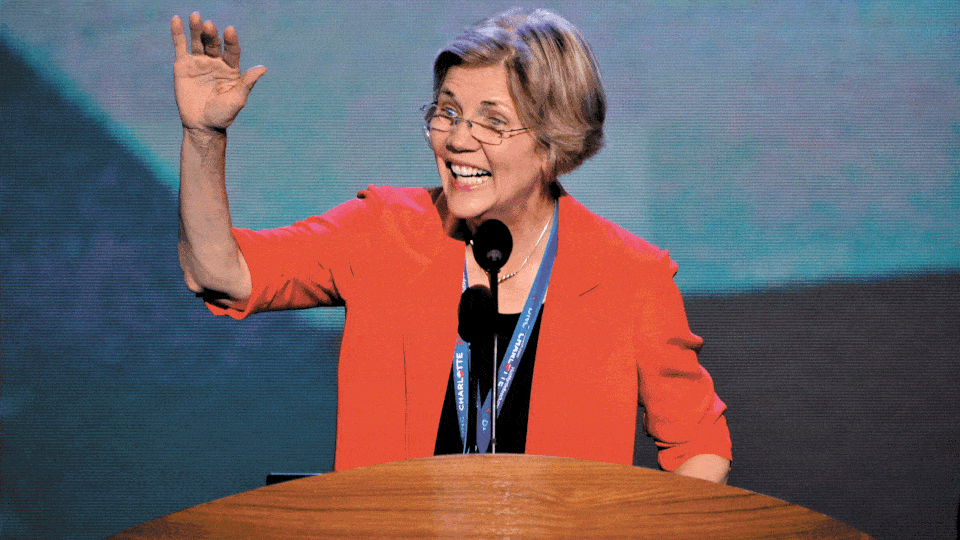 On a day when certain corners of the Internet are making noise about EMILY's List being insufficiently acquiescent to liberals, there's one email that should draw a few laughs when it lands in progressive inboxes later Thursday.
The Progressive Campaign Change Committee and others are stirring up a fuss over EMILY's List's purported failure to back "economic populists" who aren't women. "We're at a crucial juncture in American politics, with economic populists fighting to take our country back from corporations and lobbyists and the politicians they fund," the PCCC's Laura Friedenbach told The Daily Beast. "The Elizabeth Warren wing of American politics is ascendant—and when groups like EMILY's List are part of helping us win more seats for populist progressives, we're happy to work with them."
How funny then, to have the "Elizabeth Warren wing of American politics"—or in this case, Elizabeth Warren herself—come out with what amounts to a hearty embrace of the group and its commitment to female candidates.
"There's nothing quite like the EMILY's List community," Warren wrote in a fundraising email to be sent out by EMILY's List later Thursday. "As I wrote about in my book, A Fighting Chance, when I was still trying to decide if I wanted to run for the Senate in 2012, Stephanie Schriock promised that EMILY's List would help me throughout the campaign. And that's just what they did, every step along the way." The Massachusetts senator will be joining the group's president at the 2014 EMILY's List Eastern Regional Conference later this month.
PCCC has denied instigating a fight with EMILY's List and EMILY's List has responded in a conciliatory fashion, saying that the "frame didn't seem to fit the quote" attributed to the PCCC in the initial Daily Beast story.
The Daily Beast in a piece published Thursday morning described several races in which EMILY's List came down on the opposite side of the political divide from the PCCC. The piece also effectively highlighted some progressives' desire that EMILY's List (which, for almost 30 years, has worked to help elect Democratic women who support abortion rights) begin backing candidates for a higher minimum wage and expanded Social Security, regardless of gender. "I strongly support women's issues, but they are actually being counterproductive," said Karen Chun, a prominent Hawaii-based activist quoted by The Beast. "You can't assume that a woman by virtue of her gender is automatically going to be a better candidate, or even be pro-choice."
One trouble with this messaging is that Warren—who perhaps more than any other politician has put economic inequality at the forefront of America's consciousness—doesn't agree that EMILY's List is "caught on the wrong side of the economic populist wave," as the The Beast put it. Otherwise, she wouldn't be fundraising for them.
"Being in a room of smart, strong Democratic women is important—because we've got a lot of work to do right now," she wrote in her fundraising email for the group. "If we're going to keep control of the Senate this November, it's up to our pro-choice Democratic women to win." She later encourages readers to donate to the group, adding that the action is "a smart way to help protect the Democratic majority in the Senate and elect more pro-choice Democratic women at all levels of government."
When Warren first went to Washington, financial corruption on Wall Street loomed large. Since then, she's headed up congressional oversight of the 2008 financial crisis, launched the Consumer Financial Protection Bureau, and generally united the Democratic Party around themes of economic populism. She's shown no signs of toning down her fiery rhetoric against the Wall Street banks, and if Thursday's email is any indication, she isn't scaling back her support for EMILY's List either.
"No one knows better than Elizabeth Warren that electing pro-choice Democratic women is critical to making sure women and families have a fair shot—that means access to health care and economic opportunity," EMILY's List's Communications Director Jess McIntosh said Thursday. "EMILY's List has been thrilled to stand with Elizabeth the whole way, and our community could not be prouder of the leader she's become."
Warren's email will be sent to EMILY's List database of subscribers Thursday afternoon. If progressives want to try to drive a wedge on economic populism, they'll have to find a new poster woman.
UPDATE: This post has been updated for clarification and to include new comments from PCCC and EMILY's List and the full quote from PCCC's Laura Friedenbach.