Democrats Counting on an Early Voting Advantage
With voting underway in some battleground states as early as September, Democrats hope to get less-reliable supporters to the polls.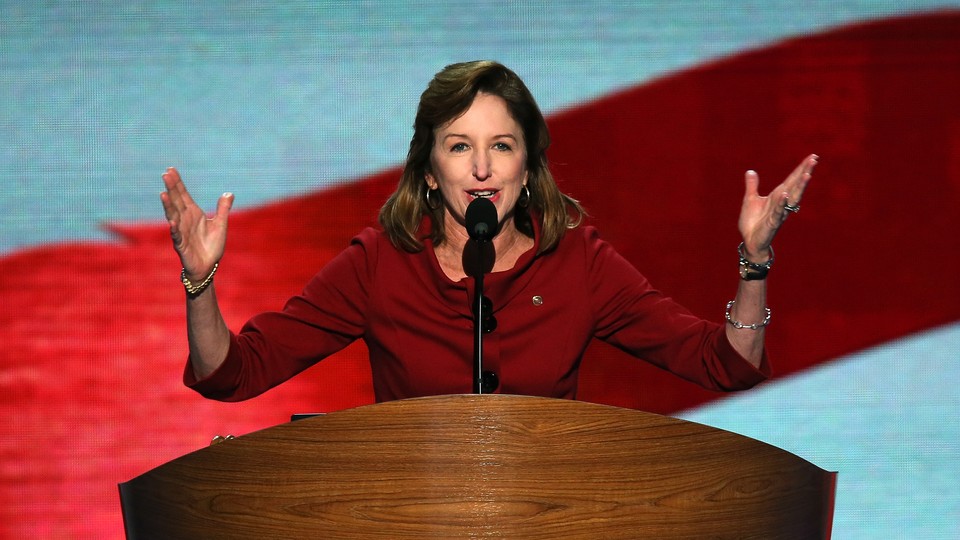 There are still two months until Election Day in November—but, today, ballots are already on their way to voters in North Carolina.
For voters in many key battleground states, Election Day can come far sooner than the first Tuesday in November, a fact that scrambles the calculus for candidates and has both parties investing heavily in turnout operations. More than a third of the 2014 electorate is expected to cast ballots early this year, and they're starting to do it very soon.
Democrats have enjoyed a ground-game advantage in past elections, and have put $60 million behind their field efforts in 10 key Senate states—two facts they're counting on help tip the scales toward them in a year when the electorate will be whiter and more conservative than in presidential years. But Republicans aren't ceding the ground game, and they have made significant investments—including an additional $8 million last week—of their own to help with early-vote turnout and field operations.
Of the nine Senate races rated as toss-ups by The Cook Political Report—Alaska, Arkansas, Colorado, Georgia, Iowa, Louisiana, Kentucky, Michigan and North Carolina—seven currently have significant early-vote programs, which consist of some combination of of no-excuse-necessary absentee voting and at least a week of early in-person voting.
"The overwhelming trend over the last decade has been to expand early voting," said Wendy Weiser, director of the Democracy Program at the Brennan Center for Justice, which tracks voting legislation. "More states are adopting it and using it in their elections system, and voters are more likely to use it."
Following North Carolina, other states' voting will get underway later this month. Early voting in Iowa, where the race between Democratic Rep. Bruce Braley and state Sen. Joni Ernst is one of the most competitive on the map, begins Sept. 25 and runs through Election Day. Absentee ballots go out there, as well as in Georgia, in the second half of September.
And in some of these states, past early-voting rates have been higher than the national average. Take North Carolina, where ballots were mailed Friday: In 2012, more than 2.5 million voters, or about 56 percent of the state's electorate, voted early. In Iowa, just under 700,000 people—or 43 percent of voters—cast their votes early in 2012. In both Arkansas and Georgia, 44 percent of the total votes cast in 2012 were through early in-person voting. Colorado, where Democratic Sen. Mark Udall is in a competitive race, has switched over entirely to mail-in voting.
Early voting was key to President Obama's strategy in 2008 and 2012, focused on turning out minority voters who voted less frequently than their white counterparts. By locking down many of those votes ahead of Election Day, Obama's campaign was able to build in vote leads in key states such as Ohio and Colorado.
Weiser noted that there's been "a real increase" in the number of minority voters casting their ballots early—in some states, they did so at twice the rate of white voters.
The real challenge for Democrats is being able to turn what's been a presidential-year advantage into one that sticks even in a midterm year. In 2010, turnout among minorities, young people and lower-frequency voters dropped off significantly, resulting in the GOP wave that ushered in a new class of Republican governors, senators and representatives. If the electorate looks similar this year, a handful of Democratic incumbents in red states will have a tough time winning.
That's made more difficult by efforts to pass new voting restrictions in recent years, spearheaded primarily by GOP-led state legislatures, that have led to shorter early-voting periods in a handful of states that are key to the Senate map this year—namely North Carolina, Georgia, and West Virginia.
North Carolina has cut its early-voting program by a week, from 17 early voting days to just 10 this fall. The state Legislature also passed a strict voter-identification law, which does not go into effect until 2016.
Democratic Sen. Kay Hagan and her campaign have made voting rights an issue on the campaign trail, noting that the state's new, more restrictive voting laws were approved by GOP candidate Thom Tillis, who serves as the speaker of the state House. The campaign is also using a turnout operation that spokesman Chris Hayden called the "biggest North Carolina has ever seen for a Senate race" to help ensure that voters know what the new rules are and how to comply with them.
"A part of that is making sure voters understand the rules and understand when and where they can vote," he said. "They need to pay attention this year because of what Speaker Tillis did with his voting law."
West Virginia, where Republican Shelley Moore Capito is favored to win the Senate race, has cut its early-voting days from 17 down to 10 as well. In Georgia, a rare pickup opportunity for Democrats, the early-voting period fell from 45 days to 21 days under the state's new law, meaning early voting this year begins on Oct. 13.
As part of the Democratic Senatorial Campaign Committee's "Bannock Street project," named for the street on which Colorado Sen. Michael Bennet's reelection campaign headquarters are housed, 4,000 paid staffers will be in place in the 10 key states before Election Day. While the committee would not list the exact number of staffers currently in place, spokesman Justin Barasky said the DSCC is "certainly building toward that" number now.
The National Republican Senatorial Committee declined to discuss its early-vote operation.
Long early-vote periods scramble the traditional trajectory of campaign strategy and communications: to spend the early part of the fall working to persuade voters, then switching to a GOTV message in the final weeks of the campaign. Now, campaigns must work to turn out voters from September onwards.
Barasky said that given the early start in many of these top races, including saturated TV airwaves, campaigns have already been communicating with voters for a long time.
"If you think about it, pretty much all of these races are so engaged right now that most of them look like they're going to look two months from now," he said. "We've been in full campaign mode for the better part of six months now."