CodePink Isn't Having Obama's New War Against ISIS
CodePink protesters interrupted a Senate hearing on the war plan at least four times Tuesday morning.
This article is from the archive of our partner
.
People aren't exactly taking to the streets to protest the latest U.S.-led war in the Middle East, but CodePink is making its opposition known as loudly as ever.
The erstwhile hearing-disrupters were out in force on Tuesday as the Senate Armed Services Committee heard testimony from top Obama administration administration officials on President Obama's plan to destroy the Islamic State.
CodePink protesters, including co-founder Medea Benjamin, interrupted the proceedings at least four times in the hearing's first hour, frustrating the committee's Democratic chairman, Sen. Carl Levin (Mich.), and amusing Republican Sen. John McCain (Ariz.).
"Don't drag us into another war!" Benjamin yelled as police carried her out of the room. She held a sign that read, "More war=More... extremism."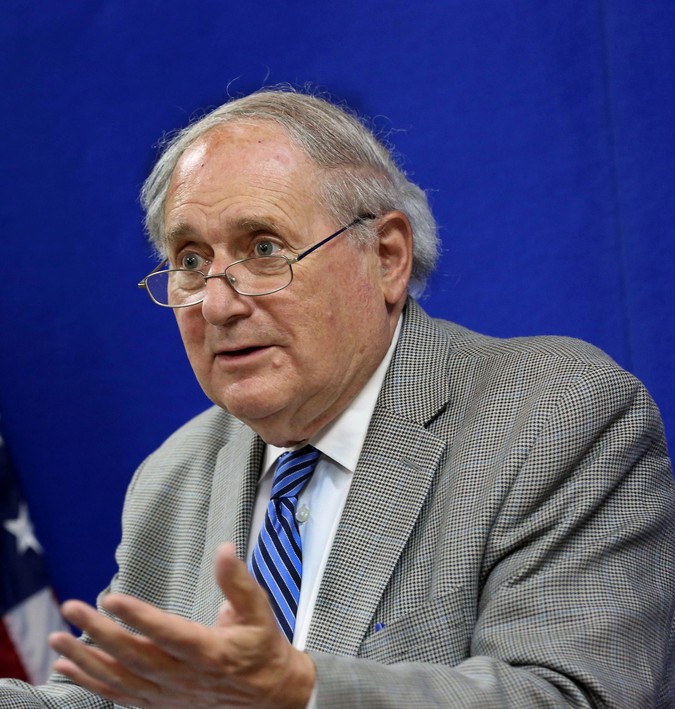 Levin practically begged the protesters to stop their interruptions, saying, "They're not doing anybody any good."
At another point, he told them, "You're acting very war-like yourself!" (Here's video of that exchange.)
After the fourth disruption, he implored, "Would you please not take advantage of the freedom of this place?"
McCain took the activists more in stride when they interrupted his questioning of the witnesses.
Code Pink member is escorted from the hearing room as McCain chuckles. "I always appreciate special attention from this group," he says.

— Hayes Brown (@HayesBrown) September 16, 2014
Between the outcries, Defense Secretary Chuck Hagel and the chairman of the joint chiefs of staff, Gen. Martin Dempsey, defended Obama's plan in testimony and warned about the dangers ISIS posed.
Hagel said that "if left unchecked," ISIS "will directly threaten our homeland and our allies."
The secretary also said that he and Dempsey had approved military commanders' plans to launch airstrikes in Syria, an indication that the decision now rests with the president and they could begin soon.
Dempsey voiced support for Obama's strategy, including his ruling out of U.S. ground combat troops, but he made clear he would recommend ground forces if he believed they were necessary.
Hagel concluded his testimony with a warning about the duration of the battles against ISIS.
This will not be an easy or brief effort. We are at war with ISIL, as we are with al Qaeda. But destroying ISIL will require more than military efforts alone … it will require political progress in the region, and effective partners on the ground in Iraq and Syria."
The hearing comes as House Republicans met as a group Tuesday morning to discuss their leadership's plan to hold a vote Wednesday on Obama's request for authority to train and equip "vetted" Syrian rebels.
The measure is expected to pass despite some opposition on the right and left.
Hagel warned of the consequences if it did not:
If the Congress were not to agree to this, it would be a pretty devastating message to send to the world."
This article is from the archive of our partner The Wire.