Carly Fiorina Hits the Trail With an Eye on 2016
A businesswoman with a mixed record might be the GOP's only shot at a female presidential prospect.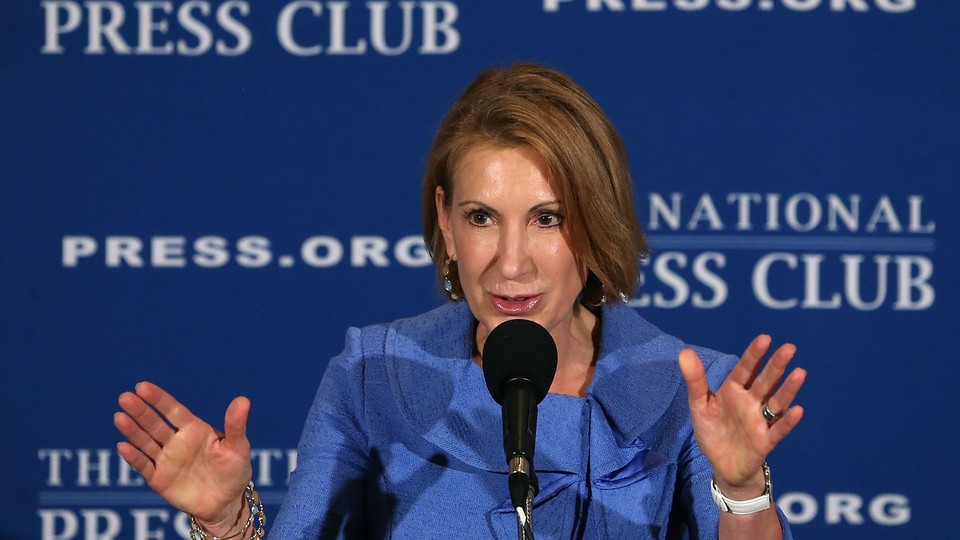 MEREDITH, N.H.—She's been to New Hampshire three times and South Carolina once. She's heading to Iowa this weekend, and then North Carolina and Michigan after that. Clearly, Carly Fiorina is thinking about 2016.
But is anybody thinking about Carly Fiorina?
The former Hewlett-Packard CEO and 2010 Senate candidate is hitting the campaign trail in the lead-up to Election Day for her new super PAC, teaching activists and politicians how to talk to female voters—and building herself a grassroots base in a half-dozen electorally important states in the process.
While her efforts are focused on helping the GOP win control of the Senate in November, political strategists say Fiorina is doing all the right things to prep for a 2016 bid. And the message she's touting is a preview of the kind of role she could play, if she runs.
So will she run?
"People ask me that a lot, so if you get asked that a lot you have to think about it—you have to consider it," Fiorina told National Journal. "I'm flattered by the question and I have to consider it."
The possibility of a Fiorina candidacy—which at this point is, of course, still just a possibility—speaks to the dearth of Republican women considered to be presidential prospects.
South Carolina Gov. Nikki Haley and New Mexico Gov. Susana Martinez are occasionally mentioned, as are New Hampshire Sen. Kelly Ayotte and Rep. Cathy McMorris Rodgers. Reps. Michele Bachmann and Marsha Blackburn have put their own names out as possibilities. But none of those women have taken steps that normally precede a candidacy.
"Look, I think it would be great if we had female candidates—or candidate," Fiorina said as she headed to an event in New Hampshire's Lakes Region, her fourth of the day. "A party should be as diverse as the people it is trying to represent "¦ this is a diverse nation and 53 percent of the voters are women."
Dana Perino, who was the first female White House press secretary under a Republican president and now cohosts The Five on Fox News, doesn't see any of these Republican women being immediately ready to jump into the fray. "I don't predict 'an instant presidential candidate, just add water' on the GOP side in 2016, but I am impressed with many of the leaders, especially the governors."
Their biggest challenge, Perino said, will be raising cash. "Several women are fundraising powerhouses, though not yet to the level they'd need to be to finance a presidential campaign," she said.
Having women in the 2016 field could help the party's image among female voters, and perhaps narrow the ever-present gender gap that has helped Democrats win national elections in 2008 and 2012. With all the attention this year on contraception, abortion, and equal pay, campaign strategists say the party could use someone who understands how to communicate effectively with women.
"Her involvement can only make [the 2016 field] better," said Marjorie Dannenfelser, who heads the antiabortion women's group Susan B. Anthony List. "I think she in particular, and what her leadership represents, is something that will be of great benefit to the Republican Party "¦ she would add a lot, and something that is missing."
Most people remember Fiorina for her 2010 Senate loss to Barbara Boxer in California, but she didn't fade from the political scene after the votes were counted. She served as vice-chairman of the National Republican Senatorial Committee the following cycle, in 2012, helping to raise money. Now she's chairwoman of the American Conservative Union Foundation and serves on the boards of two nonprofits.
The summer launch of the super PAC, called the Unlocking Potential Project, put Fiorina back in the headlines nationally, making her the face of the GOP's effort to combat the "war on women" rhetoric. The group, which as of July had raised $1.1 million, focuses on six states: Colorado, Iowa, Michigan, New Hampshire, North Carolina, and Virginia.
Altogether, it has created an opportunity for Fiorina to hit the trail and do the kind of campaign work that could help her build name recognition, make connections, and test messages.
In New Hampshire, for example, the super PAC's state-level operations are headed by Lauren Carney, a longtime GOP consultant and the wife of Dave Carney, who was a veteran staffer for Texas Gov. Rick Perry and ran his 2012 New Hampshire operations.
During her most recent Granite State trip, Fiorina met important figures across the state: She spoke to female Republican activists at a Seacoast Republican Women's luncheon, toured a factory with GOP gubernatorial nominee Walt Havenstein, and campaigned for a female state Senate candidate in the state's Lakes Region. It was a more extensive trip than even several of the most likely 2016 candidates have taken.
She also met with former GOP Gov. John Sununu, a fixture of New Hampshire Republican politics and an influential player in the state's presidential primaries.
"Carly stopped by and had coffee," Sununu told National Journal, adding that all the top 2016 prospects "have been by and I give them the same advice: If you're going to run, you have to decide early and you have to run hard up here, and people want to see you."
In Iowa, Fiorina's group just announced a 61-member advisory board that includes state-level elected officials, prominent female GOP activists, and volunteers. The group's state director is Angie Hughes, a staffer for Iowa House Majority Leader Linda Upmeyer, and includes several other seasoned Hawkeye State pols.
On the road, Fiorina is part campaign operative and part public figure. At the New Hampshire Republican Party's fall convention at Southern New Hampshire University in Hooksett, N.H., she gave a rousing keynote speech to delegates about the party's need to convince voters of their own personal potential. (As she finished speaking, one man in the audience shouted, "Carly for president!")
Less than an hour later, she was onstage in a classroom nearby, going through a PowerPoint presentation issue-by-issue and explaining to local politicians and activists how the GOP can best talk about them: equal pay, minimum wage, women's health. Republican Sen. Kelly Ayotte opened for her, and GOP congressional candidate Marilinda Garcia listened in from the audience.
"If it looks like testing the water and sounds like testing the water, it's testing the water," said GOP strategist Jim Merrill, who ran Mitt Romney's New Hampshire operations in 2012.
Kellyanne Conway, a Republican pollster, said the idea of a female business leader in the 2016 mix is "fascinating."
"If you had phrased your question to me 4 months ago, 6 months ago, a year ago, we would have been discussing the female Republican governors, and maybe even one or two of the Republican female senators," Conway said. "But we would not have necessarily discussed a woman in business. She's a fascinating entry into the mix because you listen to her, you look at her, and you say—what's not to like?"
Certainly, many of the things that excite Republicans about the idea of a Fiorina candidacy could also prove to be liabilities: her lack of government experience would come up, as could her tumultuous departure from HP. And she'd need to explain why, during her 2010 Senate bid, she lost by double digits.
But Ned Ryun, whose group American Majority Action cohosted the Denver event with Fiorina's group in August, said he and others in attendance were surprised and impressed by Fiorina—and suggested she'll receive a similar reception as she travels the country and meets more people.
"People who had never heard her talk or communicate before came away thinking, 'I really like Carly,' " he said. "So the more she is able to get out and let people understand who she is, I think people are going to walk away and go, 'This is very intriguing.' "