Can Washington Help Boost Women's Economic Prospects?
Hillary Clinton: "We talk about a glass ceiling. These women don't even have a secure floor under them."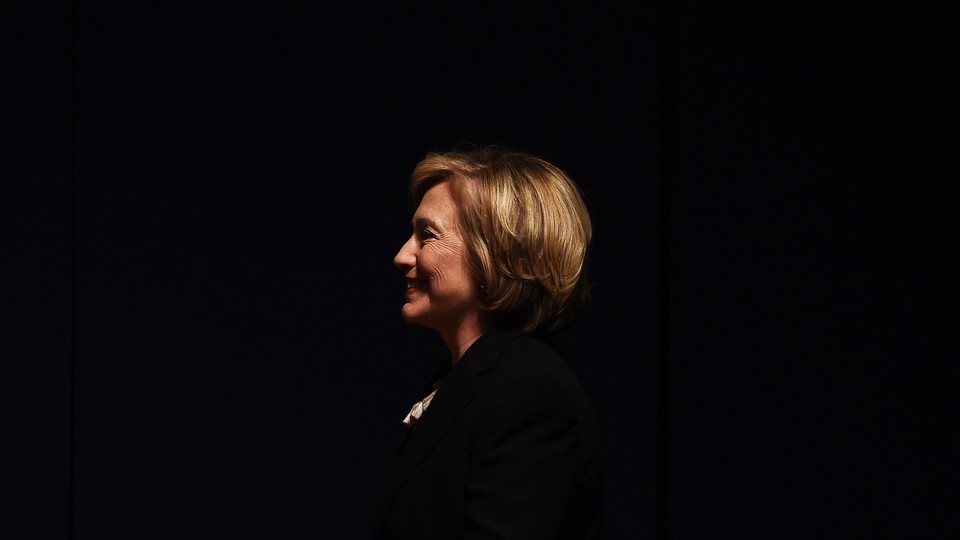 Most reporters will likely best remember Thursday's panel on women's economic security for this group selfie (groupie?) tweeted by House Minority Leader Nancy Pelosi:
The event, hosted by the Center for American Progress, featured Hillary Clinton along with nearly every Democratic female thought leader in Congress aside from Sen. Elizabeth Warren. But it wasn't just a high-profile photo op.
Clinton used the event to continue her drumbeat for universal child care and paid leave for working mothers, and to bash Republican members of Congress for "living in an evidence-free zone." Clinton argued that closing the pay gap between men and women would increase the U.S. gross domestic product by 10 percent.
"Why are we leaving 10 percent on the table because we don't do enough to give women the support they need to be empowered, to give them the support they need to take care of themselves and their families?" she asked.
Women's impact on the U.S. economy is tangible. Last December, all of the 74,000 jobs added to the U.S. economy went to women—all of them! But unfortunately, most of those gains were in low-wage sectors. Women are also earning more than half of college degrees and advanced degrees, yet they also make up nearly two-thirds of the minimum-wage earners in the U.S. In other words, well-educated women are making up more and more of the workforce, but they're often still relegated to low-income jobs.
"We talk about a glass ceiling. These women don't even have a secure floor under them," Clinton said.
Women also suffered worse than men during the recession. Between June 2009 and February 2011, private-sector employers hired 503,000 men, while 141,000 women lost their jobs.
Sen. Kirsten Gillibrand, D-N.Y., was particularly fiery in her remarks, saying it is "outrageous" that the U.S. is the only industrialized country in the world that doesn't have paid leave for working mothers. "I believe our workplace policies are stuck in the Mad Men era," she said.
Gillibrand said the best way for women to fight for change is to exercise a right they earned less than 100 years ago: Go to the polls and vote. She invoked Rosie the Riveter, noting that 6 million women entered the workforce in World War II. Today, she said, Democrats and Republicans alike should be working to get 6 million more women to vote.
Unfortunately for many women, however, caretaking duties can keep them from the polls. As Lucia Graves wrote in July, women are nearly twice as likely as men not to vote because of a family member's illness or disability.
Still, the sort of reforms Democratic women are pushing for will have to come outside for Congress. On Monday, Senate Republicans blocked the Paycheck Fairness Act for the fourth time since 2012. Republicans contend that the pay-equity law would make it easier for women to sue their employers on frivolous discrimination charges.
"We already have on the books the Equal Pay Act, the Civil Rights Act, and the Lilly Ledbetter Act, which I did support," Sen. Susan Collins, R-Maine, told reporters in June. "I believe that they provide adequate protections. I think this bill would result in excessive litigation that would impose a real burden, particularly on small businesses. So I think existing laws are adequate."
At the panel Thursday, Pelosi remained optimistic about eventually passing more pay-equity legislation. "It's inevitable to us; it's inconceivable to them," she said. "We have to shorten the distance between the inevitable and the inconceivable."
Rep. Rosa DeLauro, D-Conn., echoed that sentiment. She recalled introducing pay-equity legislation in 1997, and said it is the "chief economic issue today."
And while Congress may be gridlocked, there are always more constituents to persuade. "We ought to be on the road now talking about these issues," DeLauro said. "My view is, 'Damn the torpedoes, full speed ahead!' "