The Weird Bipartisan Consensus on Over-the-Counter Birth Control
Suddenly, a spate of Republicans have come out in favor of over-the-counter contraception—putting Democrats in a tight spot politically.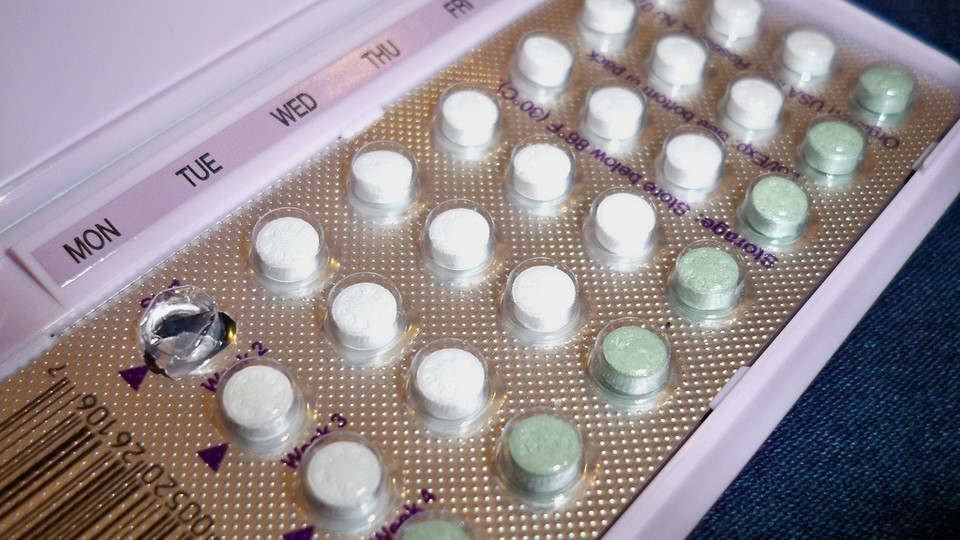 Making birth-control pills available without a prescription has become an unlikely midterm-election issue. Even more surprising is that the idea is mostly being pushed by Republicans. Democrats are in the unusual position of pushing back hard, insisting the move would actually limit access and breathlessly reminding voters, We're the ones who've cared about women all along!
The bickering over the details about how such a plan might work and whose concern for women is more sincere obscures a pretty amazing fact: Everyone seems to agree that selling birth control over the counter is a good idea. That's remarkable consensus within the minefield that is women's health.
As recently as last year, progressives like journalist Amanda Marcotte thought over-the-counter birth control was a lofty, out-of-reach goal: "Standing up for OTC birth control pills would absolutely be a hard, long fight, but it would be one that demonstrates that the pro-choice community really means it when we say we trust women with their own health-care decisions."
This isn't the first time a Republican has expressed support for the idea—Louisiana Governor Bobby Jindal raised it in 2012—but it's only now gaining solid traction among the GOP ranks. Since July, a growing roster of Republican candidates has rolled out a plan to make birth control available over the counter, including Senate candidates Representative Cory Gardner in Colorado, Thom Tillis in North Carolina, Mike McFadden in Minnesota, and Rob Maness in Louisiana. House candidates Carl DeMaio and Jeff Gorell, both running in California, have also announced support for such a plan.
Democrats' most aggressive pushback has been to flip the proposal on its head by focusing on cost. Under the Affordable Care Act, women with an insurance plan can get birth control dispensed for free with a prescription. So yes, Democrats argue, any woman could technically gain access to birth control by walking into a pharmacy without the extra step of seeing a doctor, but the price tag for the medication without insurance would put it out of reach for more women. Many experts have pegged the potential cost of the pill without insurance at $600 a year.
"I'm open to have birth control dispensed over the counter, but I would want to ensure that insurance companies continue to have to pay for it. Birth control is very expensive. And that's the assurance that we can't get from Carl," Representative Scott Peters told me last week, referring to DeMaio, his Republican challenger in the tight race for California's 52nd District.
Meanwhile, groups that tend to support Democrats are bending over backward to avoid praising Republicans in an election season. They have also seized on the insurance question.
"Recent political discussions on the importance of (over-the-counter) access to contraceptives are welcome," John Jennings, president of the American Congress of Obstetricians and Gynecologists, told BuzzFeed, "but ACOG remains firmly in support of comprehensive strategies to increase adoption of more effective methods and to provide all women with the contraceptives they need at no cost."
Planned Parenthood's political arm launched identical ads targeting Gardner in Colorado and Tillis in North Carolina. Both are "turning the pill into another bill," the ad warns.
Look past Planned Parenthood's political activities, though, and the veil slips. The group just unveiled a pilot program in two states that lets patients consult with a health professional online and receive birth control by mail, bypassing an in-person doctor visit. The takeaway: Planned Parenthood thinks a mandatory office visit is too burdensome, too.
Democrats also complain that the over-the-counter push is a deflection to hide Republicans' long anti-women records.
In the Colorado Senate race, MoveOn.org and NARAL have teamed up for an ad knocking the Republican candidate, Representative Cory Gardner, that argues his support for over-the-counter birth control is just his attempt to district from his history of backing "personhood" measures that could sharply limit abortion access. Similarly, the Democratic Congressional Campaign Committee panned DeMaio's over-the-counter birth-control plan as a desperate attempt "to change the subject by pretending to be on the side of California women" in a press release.
EMILY's List, a group that boosts pro-choice candidates, went the same route, telling Talking Points Memo: "If they really cared about issues that mattered to women they wouldn't have spent years politicizing not only access to birth control or access to healthcare, but also their paychecks."
But that group, too, admits on its website that "birth control should be available over the counter" and that its objection only boils down to continued insurance coverage.
A variation on this theme is that Republicans started talking about the idea all at once, which proves it's nothing but a cold, calculated move to win voters, not a sincere attempt to make women's lives easier. The irony of Democrats' own coordinated messaging push against it seems lost on them.
The subtext in all these charges is clear: Democrats don't object to over-the-counter birth control itself, just the messenger.
Of course, gritted-teeth agreement on an issue won't necessarily translate to actual action once the election passes and lawmakers get to work. But think about some of the other women's-health issues that have erupted in the past few years: The Hobby Lobby case, abortion-clinic closures, transvaginal ultrasounds. Those conversations were fundamentally different, with one group lining up to support an action, and one staunchly opposed. Compared to those, the over-the-counter birth control debate really just amounts to sweating the small stuff.