Andrew Cuomo Faces a Primary Challenger He Shall Not Name
Cuomo's challenger is Zephyr Teachout, and while she probably won't win on Tuesday, she's been a thorn in the Democratic governor's side.
This article is from the archive of our partner
.
New York Gov. Andrew Cuomo (D) has a primary election Tuesday, but don't try to get him to say his opponent's name.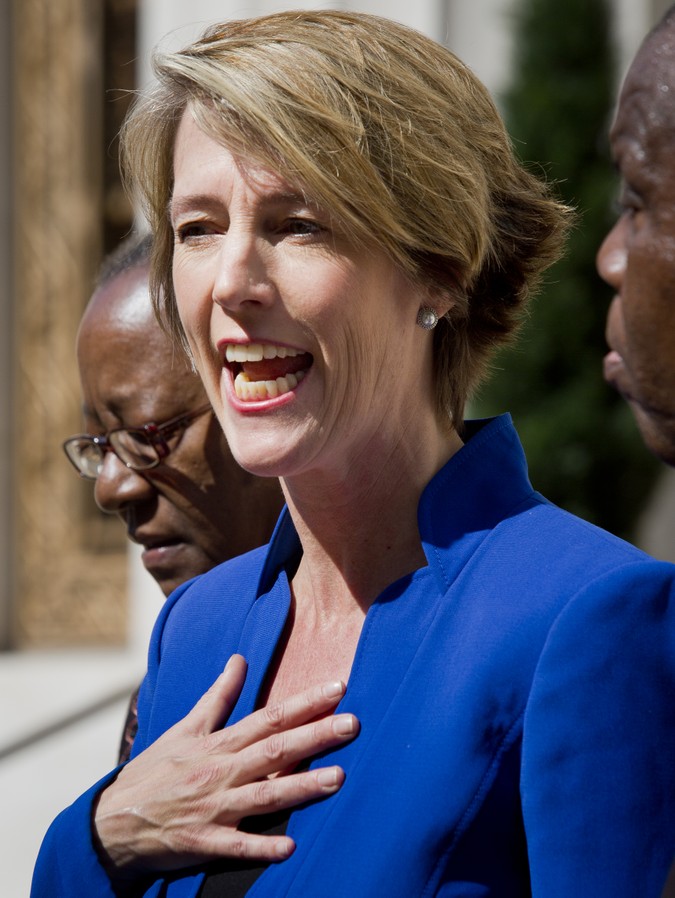 For the record, it is Zephyr Teachout (yes, it's ...unusual), and she is a college professor running on a populist platform and painting Cuomo as a patron of Wall Street.
No one in New York expects Teachout to take out Cuomo on Tuesday, but if nothing else, she has succeeded in becoming a thorn in his side. The New York Times editorial page – a bastion of the kind of liberalism represented by Cuomo's father – refused to endorse him in the primary over his record on ethics. And Cuomo has been forced to spend campaign money promoting his chosen running mate, former Rep. Kathy Hochul, whose more conservative record and lack of statewide name recognition makes her more electorally vulnerable to defeat.
Cuomo, a make-no-apologies political maestro, has run a deliberate strategy of pretending Teachout doesn't exist. The two have not debated, and the closest the governor has come to even uttering her name was on Monday, a day before the primary, as described in The New York Times:
You can be a great college professor,' Mr. Cuomo told reporters in Midtown. 'You can be very good at what you do. You need experience in government if you want to run the State of New York.'
Cuomo is essentially running a "Rose Garden" strategy (although it's not clear if roses exist in Albany), and he hadn't even held an official campaign rally until Monday.
The idea is that any time or money he devotes to attacking Teachout by name will only elevate her profile and alert New York Democrats that they can vote for someone other than him on Tuesday. It's pretty much the opposite of the strategy that former House Majority Leader Eric Cantor (R-Va.) ran in his primary this spring, when he spent millions of dollars on early television ads targeting another unknown college professor, Dave Brat, only to lose in a shocking upset on Election Day.
Cuomo's tactic may prove more successful, but his refusal literally to acknowledge Teachout's existence has been awkward, to say the least. In the video below, Cuomo and Hochul actually turn their backs to avoid greeting Teachout at a parade over the weekend:
Labor Day Parade 9-6-14 ZT from John Kenny on Vimeo.
It's not that Cuomo is reviled by liberals. He has won plaudits for signing gun control and gay marriage bills into law and for boosting education funding, as The Washington Post notes. And as he was quick to point out in a rare interview with the Post, he won the endorsement of the state's Working Families Party, which as he accurately described is made up of "the most liberal institutions in the United States of America."
But he has amassed a fiscally conservative record and done nothing to change the tradition of back room dealing that has defined Albany for New York state government for decades, if not more than a century. And a New York Times expose into his administration's interference with an ethic commission that he created only underscored how much of an ends-justify-the-means politician Cuomo is.
A Cuomo loss on Tuesday would be even more stunning than was Cantor's defeat, but even a respectable showing by Teachout would give the governor and liberal scion the embarrassment – and certainly the wake-up call – that many of her progressive supporters are seeking.
This article is from the archive of our partner The Wire.