Will the Iowa Straw Poll Survive?
The storied event has its fans, but some Republicans believe it's a money-grabbing exercise that's "outlived its usefulness."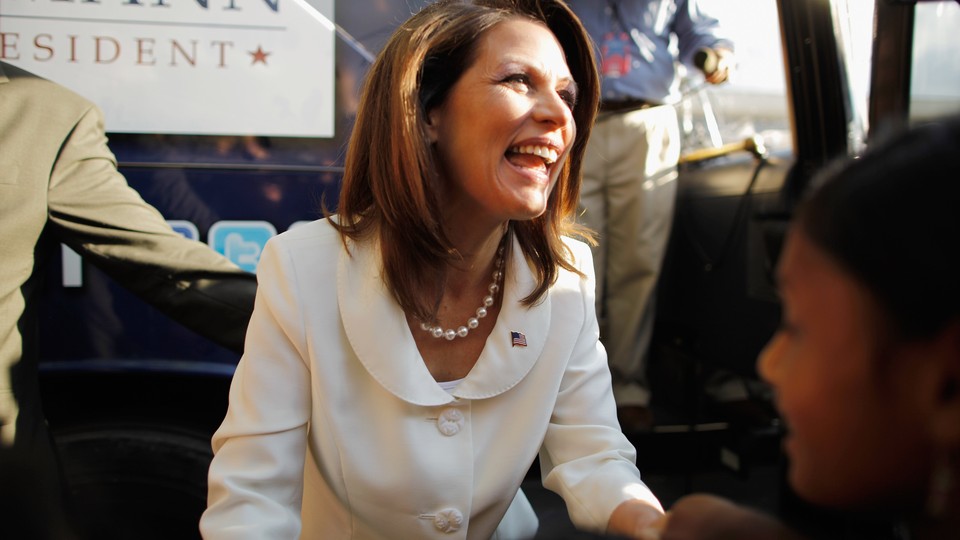 URBANDALE, Iowa — Every four years, presidential hopefuls flock to the Iowa State University campus in August to court a small handful of Iowans for the storied Ames straw poll. But if they got their own ballot, some of those candidates might vote to scrap the whole exercise.
As would-be 2016 entrants head to Iowa this week and presidential jockeying begins in earnest, Hawkeye State Republicans are genuinely unsure about what will happen to their famed event by the time next August rolls around. Most expect to see big changes at the very least, and potentially no straw poll at all.
"Some people still want to see it exist, but I don't know if there's any campaign that wants to see it exist," said Nick Ryan, a former Rick Santorum aide who heads the American Future Fund. "Having gone through a straw poll, attended a straw poll — it's unfortunate what it's turned into."
The straw poll, first held in 1979, has become a Republican confab of epic proportions both in Iowa and on the national stage. It's seen as a way to test the organization and grassroots support each presidential hopeful has amassed, as well as a helpful benchmark for candidate performance the summer before voting begins in any official primaries or caucuses. More important, it's a cash magnet for the Iowa GOP.
But the campaigns have two primary complaints: First, that it's prohibitively expensive for smaller-dollar candidates to even compete in; and, second, that it often rewards too-conservative candidates who ultimately go on to do poorly in the caucuses six months later. So it's become a resource-draining enterprise that can hurt badly if you lose, but won't necessarily help if you win.
"It's outlived its usefulness because it does start taking on the appearance of just holding up these candidates for money and fleecing them," said David Kochel, a longtime Iowa GOP strategist who worked for Mitt Romney the past two presidential cycles.
"That's not what the caucuses are about: They want to connect with the candidates, they don't care about money," added Kochel, who called the event "a goat rodeo."
The state GOP won't take up the issue until after November, said Chairman Jeff Kaufmann, when Republicans can turn their focus past this year's Senate race and spate of competitive House races. But as soon as this year's Election Day is over, dealing with the straw poll will be "front and center."
"The most truthful answer I can give to that is, I don't know" what will happen, Kaufmann said. But he added: "It's hard for me to envision the summer of 2015 without some kind of an event."
Kaufmann is part of a group of loyalists to Gov. Terry Branstad who recently regained control of the Iowa Republican Party, which had been controlled by Ron Paul supporters since the end of the 2012 election. While the Paul people were adamant that a straw poll should happen, the new leadership makes it more likely that eliminating the straw poll will be an option on the table.
The state's elected officials are at odds on the issue, too. Branstad, a Republican fixture in the state, has long made it clear he feels the straw poll needs a significant makeover if it's still going to happen, wondering back in 2012 if the event had "outlived its usefulness."
Branstad told National Journal in an interview at the GOP's Urbandale field office Wednesday that much of the straw poll's fate depends on how the presidential candidates react to it.
"It really depends upon how the candidates feel about it — I think you could have a series of regional events that could also raise money for the Republican Party," he said, stressing that the main goal is to "preserve the first-in-the-nation precinct caucuses."
Rep. Steve King, meanwhile, is a stark defender of the event. At the Iowa State Fair on Friday, King told National Journal, "The only thing that we need to scrap is the talk about there not being a straw poll."
Rep. Michele Bachmann of Minnesota won the 2011 straw poll, but went on to finish sixth in the caucuses; John McCain and Romney, the 2008 and 2012 GOP nominees, respectively, did not invest heavily in the straw poll and still won their party's nomination the following year. The 2011 straw poll also caused Minnesota Gov. Tim Pawlenty to drop out of the race when he didn't do as well as he'd hoped — evidence, to some, that the event holds too much power.
Still, former Arkansas Gov. Mike Huckabee came in second in the 2007 straw poll, a precursor to his victory in the 2008 caucuses. And George W. Bush won the 1999 straw poll and then won Iowa in 2000.
Proponents of the straw poll point out that it's a huge fundraiser for the state party, and thus hard to give up. It's also a way to ensure that Iowa continues getting all the early campaign-trail action and media exposure.
"If I had to look into my crystal ball, which is some days cloudy, I would say there will probably be a straw poll," said Bob Haus, a longtime Iowa GOP operative who's aligned with Texas Gov. Rick Perry. "But it will be in a different form somehow. It will have to be, just based on the criticisms from previous campaigns."
The idea of regional events — say, one in each of the state's four congressional districts — is mentioned often by Iowa politicians and activists, though there are other tweaks that could be made. Rather than holding an actual vote, some have suggested turning the event into a big speakers' forum and debate between the candidates; selling tickets to such an event would still allow the party to raise money. There's also a chance that an outside group, rather than the state party, could sponsor the event.
Chuck Laudner, the GOP operative who ran Santorum's Iowa campaign in 2012, predicted that if the state party doesn't hold an event next August, someone else will.
"If you get rid of the straw poll, what replaces it is going to be 10 times worse," Laudner said. "Nature will fill that void."¦ Instead of that straw poll, there's going to be 10 straw polls, 20 straw polls."
Straw poll defenders like Laudner note that, at its core, the event is a fun gathering that brings together voters who may not otherwise get involved in the campaign.
"I understand that there are some Republicans, and some candidates in particular, that don't like it," he said. "But that's their problem. If you don't like the straw poll, there's something wrong with you — it's just a great day."