Clintonphobia: Why No Democrat Wants to Run Against Hillary
Strong frontrunners have drawn challengers before. But given the Clintons' reputation for retaliating for betrayals, it's just not worth it in 2016.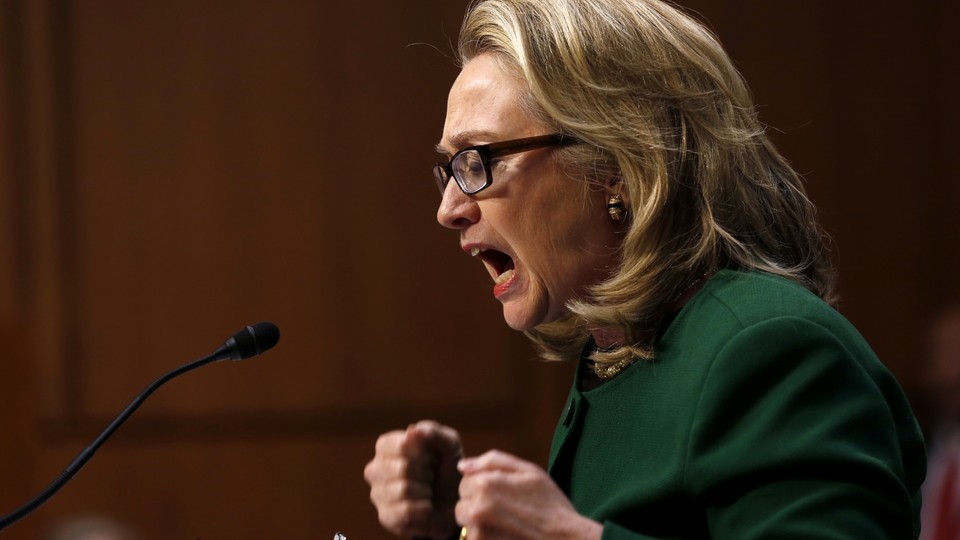 The mystery of the 2016 Democratic presidential race isn't why Hillary Clinton seems likely to run. She's ambitious, qualified, too old to wait another four years and well positioned to win. Why wouldn't she run?
The mystery is why she has no real competition. So far, none of the Democrats who could seriously challenge Clinton—Elizabeth Warren, Andrew Cuomo, Deval Patrick—have shown any interest. The candidates who have—Brian Schweitzer, Martin O'Malley, Bernie Sanders—are too weak to arouse much media attention or donor support.
On Tuesday, The Washington Post's Aaron Blake ran through the reasons various potential challengers seemed disinclined to run: Warren has praised Clinton too much; Joe Biden's approval ratings are low; O'Malley would have trouble raising money. But these individual factors don't entirely explain why no one has emerged.
After all, presidential primaries have seen strong frontrunners before—think of Walter Mondale in 1984, George H.W. Bush in 1992, or Al Gore in 2000—but they've all faced real challengers. An essentially uncontested race by a non-incumbent for a party's presidential nomination would be unprecedented in recent American history.
One reason even formidable frontrunners have faced significant opposition is that their challengers have felt that even by losing, they might win. For decades, underdogs have entered contests they knew they'd likely lose because they figured that in so doing, they could gain public recognition and organizational support that would help them in a future bid. Think of how Gary Hart's challenge to Mondale in 1984 made him the Democratic frontrunner in 1988 (until an adultery scandal brought him down). Or how Bob Dole's challenge in 1988 set up his campaign in 1996. Or how John Edwards's run in 2004 made him a stronger contender in 2008.
There are plenty of ambitious but little-known Democratic governors or senators who are a decade or two younger than Clinton. So why aren't more of them considering a presidential campaign that might set them up to be Clinton's successor? The answer speaks to one of Clinton's underappreciated assets: her ability to instill fear.
The winning-by-losing strategy works best when it gains you some influence over the person who defeats you for the nomination. Sometimes that means earning a place alongside them on the presidential ticket, as Edwards did in 2004. Sometimes it simply means convincing their supporters that you have a bright future and may be worth supporting down the line. The strategy works less well if the person who defeats you becomes your sworn enemy, committed to doing you political harm. It's the fear that the Clintons may do exactly that that is limiting the pool of willing challengers.
And for good reason. Throughout their careers, Bill and Hillary Clinton have shown a willingness to remember, and punish, political betrayals. In 1980, then-President Jimmy Carter sent some of the Cuban refugees who had arrived in the United States as part of the Mariel boatlift to Arkansas. Held in prison-like conditions, the detainees rioted and some escaped, which ensured Clinton's reelection defeat as Arkansas governor. As Carl Bernstein details in A Woman in Charge, the Clintons retaliated more than a decade later by refusing to give anyone in Carter's inner circle a job in the Clinton White House. In their book HRC, Jonathan Allen and Aimee Parnes note that in 2012, Bill Clinton repeatedly intervened in Democratic primaries to help candidates who had backed Hillary against rivals who had backed Barack Obama—thus reminding Democrats that opposing Hillary carries a price.
According to Bob Boorstin, who ran communications for Hillary's health-care task force, when Hillary is slighted, "she gets angry, and she remembers it forever." When people prove loyal, by contrast, they reap rewards. As Allen and Parnes put it, "Loyalty, for better and worse, has been the defining trait of Hillary and her tightly woven inner circle, from her days as first lady through the Senate and State."
Not all politicians are as prone to punish their adversaries and reward their friends. Obama, for instance, undercut the foreign-policy advisers who had signed onto his presidential campaign when he made Hillary Clinton secretary of state and let her stack Foggy Bottom with her allies. And Obama has been loath to punish members of his own party in Congress who oppose his agenda. Referring to Democrats who last year opposed Obama's push for gun control, former Senator Byron Dorgan told The New York Times, "There have been very few consequences for those that defeat the legislation, and that's what allows the legislation to be defeated."
Both Obama's and Clinton's styles have their benefits and drawbacks. During her health-care task force, and 2008 presidential campaign, Hillary's emphasis on loyalty probably inhibited aides from telling her early and bluntly enough that things were veering badly off course. But so far in 2016, that same reputation may be helping her scare off potential challengers. In explaining why O'Malley may not run, the Post noted, "He's got lots of time to build a career without making enemies of the first family of Democratic politics." Luckily for Hillary, a lot of other potential Democratic presidential candidates seem to be thinking the same thing.