Why Is a Major Green Group Backing a Republican Who Supports the Keystone Pipeline and Offshore Drilling?
Hint: They're playing the long game with the GOP, and they think it's working.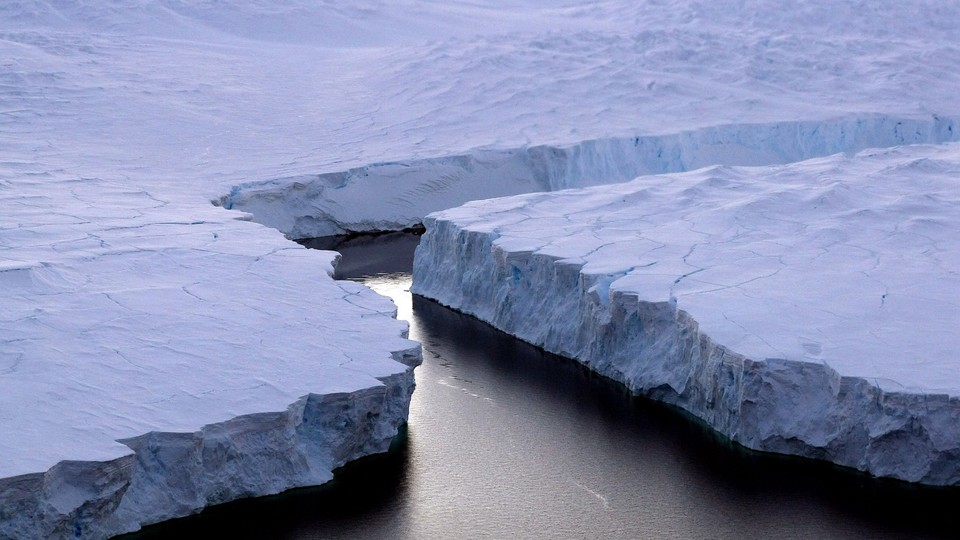 The Environmental Defense Fund's political branch wants to build bridges between Republicans and environmentalists—and they're willing to make big compromises to do it.
The group is going to bat for Rep. Chris Gibson, a two-term Republican representing a stretch of upstate New York. In a new $234,000 TV ad buy, EDF Action touts his recent votes in favor of federal climate-change initiatives.
Gibson is hardly the prototypical environmentalist ally: His voting history includes support for the Keystone XL pipeline; opening up the East and West Coast to offshore drilling; and bills to restrict or put new hurdles before various Environmental Protection Agency air-pollution and clean-water policies.
The League of Conservation Voters gives Gibson a 33 percent ranking in its vote scorecard.
Gibson's Democratic opponent, meanwhile, has drawn support from other environmentalists.
In recent votes, Gibson has broken Republican rank to support action on climate change, notably opposing legislation to dismantle major EPA carbon-emissions rules. And as EDF Action fights for GOP inroads, those seeds of change are enough.
It's part of the group's larger initiative to support Republicans with even a green tinge, hoping to pull them and their party closer to EDF's preferred policy stances.
"It is a very long-term effort. We are not going to change the world in 2014, but we can certainly start to build trust between the environmental community and the Republican Party, which has largely evaporated," said Tony Kreindler, EDF Action's senior director for communications.
Kreindler said the group has raised seven figures already and wants to show that being pro-environment can be "good for the politics of both parties." The effort has also extended to the state politics level, including support for Kansas lawmakers who backed the state's renewable electricity standard.
The effort to find GOP allies arrives after Capitol Hill Republicans have spent years launching attack after attack against Obama administration environmental policies, and the ranks of moderate GOP lawmakers have dwindled.
Building ties with Republicans will mean making compromises, but that's not inconsistent with the posture of EDF, which has shown more appetite than many green groups for working with corporations.
"You are never going to find a member of Congress in either party who is 100 percent perfect on every environmental issue," Kreindler said. "Climate is one of our top priorities. Congressman Gibson is one of the few Republicans in the House right now who understands the need for action and we need to thank him for that."
On climate change, a top priority for EDF Action, Gibson has been an ally for environmentalists of late despite voting in 2011 to block EPA's authority to regulate greenhouse gases.
Gibson is one of just three Republicans who opposed legislation that passed in March to thwart EPA's carbon-emissions rules for power plants, and more recently, Gibson told the radio station WCNY why he's not on board with efforts to scuttle the regulation.
"If the endeavor is to increasingly put pressure on coal and power plants in general to become more efficient and to be more ecologically friendly, I think that is a general concept that everybody should be behind," he said, adding that he did not believe the rule would create a major spike in power costs.
Last month he was the lone GOP vote against two amendments to prevent Energy Department climate-change efforts, and was one of three Republicans who voted against a third.
But Gibson's record isn't good enough for some other environmentalists taking sides in the race. The Sierra Club has endorsed Sean Eldridge, his Democratic challenger. People working for the Natural Resources Defense Council have donated $3,600 to Eldridge, according to figures compiled by the Center for Responsive Politics. NRDC President Frances Beinecke co-hosted a fundraiser for Eldridge late last year, according to press acounts.
The Cook Political Report lists the seat as "lean Republican."
A House race is a relatively safe place to seek to build GOP ties. Republicans are highly likely to maintain control of the House. Kreindler indicated that EDF Action is unlikely to work against vulnerable Senate Democrats.
Glenn Hurowitz, a veteran of Democratic and environmental politics, said EDF Action's move makes sense.
"Pro-climate-action House Republicans have sadly become such a rare bird that it's worth going to extraordinary lengths to save the species," saud Hurowitz, the executive director of Catapult, a consulting company that works on environmental issues.
"The only way we're going to get true bipartisan support for climate action is if GOPers see political rewards when they do the right thing, and EDF is making sure those rewards have electoral oomph," he said.
This story has been updated to clarify that individuals affiliated with the Natural Resources Defense Council have donated to Democrat Sean Eldridge, not the NRDC itself.