Why Are Conservatives Going After Pat Roberts?
With no policy differences to be had between Kansas's senior senator and his challenger, tea-party groups go after his careerism.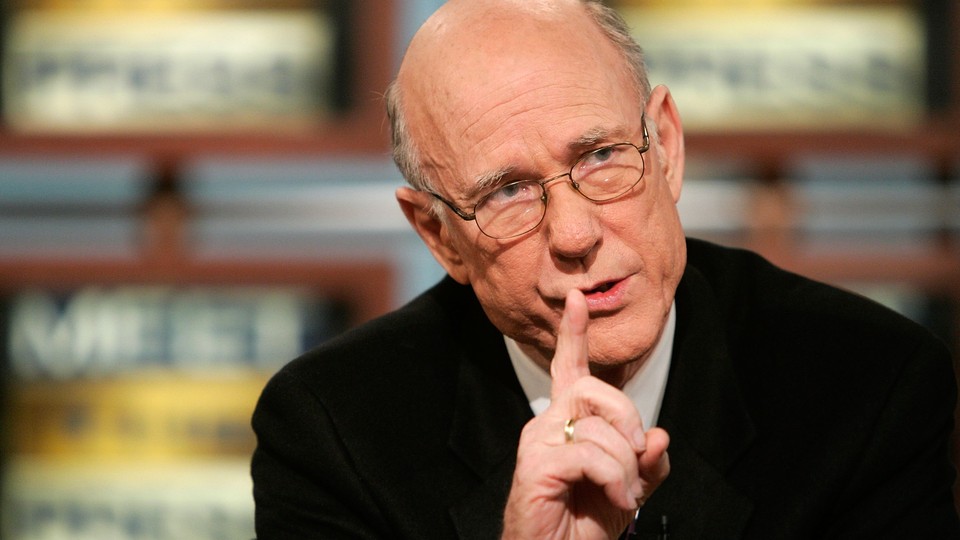 If Sen. Pat Roberts wins reelection, conservatives will have a senior lawmaker with a 93 percent Heritage Foundation score poised to lead powerful and influential committees. Think that's enough for the Tea Party Patriots, Madison Project, or Senate Conservatives Fund? Well, think again.
Those groups are funneling what's left of their resources to Roberts's primary challenger Milton Wolf, a 43-year-old second cousin of President Obama who has no political experience but declares himself to be "the next Ted Cruz."
There are virtually no policy differences between the two candidates. And that has left both the campaigns and their allies grasping for attack material. Wolf's campaign has criticized Roberts for voting to raise the debt ceiling and to confirm former Kansas Gov. Kathleen Sebelius as a Cabinet secretary, but it has spent more effort focusing on Roberts's residency (he primarily lives in a home in Virginia). The incumbent's main attacks have been about Wolf's unusual habit of posting private X-ray photos of his patients to Facebook.
Asked what policy issues the two candidates might debate if Roberts had ever agreed to face his challenger, an adviser to the incumbent's campaign couldn't name a single one.
So why are conservatives spending their time and resources trying to replace Roberts with Wolf? Because while Roberts might have a 93 percent score with the Heritage Foundation right now, his lifetime mark is 79 percent. And conservative groups and strategists don't want to let up the pressure that they say forced the change.
"It's beyond how far to the right you are, it's much more complicated than that," said Daniel Horowitz, a conservative strategist formerly with the Madison Project, which is backing Wolf. "We've moved the goalposts and Republicans now have to vouch for the Republican Party platform. I don't think any of us have confidence they're going to keep doing this when they no longer fear electoral reprisal."
Horowitz described Sen. Orrin Hatch's 2012 reelection in Utah as a wake-up call for conservative groups that right-shifted candidates can just as easily shift back once reelected.
"It got to the point when a lot of conservatives were very divided" on Hatch's race, Horowitz said. "They were like, 'Gosh, the guy is so good now, we have bigger fish to fry.' I personally thought that, but I was really taken aback by how quickly he reverted."
Some of the groups backing Wolf concede that their efforts are as much about keeping incumbents looking over their shoulders as they are about helping the Kansas radiologist. Although they'd love to see their candidate in Washington, they give the impression that actually replacing Roberts isn't such a huge priority — admittedly a convenient position given that Wolf hasn't caught fire.
"In a general sense, we like to think this year we shifted the narrative, shaped the debate," said Tea Party Patriots spokesman Kevin Broughton, whose group is running ads for Wolf.
Without question, Roberts's tone has shifted since his earlier days in the Senate. In a 1998 speech he criticized "fringe" members of the party, touting a Republican agenda that "appealed to a broad spectrum" and "did not win by limiting our membership and our appeal to a narrow agenda or a special purpose." In recent years, however, he's voted against the farm bill and called for Sebelius's resignation, though he counts the Democrat as a personal friend.
Roberts campaign consultant David Kensinger, a longtime aide to conservative Gov. Sam Brownback, said Roberts's evolution had been consistent with his state's move as a whole, as well as with the nation's increased skepticism of the federal government. He traced a shift in the senator's views back to the implementation of Obamacare, not the influence of the tea party pushing candidates to the right.
Still, conservative groups want to make sure Roberts stays there.
"Everyone asks, 'Well what's your problem? They're voting the way you want them to,' " said Horowitz. "But it's kind of baked into the cake, it's only because we're doing what we're doing. If we laid down our guns you'd see a very different type of GOP."
As a result, the Madison Project and other like-minded groups are taking on a candidate who reliably votes the way they want him to by using conservatives' second-favorite argument: the evils of career politicians.
"Pat Roberts has been in Washington for 47 years. Can you name anything he's done?" says a Senate Conservatives Fund ad, before replaying a Roberts gaffe in which the senator accidentally suggests he only comes home every time he gets "an opponent" instead of every time he gets a chance.
Asked whether outside groups' focus on anti-incumbency and residency were an attempt to make up for a lack of policy differences, Horowitz said both were symptoms of bigger problems.
"What's emblematic about career politicians is that they don't have any clear vision," he said. "They'll do whatever they need to do, and they're connected to a very small circle of donors and lobbyists who demand of them certain things."