Why Abortion Groups Ignored the Man They Hate
In Tennessee, a scandal-plagued Republican congressman's seemingly inevitable defeat might have convinced some abortion-opponents they didn't need to work against him. They were wrong.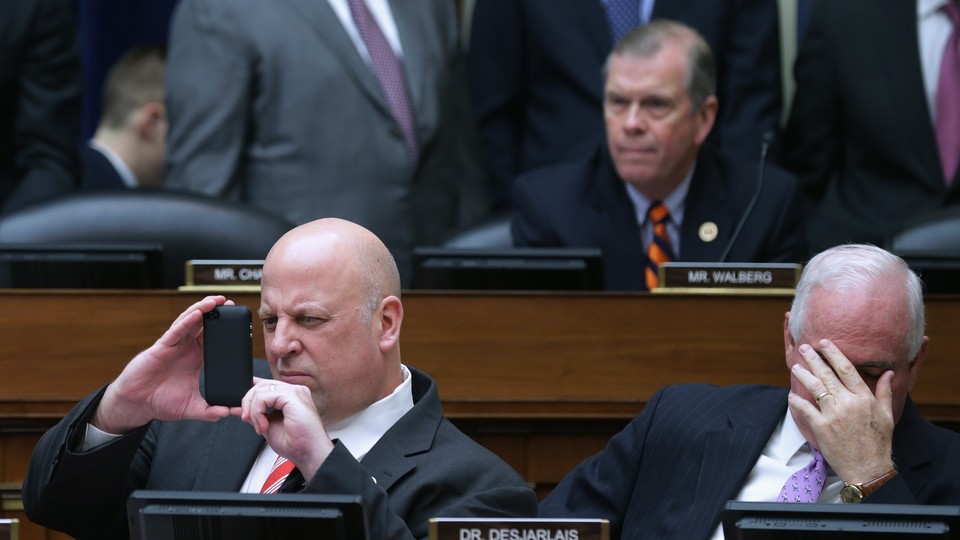 Scott DesJarlais slept with his former patients, encouraged one to have an abortion, and twice urged his ex-wife to have an abortion. But oddly enough, when it came time for the Tennessee representative to run for reelection, the "pro-life" movement that had the most reason to despise him has instead given him close to a free pass.
The vast network of influential anti-abortion-rights groups, many of which are rarely shy about making their voices heard, have been remarkably absent from DesJarlais's primary, a review of the 4th District contest shows. In some cases, the groups haven't provided even so much as endorsement against the incumbent lawmaker, much less contributions or well-funded independent expenditures.
Their absence has elicited confusion and curiosity among many Republicans closely watching the race, many of whom are wondering why a lawmaker who is the embodiment of abortion-politics hypocrisy hasn't been more of a target. By Friday, that might turn to anger: Once considered a long shot, DesJarlais is now seen by some local political strategists as an even bet to win his Thursday primary against state Sen. Jim Tracy.
"This is a race that Tracy should easily win, and he's not [going to]," said Chip Saltsman, a longtime GOP operative in Tennessee. "I think it's a toss-up."
If DesJarlais does win, it's a fair assumption that some of the postgame finger-pointing will be directed toward the anti-abortion groups, who will have squandered an opportunity to take down a lawmaker whose mere presence in Washington opens the movement up to cries of hypocrisy.
The most glaring absence from the 4th District primary has been Right to Life, the influential political group with both national and Tennessee chapters. Neither has so much as endorsed Tracy.
In the case of the Tennessee chapter, DesJarlais has benefited from its decision to focus this year entirely on support for an amendment to the state Constitution that would makes it easier to legally restrict abortions. (Voters would have to approve the amendment in November.) The group's political arm hasn't made any endorsements this election cycle, according to its president, Brian Harris, in part because the time and energy required to support candidates would take away from the drive to pass the amendment. He added that he also feared that supporting Tracy over DesJarlais would alienate some of the incumbent's supporters and siphon their support from the amendment.
"Across the board, we determined the best use of our time energy and resources was passage of a pro-life amendment to the Constitution," Harris said.
Why the National Right to Life PAC didn't make an endorsement is less clear: The group has backed Sen. Lamar Alexander in his contested primary on Thursday. On its website listing endorsements in Tennessee House races, it says only to "check back soon for updates!" Representatives for the PAC did not respond to multiple requests for comment.
Tracy has received endorsements from a handful of groups that oppose abortion-rights, including the Family Research Council PAC and American Conservative Union. The social-conservative group Concerned Women Political Action Committee also bundled about $2,000 for the challenger, and FRC's PAC contributed $1,000. But in a contest where Tracy has raised more than $1 million, those totals don't do much to move the needle.
There's no doubt that DesJarlais's personal scandals almost crippled his candidacy from the get-go. The revelations that he had twice encouraged his former wife to get an abortion became public in November 2012, a few weeks after his previous election. His personal life had already been under fire from critics, after court transcripts showed that DesJarlais, a doctor, had once slept with a patient and then urged her to get an abortion, and had carried on affairs with multiple coworkers and others.
By early January, Tracy had entered the race — far earlier than most challengers — and he carried the unofficial imprimatur of the GOP establishment despite running against an incumbent. Through mid-July, Tracy had raised roughly a $1 million more than DesJarlais, who had collected only a meager $440,000.
But Tracy's early success might have actually worked against him, convincing most groups, including those focused on abortion politics, that their money would be better spent elsewhere.
"The reputation around this race for a very long time has been that Jim Tracy was going to run with it," said Joe Hall, a Tennessee GOP strategist. "When that occurs, money will sit it out. And decisions are made to invest elsewhere where it will have a bigger effect."
Other Republicans suggest the scandal's timing, coming almost two years ago, has allowed DesJarlais enough time to repair his image (aided by his 100 percent pro-life voting record this session.) He has been open about his pleas for forgiveness, which resonates in the heavily Christian district, and has received a considerable boost in support from his current wife, Amy. Her unwavering support of his campaign has been crucial to his political rehabilitation, Republicans said.
"She just softens him up," said one local GOP operative, who has watched the race closely. "He's been pretty smart — he carries her around all over the district because she helps him."
He's also been helped in part by the district's sharp Republican lean, the kind of conservative electorate where national strategists don't worry about holding the seat regardless of who the nominee is. It's not necessarily a slam-dunk that DesJarlais would win reelection in the fall — a source within EMILY's List, the pro-choice Democratic women's group, said they would consider backing his opponent should the congressman be the nominee — but he's still a strong bet.
Which would be much to the chagrin of some Republican critics.
"I can't believe more pro-life groups didn't work against DesJarlais based on his lack of character," said one person well connected in the pro-life movement, who requested anonymity to speak candidly. "The man's a dirt bag."