Who Loses Primaries? Weak Candidates
There is stronger "anti-incumbent" sentiment than in the past, but this year's primary losers have only themselves to blame.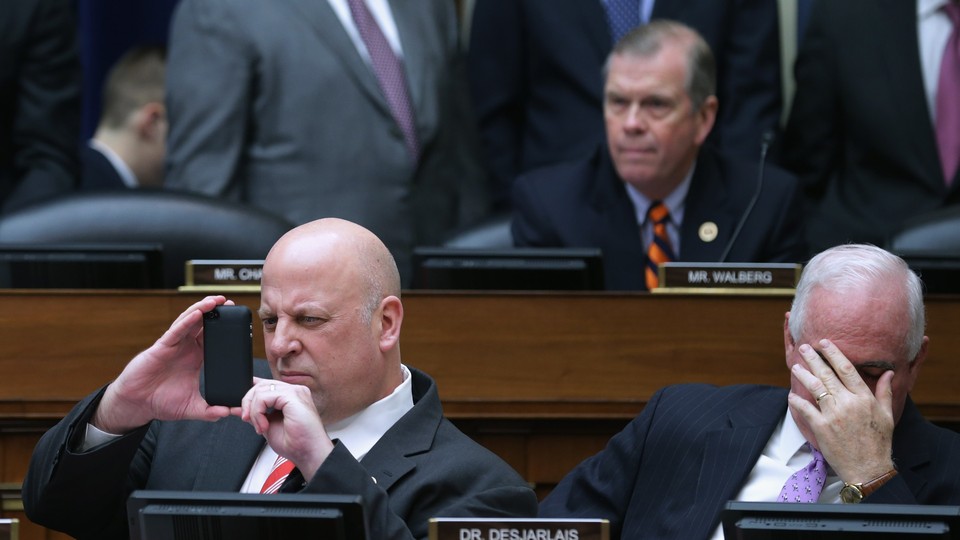 This week's House primaries in Michigan and Tennessee could bring this cycle's third and fourth losses for Republican incumbents, but don't solely blame any "anti-incumbent" sentiment pervading the American electorate. Personal scandals, Santa Claus costumes, and other uniquely local touches will be far more important to the most vulnerable House members in upcoming primaries.
Republican Reps. Kerry Bentivolio of Michigan and Scott DesJarlais of Tennessee are on thin ice in primary races that have been defined by their individual shortcomings. Bentivolio, previously a reindeer farmer and Santa Claus impersonator, has been called the "accidental congressman," having won his seat in 2012 only after Rep. Thaddeus McCotter unexpectedly failed to qualify for the GOP primary, leaving Bentivolio as the only Republican on the ballot. He faces a well-funded attorney endorsed by the U.S. Chamber of Commerce, Dave Trott, on Tuesday.
DesJarlais's 2001 divorce proceedings were made public in 2012, revealing that he supported his wife's decision to have two abortions before they were married and that DesJarlais, a physician, had sexual relationships with patients and coworkers at his office and pressured one to get an abortion. He faces state Sen. Jim Tracy in an unusual Thursday primary.
Despite a political atmosphere that's bad for incumbents, the two Republicans who have lost their seats to primary opponents — along with Bentivolio and DesJarlais, who could well join them — have individual weaknesses, not atmospherics, to blame. Rep. Ralph Hall, the 91-year-old Republican from Texas, lost to a younger opponent who supported term limits and criticized him for serving for so long. And though sentiments about immigration and other national issues undoubtedly played some part in House Majority Leader Eric Cantor's surprising defeat, the main hit on Cantor was that he didn't spend enough time in his district and thus didn't take economist Dave Brat's challenge seriously.
Attributing these losses to a nationwide trend "would be a huge leap of logic," said Denise DeCook, a Michigan Republican consultant with the Sterling Corporation.
"There's the Cantor problem: He doesn't go back to the district and knock on doors and look people in the eyeball," DeCook said. "But that's not an anti-incumbent thing, it's a Cantor thing."
DeCook said she expects Bentivolio to lose by a wide margin not only because of a sense that he never belonged in Congress but because he hasn't campaigned very hard. Trott has raised about six times as much money as Bentivolio and led by wide margins in the public polls.
Despite the bad numbers, Bentivolio ran a quiet campaign and even attended a fact-finding mission to Central America only a few weeks before his election. It's possible Bentivolio has resigned himself to losing and is focusing on serving out his term, DeCook said.
"I don't think he often knows what to do politically," she said. "If you're only going to be in for one term, you might as well be a congressman for one term and don't do the politics."
In the end, if Bentivolio loses, it will be "completely on him," said Dave Doyle, a Republican consultant with Marketing Resource Group. "It's the unique circumstances of McCotter not being on the ballot and Bentivolio falling into that seat."
In Tennessee, DesJarlais faces a similarly unique set of circumstances, although he could still manage to squeak out a victory. After the news of his indiscretions broke in 2012, Democrats thought it gave them a shot at DesJarlais's deep-red district. The Republican still won reelection but immediately became one of Congress's most vulnerable incumbents. Tracy, DesJarlais's well-funded, well-connected opponent, announced his run against the incumbent before DesJarlais was even sworn in for his second term.
Tracy has made DesJarlais's personal baggage an issue in the campaign, but only in a subtle way early on. In a January 2013 interview with The Daily Caller, Tracy said he was running because "the country is bankrupt, financially and morally" and he was a "solid conservative "¦ in word and deed." In a June TV ad, Tracy told viewers that "too many congressmen are short on integrity." Tracy's message got more pointed as time went on: Another ad released in late July says directly that DesJarlais's scandals have made him less effective in Congress.
Tracy campaign manager Stephanie Jarnagin said the campaign has focused more on how DesJarlais hasn't seemed present in the district but added that he lost support among local allies after his divorce proceedings transcripts were released, which hurt his ability to raise money. Either way, Jarnagin said, if her House race is one of the rare ones to feature an incumbent loss, it'll be because of the candidates involved.
"The No. 1 issue is not so much what happened in the past," she said. "It's that [DesJarlais] hasn't shown up in the district. He doesn't go to stuff."