Which U.S. Immigrants End Up Becoming Small-Business Owners?
Greeks top the list. Here are the 19 others.
Greek immigrants are more likely to be small-business owners than immigrants from any other country.
According to a report from the Fiscal Policy Institute's Immigration Research Initiative, using data from the U.S. Census Bureau, there are 75,000 Greek immigrants in the U.S. labor force. And of those, 16 percent are small-business owners. This tops immigrants from Israel at 13 percent, Syria at 12 percent, and Iran at 12 percent.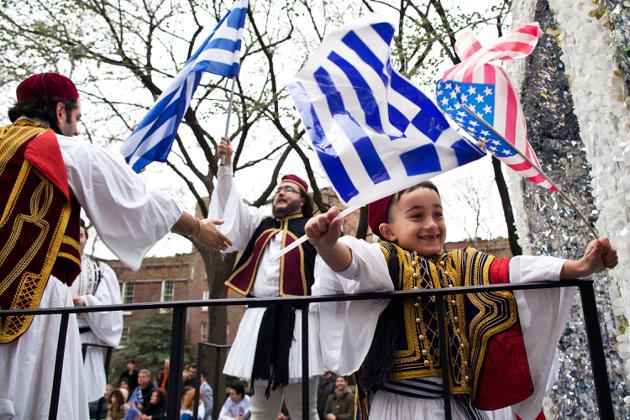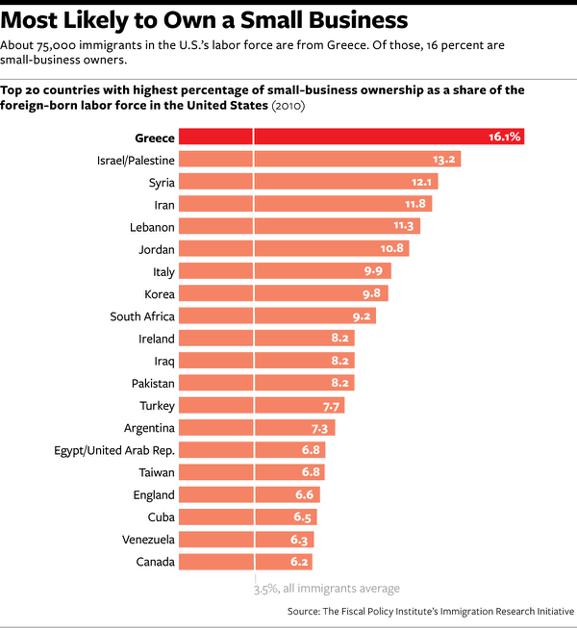 Although there may be more immigrants from other countries, that doesn't mean more become small-business owners. Take for example Mexico: 105,000 immigrants to the U.S. from that country are small-business owners. But they account for only 1 percent of Mexican immigrants' total labor force in the U.S. Similarly, nearly 63,000 Indian immigrants are small-business owners — 6 percent of their share of the American labor force.
David Dyssegaard Kallick, a senior fellow at the Fiscal Policy Institute, cautions that these data do not necessarily mean that immigrants from one country are more entrepreneurial than those from another country. While this is true for some countries, it could also be that certain immigrants have been in the U.S. longer than others.
"For Greeks, it's likely that a lot of them have been here for a longer period of time," Kallick explains. "And, in general, immigrants who have been here longer have established a stronger footing in the economy and more likely to become business owners." Another factor has to do with immigrants' level of education, he said.
Entrepreneurship also has a lot to do with people's lives before they immigrate to the U.S. In their 2013 book on Greek-Americans, Peter and Charles Moskos say it starts in the small village in rural Greece.
"The Greek peasant participated directly in a market, rather than a subsistence, economy. Land and agricultural products were commodities to be bought and sold," they write. "The Greek villager was already eager to emulate consumer and city lifestyles. Ostensibly peasants, Greek migrants were mentally primed before their departure to take advantage of capitalistic opportunities as they might appear in the new country."
William Shuyler of the Next Generation Initiative, an organization that helps prepare young Greek-Americans for future professional careers, chalks it up to Greeks being entrepreneurial by nature.
"For whatever reason — whether it's a spirit they've inherited from strong families, from pride in their heritage, or out of sheer stubbornness — Greek-Americans value hard work, and see it as part of a full life," says Shuyler, who has worked with Greek-American entrepreneurs for the past 20 years.
Many of the Greek immigrants who became small-business owners found their calling in the restaurant industry; today, there are 3,100 Greek restaurants in the U.S., according to the Moskos book — and those are just self-described Greek restaurants. But that would only account for a fraction of the small businesses. Greeks also opened dry-cleaning services, florist shops, produce stores, and coffee shops when they came to the U.S.
Kallick doesn't have a specific breakdown of what sorts of small businesses Greek immigrants own. However, he does see a trend of entrepreneurship in many Mediterranean and Middle Eastern countries.
Greek immigration peaked during the 1950s and 60s, and has steadily declined in recent years. While Greek-Americans remain a large cultural group, the number of Greek immigrants will soon decline, and with it the number of small-business owners.