What Is Al Franken So Afraid Of?
The comedian-turned-senator is running an unusually low-key reelection campaign, trying to avoid scrutiny. Will Republicans get the last laugh?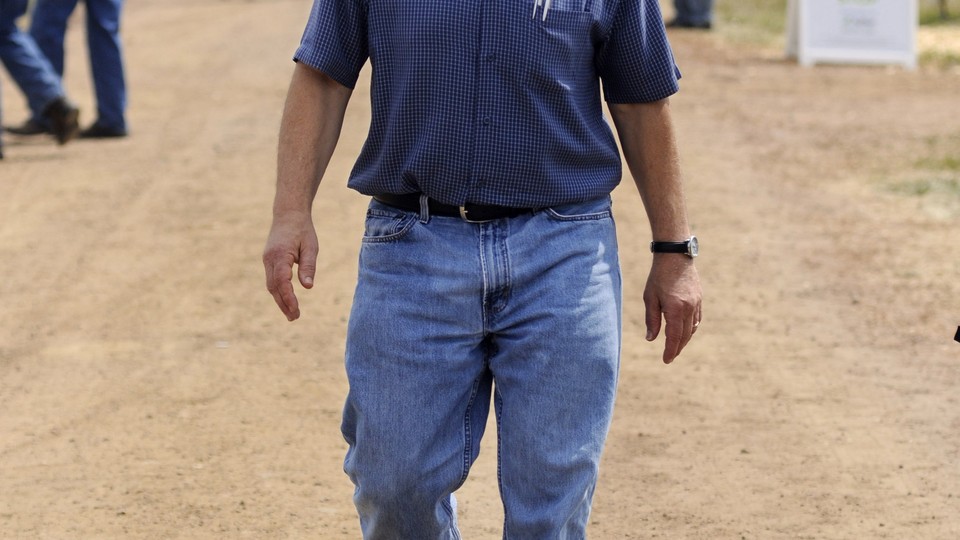 ST. PAUL, Minn.—I flew to Minnesota with high hopes of talking with Senator Al Franken, and his staff said I'd get my chance during a "media availability" following a speech on the 50th anniversary of the Job Corps. But when I arrived at the Hubert H. Humphrey Job Corps Center, I discovered I was the only reporter there, and Franken's deputy communications director—one of three of his staffers working the event—said that the senator was in a rush. Could I walk and talk on the way out?
So as we walked through the gymnasium outside toward the campus's small parking lot, I asked Franken a perfunctory question about his work with job-training programs, and a minute later, as we approached his car, how he rated President Obama's handling of the economy. "I can't do that briefly, we have to run," Franken said.
Then he got in his car and left.
Since defeating Republican Senator Norm Coleman in a nasty, down-to-a-recount race in 2008, Al Franken has made himself a stranger to the national press, dodging reporters in the halls of the Capitol and rarely granting interviews to national media outlets in an extended effort to prove he's a serious policymaker and not a spotlight-hogging celebrity. Now, as he faces his first reelection challenge, I wanted to see if things are any different back home. They're not.
I caught up with Franken again the day after the Job Corps speech—at 6 a.m., as the gates opened at the Minnesota State Fair. I asked him how the campaign was going, but his campaign spokeswoman, Alexandra Fetissoff, changed the subject: "Fair questions are much more fun to ask!" So I asked the senator what fair foods he'd recommend, and a filibuster followed: "You cannot not get the roast corn. Minnesota has the best sweet corn in the country, hands down, but this sweet corn—they actually have a dedicated kind of variety, a special, acres and acres of sweet corn, and it's so delicious that I've had hundreds of corn over my years here. And I never had an ear that wasn't unbelievable." Franken went on: "I like the walleye on a stick, it's much better than I ever thought. Do you like chocolate-chip cookies because they have a bucket of cookies with a bottomless glass of milk because the milk is really cold and really delicious." He then went to the Farmer's Union booth to greet supporters.
When he was done, I got about four minutes to talk with Franken about the campaign and issues. Asked about the race, he said: "Now we're about two and a half months away, so it coincides with the season kicking in. I'm looking forward to the campaign, I really am. I'm getting good vibes around the state." When I asked about the political mood in Minnesota, Franken said, "I'm not sure if people are completely pinpoint exactly why [they're upset at Washington], and that's going to be part of the campaign. We can do better. Even though we have a lower unemployment rate than the rest of the country, people are still feeling squeezed in the middle class, and so many of the new jobs aren't high-paying jobs." Franken said he had some "disagreements" with President Obama over how to best approach the economy, but he praised the president's stimulus and proposed 2011 jobs package. And he emphasized he was focused on "middle-class jobs" and infrastructure spending, while also supporting unnamed "smart cuts."
As he left, he went over what sounded like the day's campaign schedule with his staffers, but they wouldn't divulge where he was headed. "We're coming back to the fair today," Franken's spokesman said, as he left the premises. The fair was his only announced campaign event during the entire week; his campaign didn't offer any details on when he would return later that day. The week I was in Minnesota, his campaign posted pictures from a "volunteer rally" on Facebook—one his staff hadn't announced to the press.
As Republicans aim to take control of the Senate, with a bevy of red-state Democrats looking to be in trouble, Minnesota's Senate race isn't at the top of the GOP's takeover list. But it heads the list of "sleeper" races—one of a handful of contests that have the potential to break late if the political environment is as toxic for Democrats as some national polls suggest. Unlike other Democratic senators responding to newfound challenges by engaging their opposition early, Franken is running an unusually low-key race, giving off the vibe that there's nothing to see here. After I tweeted my Minnesota travel plans, the Democratic Senatorial Campaign Committee's communications director, Matt Canter, mocked the suggestion that this was a potentially competitive race.
In reality, polls from both parties show Franken with only a tenuous advantage over his challenger, Republican businessman Mike McFadden. President Obama's job-approval numbers are weak in Minnesota, with a Suffolk University poll conducted in April revealing a 43 percent rating. The same survey shows Franken polling at 44 percent against McFadden, with his net favorability at 46 percent/41 percent. (A robo-poll, conducted this week by SurveyUSA, showed Franken up 51 percent to 42 percent, with a 56 percent approval rating.) But unlike other Democratic senators in swing states, Franken hasn't done anything, even symbolically, to distance himself from the unpopular president. A National Journal vote analysis conducted this month showed that, in the past two years, Franken has cast only two votes against party leadership out of 161—a 99 percent record that beats Senator Elizabeth Warren.
Given that potential baggage, Franken's campaign has been airing a series of advertisements featuring the legislation he's introduced in the Senate, including bills cracking down on tainted food, a workforce-training bill, and a credit-rating amendment. Unlike some other targeted Democratic incumbents—who have aggressively attacked their opposition early and eagerly sought to contrast their record with the battered GOP brand—Franken has focused on local accomplishments, avoiding the national issues that are driving the debate in Washington. In our short time together, Franken never mentioned McFadden by name, barely acknowledging there was a campaign going on.
"The Franken campaign strategy is, they've got a lot of money, lot of infrastructure, and that there's a downside to too much exposure," said Carleton College political-science professor Steven Schier. "In his prior career, he was known for explosive sarcasm. I think they're keeping him under wraps for good reason. The hostility to Washington is as high in Minnesota as it is anywhere."
Despite the opportunity, Republicans are hardly bullish about their chances. Republican strategists in Minnesota view Franken as thin-skinned and prone to make mistakes under pressure. But those not involved with the campaign expressed concern that McFadden is being too "Minnesota nice," and that outside groups are too focused on the many other competitive races, ignoring the potential opportunity against Franken. Outside groups have spent less than $100,000 against Franken, a pittance compared with the millions they've shelled out against vulnerable Democratic senators such as Kay Hagan in North Carolina and Mark Udall in Colorado. Freedom Partners, a Koch brothers-affiliated group, is spending $3.6 million in Democratic-friendly Oregon in an attempt to unseat Senator Jeff Merkley, but the conservative bankrollers have steered clear of Minnesota so far. The U.S. Chamber of Commerce endorsed McFadden this month, but hasn't (yet) pledged to air advertisements on his behalf.
"[Outside groups] want to see polling that shows the race close before they start spending," said one veteran Minnesota GOP strategist. "And that won't happen until they start spending money against Franken. It's a matter of who blinks first."
McFadden, an investment banker with the Minnesota firm Lazard Middle Market, is a newcomer to politics. The 49-year-old businessman grew up in Nebraska, moved to Minnesota to play college football at the University of St. Thomas, and went to law school at Georgetown University before returning to his adopted state in 1993. He's running as a pragmatic business leader in the mold of neighboring Wisconsin Senator Ron Johnson, focusing on the economy, Franken's vote for the Affordable Care Act, the senator's opposition to the Keystone XL pipeline, and expanded energy production as the centerpieces of his campaign.
McFadden has dabbled in politics since his first vote in 1984 for Ronald Reagan, but he hasn't been directly involved in federal campaigns, outside of several small donations over the past decade. Records show he donated $2,000 to Mitt Romney's campaign in August 2012, $1,000 to the National Republican Senatorial Committee that same year, and $1,500 to Norm Coleman in 2008, but that was the extent of his federal political contributions before launching his own campaign. McFadden portrays himself as a political outsider and bemoans the "professional class of politicians" in Congress.
"In 2012, I was so depressed after the election—we lost the presidency, we lost the state House and Senate, and the party was decimated in Minnesota. One of my observations was that we'd created this professional class of politician in this country," McFadden said. "I'm a coach, I'm a businessman, have never been a politician. And I'm proud of it."
Walk into McFadden's office park headquarters in suburban Eagan, and you can't miss his passion for football. As I arrived, a campaign staffer was tossing around a pigskin to himself inside the spacious office. Inspirational quotes from famed NFL coaches Vince Lombardi ("Commit to excellence every day") and, yes, Jim Harbaugh ("Enthusiasm unknown to mankind") are plastered on the bare walls in both the workspace and the candidate's own office. McFadden's oldest son, Conor, played football at Stanford University and was featured in a recent ESPN segment about how his photographic memory has made him an indispensable weapon on the sidelines. That day, McFadden was headed to coach his first youth football practice in months—an activity he showcased in a memorable campaign spot made by the same firm that produced Iowa Senate candidate Joni Ernst's famous "hog castration" ad. The ad concludes with McFadden taking a hit in the groin, painfully reciting that he sponsored the message.
On the campaign trail, McFadden is prone to compare his campaign to his exploits on the gridiron. "As a coach, I can tell you as Americans, we're losing right now. And there's a better way forward," he told the local Fox affiliate during an early-morning interview at the fair.
But, to extend the football metaphor, McFadden's campaign has been reluctant to blitz Franken, despite his vulnerabilities. McFadden's second ad was a humorous spot portraying a Franken lookalike backing a boat into a lake because he's veering too far to the left. That's as hard-hitting as the race has gotten. Six years ago at this time, the Minnesota airwaves were blanketed with nasty GOP commercials attacking Franken as a crude entertainer, arguing that he lacked the temperament to be a senator. This year, McFadden was mostly focused on issues while avoiding any personal attacks on the senator.
"I think in Minnesota, there's a reason we're known for being Minnesota nice. I think people are really tired of politics as usual, the negativity in campaigns. That's the reason you've seen the types of campaigns being run here," McFadden said. "We're going to continue to talk about what I want to talk about. We're going to continue about talking about health care, education, energy, mining."
His toughest jibe against Franken? "Al Franken had a background in entertainment. I don't think that's a background that's allowed him to be effective," McFadden said. "I think he has no idea how the economy works. He's voted part and parcel with the president, and has overseen the slowest rebound from a recession in the history of the United States."
McFadden's biggest political accomplishment was winning the state party endorsement at its convention in May, an event that's dominated by hard-line conservatives. At the outset of his campaign, McFadden wasn't even planning to contest the convention endorsement process, given that he avoids polarizing social issues such as gay marriage (Minnesota voters rejected a constitutional amendment banning gay marriage in 2012; the state Legislature legalized it in 2013) and has criticized the government shutdown as "draconian." But thanks to key backing from former Senator Coleman and late support from Representative Michele Bachmann, along with weak Republican opposition, McFadden secured a late-night party endorsement, giving him no opposition in the primary.
In 1990, Carleton College professor Paul Wellstone, running a long-shot campaign for the Senate in Minnesota, aired a memorable ad showing him traveling across the state in search of his challenger, Republican Senator Rudy Boschwitz. Wellstone pulled off the upset and became a progressive icon to liberal Minnesotans before his death in 2002. Nearly a quarter-century later, Franken, who touts himself as an heir to the Wellstone legacy, is facing many of the same challenges his hero exploited. This time, it's Franken who is looking to lay low in the run-up to his reelection, as he faces a first-time political candidate trying to capitalize on the anti-Washington mood in the country.
"There's an eerie similarity to the 1990 race when Paul Wellstone got elected. Boschwitz ran ads with all these local themes, touting that he's a problem-solver. That's exactly what Franken is doing," Schier said.
And so far, the lay-low strategy seems to be working.
The biggest confrontation of the campaign to date came at the 6 a.m. opening of the fair, when McFadden and Franken stood near each other, greeting early attendees at the main entrance. McFadden walked up to Franken, with local television cameras rolling, introduced himself, and challenged the senator to a series of six debates throughout the state. Franken demurred. That became McFadden's running theme at the fair: Franken is avoiding the issues. Franken's campaign later offered a counterproposal: three debates in October.
The key question is whether Franken can effectively run out the clock, delaying the start of the campaign long enough until his lead is secure. One of McFadden's regular criticisms of Franken is that he's much less accessible than the state's senior senator, Democrat Amy Klobuchar. The state fair, lasting 12 days until Labor Day, traditionally is the kickoff to campaign season in Minnesota, but Franken would love to wait longer. Franken ended his heated 2008 campaign with weak approval ratings and has improved his standing primarily by avoiding the press and any resulting negative attention.
"Since he's been elected, I haven't seen him much in person. The last time, I think, was at the state fair several years ago," said Marcia Meredith, a nurse practitioner from St. Paul, who counts herself as a down-the-line Democratic supporter. "But I'm voting for him in November."