What Donald Trump, Bon Jovi, and Fracking Have in Common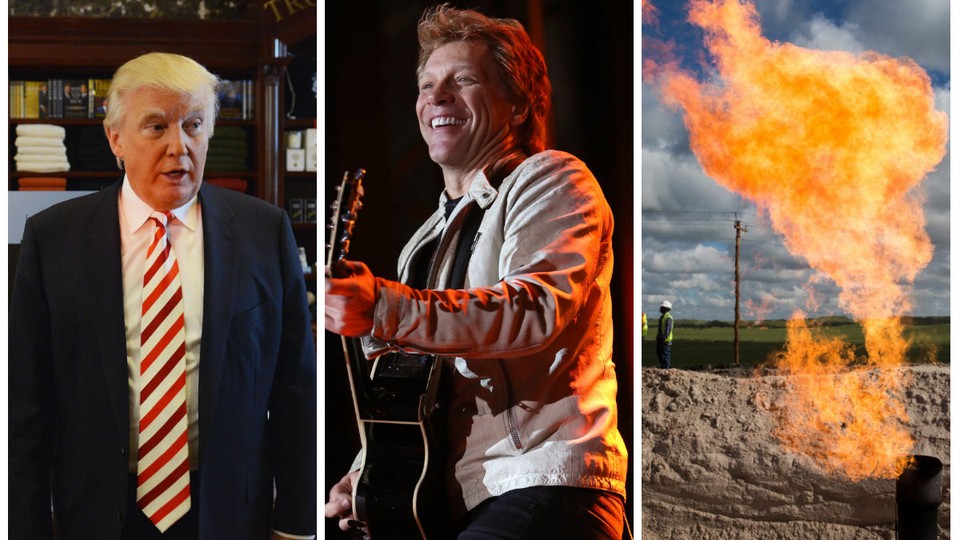 Three unlikely adversaries are squaring off to buy Western New York's cherished football team the Buffalo Bills.
Donald Trump, Bon Jovi, and fracking billionaire Terry Pegula have all put in bids to become the new owner of the NFL franchise with the dubious distinction of losing the Super Bowl four years in a row.
Pegula can't compete with the star power of Trump or Bon Jovi, but he's considered the front-runner in the sports team showdown. Pegula's bid would keep the Bills in Buffalo. He also has the financial muscle to pull off the purchase. The Pennsylvania native is the founder of a natural-gas drilling company called East Resources and has gobs of money from oil and gas.
Trump and Bon Jovi, meanwhile, have hit a few hurdles in their effort to buy the Bills.
Bon Jovi has partnered with Toronto-based Maple Leaf Sports and Entertainment Chairman Larry Tanenbaum and the owners of Canadian media company Rogers Communications. But the group's initial bid was rejected after the investment firm overseeing the sale deemed it "uncompetitively low." (The offer reportedly came in at under $900 million.)
The rock star has also faced a torrent of backlash in the Rust Belt city amid speculation that he plans to move the team to Toronto. Radio stations, bars and restaurants have even stopped playing his songs in protest.
Trump's prospects aren't looking too bright either. The business mogul has even said he doesn't expect to win. "I would say the chances are very, very unlikely," Trump told Fox News in late July.
That leaves just a handful of likely contenders, with Pegula so far primed to take the top spot.
The fracking billionaire has invested heavily in the development of downtown Buffalo, and become popular with local politicans and city residents as a result. "C'mon, it has to be Pegula. Anybody but Bon Jovi," Bills fan Michael Thomas said when Syracuse.com asked who should win the team.
Bidders are subject to a nondisclosure agreement, making it difficult to say for certain who is in the lead. Early reports had Pegula's initial bid at $1.3 billion for the team. But Forbes reported over the weekend that Bon Jovi, Trump, and Pegula all offered less than $1 billion in first-round offers.
Pegula has plenty of cash on hand. Last week, his company East Resources sold close to $2 billion in drilling rights in West Virginia and Ohio. The multibillionaire also claims to have extensive fossil-fuel holdings in a number of states, including New York, West Virginia, and Pennsylvania.
Fracking, the drilling technique that uses high-pressure water and chemical injections to unleash natural gas from shale rock formations, is currently off-limits in New York State.
Defenders say it can be done safely. But studies that link wells drilled to earthquakes and groundwater contamination have sparked a firestorm of controversy across the country.
None of this has stopped Pegula from proudly talking about where his money comes from. After snapping up the Sabres, Buffalo's NHL team, in 2011, the fossil-fuel magnate famously said: "If I want to make some money, I'll go drill a gas well."
A victor in the Buffalo Bills bidding war won't be crowned for a few weeks at the earliest, with a decision likely to arrive at the start of October. That means there's still time for bidders to increase their offers.
But as it stands two of the city's most beloved sports teams could soon be owned by a man who owes his fortune to fracking.