Two Ways of Looking at the Hillary Clinton Interview
Whichever way you see it, the presumptive Democratic nominee has shown us something significant.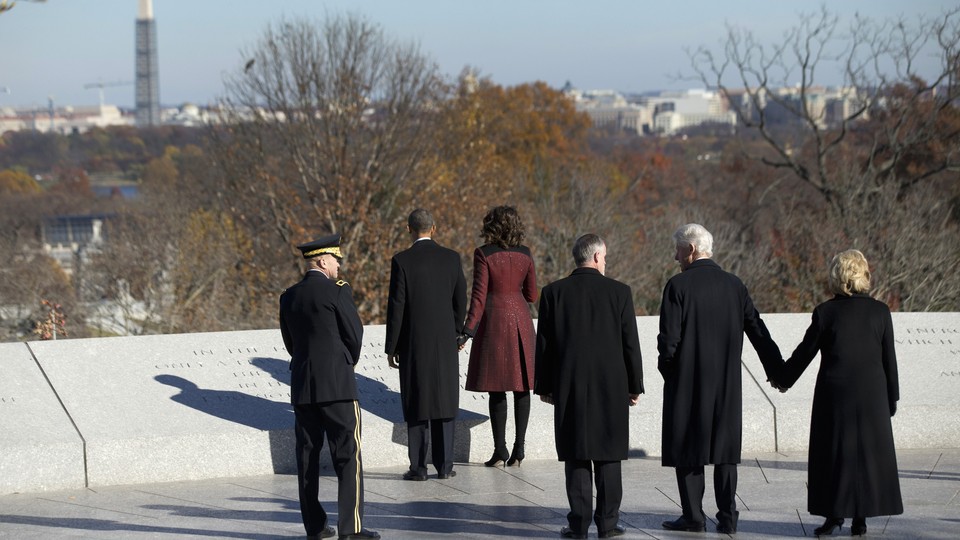 On return from a long spell away from the Internet, I was going to recommend that you read
Jeffrey Goldberg's interview
with Hillary Clinton, and not just the setup but the transcript as a whole. But such a recommendation is hardly necessary, since for several days the interview has been making news worldwide.
There are two ways to think about the political and policy implications of Hillary Clinton's deciding to say what she did, during this strange limbo period when she is clearly preparing to run for president but has more to lose than gain by officially saying so.
• One approach would be to think that we're primarily witnessing a media event—journalists doing what journalists do. It's in our nature as reporters, even when representing an institution as august as a 157-year-old magazine, to highlight what has changed rather than what's constant, what is controversial rather than what's agreed on, the one juicy, taken-in-isolation sentence that will make people stop and say, Did you see that? And it is in nature of the political commentariat to seize on any sign of rancor or big-shot melodrama.
Therefore if our Atlantic site runs a headline suggesting that Hillary Clinton is all but blaming Barack Obama for the ISIS/ISIL  menace ("Hillary Clinton: 'Failure' to Help Syrian Rebels Led to the Rise of ISIS"), or if we emphasize the few places where she departed from his policy rather than the many more where she supported it, maybe we're just revealing the way we journalists think. When politicians start complaining that some comment was "taken out of context," this is the point they're trying to make. And in fairness, anyone who reads the whole transcript will find that the tabloid version of her comments—weakling Obama lost Syria!—is cushioned in qualifiers and complexities.
If this is the way the Clinton camp feels about our presentation of the interview, they are perfectly well versed in all the the formal and informal ways of getting that message across. Indeed, just this afternoon, a little while after I started typing this item (but several days after the interview ran), the first such indication appeared, in a "no criticism intended" story
via Politico
.
•  The other approach is to think that Hillary Clinton, as experienced a figure as we now have on the national scene, knew exactly what she was saying, and conveyed to an interviewer as experienced as Goldberg exactly the impression she intended to—including letting the impression sink in through several days' worth of op-ed and talk-show news cycles before beginning to offset it with an "out of context" claim.
That impression is a faux-respectful but pointed dismissal of Obama's achievements and underlying
thought-patterns
. It's a picture of the president approximating that of a Maureen Dowd column. It also introduces into Democratic party discourse the "Who (re-)lost Iraq?" "Who lost Syria?" "Who lost Iran?" and "Who is losing the world?" queries that the Republicans are perpetually ready to serve up. All this is presumably in preparation for Clinton's distancing herself from a "weak" Obama when she starts running in earnest to succeed him.
If the former interpretation is right, Clinton is rustier at dealing with the press than we assumed. Rustier in taking care with what she says, rustier in taking several days before countering a (presumably) undesired interpretation.
I hope she's just rusty. Because if she intended this, my heart sinks.
It sinks for her, that she thought this would make her sound tough or wise; it sinks for the Democratic Party, that this is the future foreign policy choice it's getting; and it sinks for the country, if this is the way we're going to be talked to about our options in dealings with the world.
The easiest and least useful stance when it comes to foreign policy is: Situation X is terrible, we have to do something. Or its cousin: Situation X is terrible, you should have done something. Pointing out terribleness around the world is not even half of the necessary thought-work in foreign policy. The harder and more important part—what constitutes actual statesmanship—is considering exactly which "something" you would do; and why that exact something would make conditions better rather than worse; and what Pandora's box you might be opening; and how the results of your something will look a year from now, or a decade, when the terribleness of this moment has passed.
E.g.: Yeah, we should have "done something" in Syria to prevent the rise of ISIS. But the U.S. did a hell of a lot of somethings in Iraq over the past decade, with a lot more leverage that it could possibly have had in Syria. And the result of the somethings in Iraq was … ? A
long story
in the
NYT
tells us that the current leader of ISIS, Abu Bakr al-Baghdadi, the caliph himself, drew his political formation from America's own efforts to "do something" in Iraq:
"He was a street thug when we picked him up in 2004," said a Pentagon official who spoke on the condition of anonymity to discuss intelligence matters. "It's hard to imagine we could have had a crystal ball then that would tell us he'd become head of ISIS."

At every turn, Mr. Baghdadi's rise has been shaped by the United States' involvement in Iraq — most of the political changes that fueled his fight, or led to his promotion, were born directly from some American action. And now he has forced a new chapter of that intervention, after ISIS' military successes and brutal massacres of minorities in its advance prompted President Obama to order airstrikes in Iraq. 
Of course everyone including Clinton "knows" that you should only do something when it's smart and not when it's stupid. In her books and speeches, she is most impressive when showing commanding knowledge of the complexities and contradictions of negotiating with the Russians and Chinese, and why you can't just "be tough" in dealings with them. In those specifics, she can sound like the description I just came across, in Christopher Clark's The Sleepwalkers, about some pre-World War I Balkan leaders: "It is a characteristic of the most skillful politicians that they are capable of reasoning simultaneously at different levels of conditionality. [One Serbian figure] wanted peace, but he also believed—he never concealed it—that the final historical phase of Serbian expansion would in all probability not be achieved without war."
But in this interview—assuming it's not "out of context"—she is often making the broad, lazy "do something" points and avoiding the harder ones. She appears to disdain the president for exactly the kind of slogan—"don't do stupid shit"—that her husband would have been proud of for its apparent simplicity but potential breadth and depth. (Remember "It's the economy, stupid"?) Meanwhile she offers her own
radically simplified
 view of the Middle East—Netanyahu right, others wrong—that is at odds with what she did in the State Department and what she would likely have to do in the White House.
David Brooks
 was heartened by this possible preview of a Hillary Clinton administration's policy. I agree with
Kevin Drum
and
John Cassidy
, who were not. Also see 
Paul Waldman
.
But really, go read the interview. Either way, the presumptive nominee has, under Jeffrey Goldberg's questioning, shown us something significant.