This Twentysomething Wants to Help At-Risk Teens. So She Opened a Boxing Gym.
E-Lisa Moreno knows she's the unlikeliest of small business owners in the Kansas City suburbs. That's what keeps her going, despite some setbacks.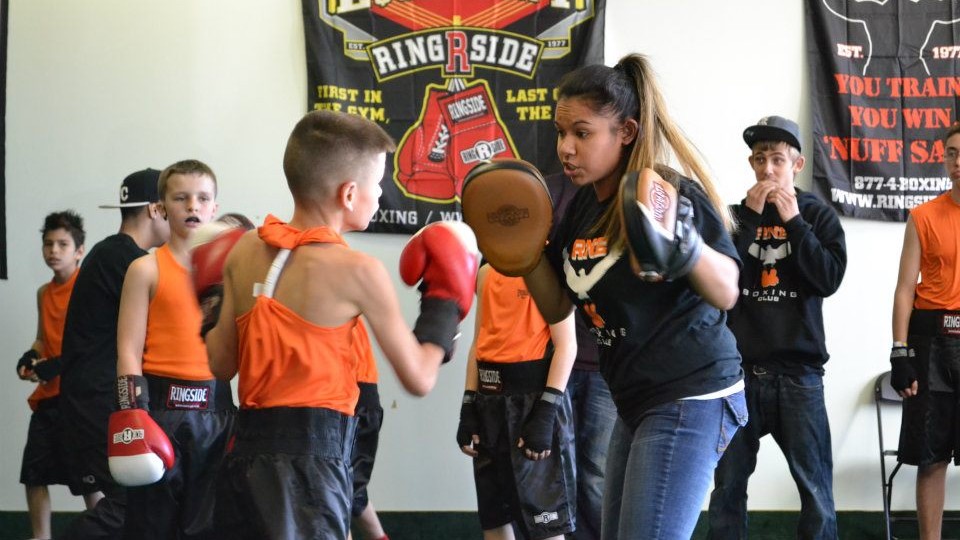 This profile is part of a Next America series on the experiences of minority small-business owners in the United States.
When E-Lisa Moreno tells people she runs her own business, they don't always believe her. After all, she's only 24. And women don't normally open boxing gyms. But these reactions don't bother her. "It's amusing," says Moreno, a 5-foot-3-inch former professional boxer. "If anything, it pushes me to do more."
Moreno trains about 60 people at RNE Boxing Club, which she opened with her father nearly three years ago in a Kansas City suburb. Most of her members are kids, and about a dozen are troubled teens in a police program for at-risk youth. Coaching kids and watching them build confidence has become Moreno's life passion.
"I love seeing a kid who people saw as 'bad' become someone who has accomplished something," Moreno says.
Opening a boxing club during the economic recession was an exhilarating and nerve-racking experience — and it continues to be a source of stress. Rare for a fledgling small business, RNE Boxing Club began turning a profit early on. But now it barely makes enough to cover expenses. Moreno waits tables at a local Mexican restaurant to pay her own bills. This is just a temporary setback in her eyes, a "bump in the road" to fulfilling a dream she had since high school.
As a teenager, Moreno was more interested in basketball than boxing. She put on her first pair of boxing gloves when she was 17, while waiting for her two younger brothers to finish one of their evening boxing classes. A coach said she could punch bags while she waited. Within a few months, Moreno had lost nearly 50 pounds.
"I was in awe," says Moreno, who weighed 200 pounds when she started. "I was finally proud of how I looked."
She soon forgot about basketball and was spending her evenings at the boxing gym. Then came her first boxing match and the moment that hooked her. Moreno threw a cross punch that hit her opponent in the chin and dropped her to the floor. "The adrenaline was the best feeling in the world," she says. "I've never felt anything like that."
Boxing became Moreno's calling — and her father, a car salesman, became her coach and biggest fan. He traveled with her to dozens of matches across Kansas and watched her win second place in her weight category at the 2010 national Women's Golden Gloves tournament in Florida.
After high school, Moreno began taking classes at a local community college with a scholarship from the Kansas City Golden Gloves. But she stuck with boxing, turning pro and coaching kids on the side.
Moreno saw promise in one 13-year-old girl at the gym and coached her to win three national championship titles. When the girl died in a tragic traffic accident in 2011, Moreno says it was too painful to return to the same gym. Instead, she decided to open her own.
Her dad hesitated when she first pitched him the idea, she says. They didn't have much money and they didn't want to take out a loan. But they decided to make it work. Moreno quit school and her father quit his job at the car dealership. Local businesses sponsored the club and they raised more than $10,000 — enough to buy equipment and rent space in a strip mall. The local Golden Gloves donated the boxing ring.
Moreno named the club in honor of the girl who had died. Her initials were RNE. Within six months, the club was already making money. The gym had about 500 members and the parking lot was packed.
The club's success seemed too good to be true — and it was. A year after Moreno opened the gym, the local fire department said she would need to install an indoor sprinkler system in case a fire broke out. The owning of the building wouldn't pay for it. "The cheapest estimate we got was $20,000," Moreno says. "So we started looking for another place."
In December, Moreno and her father moved the gym into a smaller space that could only fit about 60 people, so they lost most of their customers. Both father and daughter had to take day jobs. "It was very disappointing," says Moreno, "but I don't want to give up."
Moreno does wonder sometimes if she should have finished college and become a police officer or accountant. But then she remembers the pride she felt earlier this year when one of her kids won a national Silver Gloves tournament. "It's all about the kids. It's always been about them," she says.