The Weird Power and Liability of Incumbency in Hawaii
The state's voters used to revere longtime officeholders. On Saturday, that changed, when the state's governor, Neil Abercrombie, lost in an unprecedented upset—but the man he controversially handpicked as U.S. senator may win.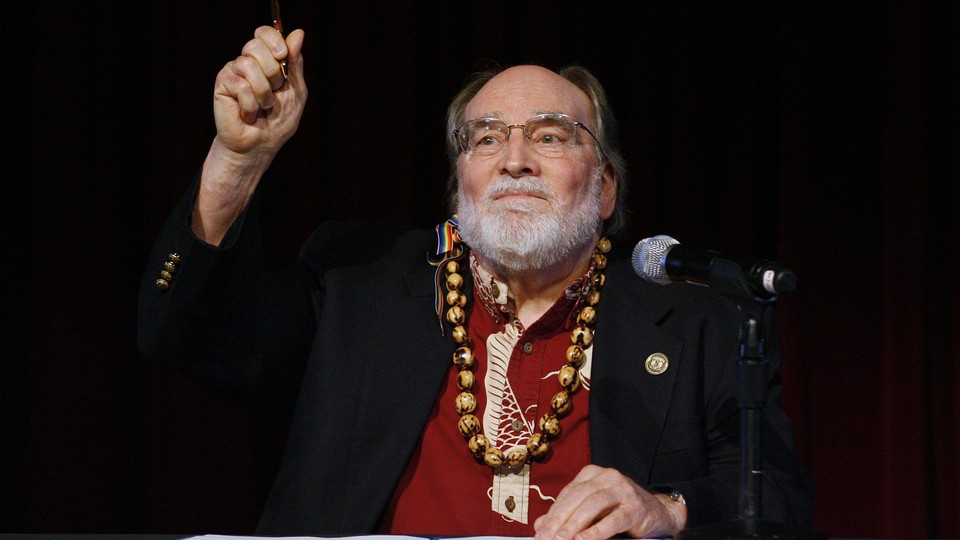 It is because of Neil Abercrombie—the Hawaii governor ousted in a Democratic primary on Saturday—that Brian Schatz became the state's seventh United States senator in the first place.
That Abercrombie was unseated was unusual enough, the first time in history a Hawaii governor has failed to win renomination by his party. But now things get even stranger: With the contest between Schatz and his primary challenger, Representative Colleen Hanabusa, still too close to call, the senator's fate rests with 8,000 or so registered voters who have yet to cast ballots thanks to a tropical storm that closed polling places.
The backstory is dramatic. Nearly two years ago, in the doldrums between Christmas and New Year's Eve 2012, Abercrombie picked Schatz, then his lieutenant governor, to replace a man who could never be replaced.
Senator Daniel Inouye had represented Hawaii in Washington for the entirety of the state's existence, including nearly 50 years in the Senate, until he died in December 2012. And while Inouye made clear—in a dramatic deathbed letter—his desire for Hanabusa to be his successor, Abercrombie shocked the political establishment and appointed Schatz instead. With that, the governor installed a close ally in Washington, where he'd been a congressman himself for nearly 20 years. (His real motivation, Abercrombie said, was to pick the person he believed would be best for the job.)
The selection stunned a community accustomed to seeing Inouye get what he wanted. Symbolically, Inouye the kingmaker—a man who a poll once found to be literally more popular than God—had truly fallen. But life went on. Hawaii adapted to a reality without Inouye, in part because the same congressional dysfunction that had plagued him in the twilight of his career prevented Schatz from accomplishing anything of real substance either. Hawaii's representation in Congress may have dramatically changed, but life in the Islands didn't feel all that different.
Then, on Saturday, the story took a strange turn.
Voters might have been expected to overrule Abercrombie by ousting Schatz. Instead, it was Abercrombie who was overwhelmingly defeated by a little-known state senator, David Ige. Meanwhile, Schatz may still hang onto his Senate seat. As of early Sunday morning, he was leading Hanabusa by 1,788 votes, but the election could not be called because two precincts on Hawaii's Big Island were closed on Election Day due to back-to-back storms. Voters in those precincts can still mail in their ballots.
All this chaos raises the question: Which voters are deciding Hawaii's future? And which constituency would have turned out against Abercrombie but for Schatz?
Incumbency undoubtedly helped Schatz—he pulled in the mainland donations and high-profile endorsements that are all but automatic for a sitting senator—whereas incumbency may have hurt the man who put Schatz in the Senate. Abercrombie's record as governor does little to illuminate his staggering defeat. Hawaii is economically on the upswing and unemployment is, as usual for the state, much lower than the national average.
Maybe Hawaii voters haven't moved on from Inouye's death, or forgiven Abercrombie's brazen decision to flout Inouye's last wish. The governor had faced additional backlash last spring when he suggested Inouye's deathbed letter was a political fabrication. Or maybe, as many Hawaii voters have told reporters for local news outlets, people are just ready for fresh leadership.
That attitude might have given Schatz the edge over Hanabusa. Though he is an incumbent, he is 20 years her junior. Schatz's supporters argue that a younger senator will have time in office to establish seniority the way Inouye did. And while Hanabusa and Schatz are both clearly Democrats—they agree on so many issues they've at times struggled to distinguish themselves in debates over the course of the campaign—Hanabusa's focus is often on long-standing issues like Hawaii's strategic military position, while Schatz is known for his commitment to liberal-base issues like climate change.
In a weird sort of echo, Schatz's candidacy feels a bit the way Abercrombie's did in 2010. Abercrombie was, for many adults in Hawaii, a lifelong fixture in the state's political scene. And he was enormously popular when he was elected. His victory represented a major departure after eight years of Republican Linda Lingle, and the huge contingency of Democrats in solid-blue Hawaii celebrated his win as a change in the right direction. It also, at the time, felt like a major shift in Hawaii values. Abercrombie, for instance, supported same-sex marriage, where his predecessor had vetoed a key civil unions bill. Abercrombie's ascent was, symbolically, the passing of the torch from one generation of Hawaii voters to the next.
One of the biggest questions in the lingering primary is: Will these new, unreliable voters allow a senator to remain in office the way Inouye did for more than half a century? Historically, being a senator in Hawaii was practically a lifetime appointment. But Abercrombie's ouster suggests a newly fickle electorate with less reverence for incumbency.
In Inouye's day, political longevity was a virtue. It was unthinkable to most in the state that he'd ever be voted out of office. But now that the godfather of Hawaii politics is gone, voters there are reevaluating leaders with a mindset that has swept much of the rest of the country: a distaste for the entrenched political establishment.
If incumbency is newly a liability in Hawaii, it raises a question of who voters believe is more entrenched: Schatz or Hanabusa? The answer, and the lingering sense of loyalty to a man who was revered for his half-century in office, may well decide the outcome of this race.