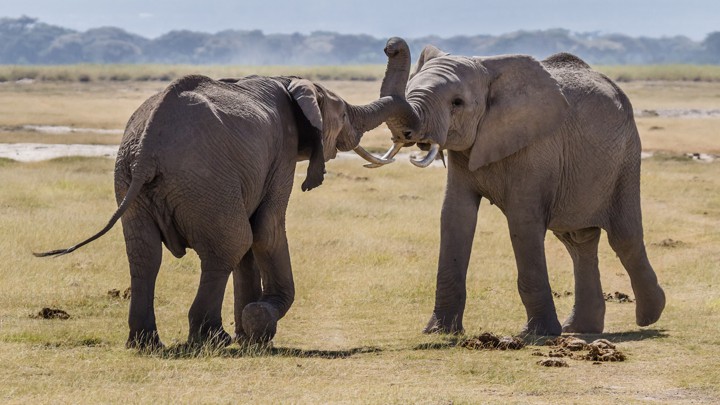 Remember Chris McDaniel? Back in May, the Mississippi Republican state senator nearly took out a 36-year incumbent, Senator Thad Cochran. But after forcing Cochran into a runoff, McDaniel fell short in the second round of voting, losing to Cochran by just 7,700 votes—or so the lamestream media would have you believe.
McDaniel doesn't buy it. He never conceded, his supporters insist the election was marred by fraud, and McDaniel continues to barnstorm Mississippi like a Southern-fried Captain Ahab. On Monday, McDaniel held a press conference to announce that he was filing a lawsuit challenging the election result. His lawyer claimed (without substantiation) that he had actually won the runoff by 25,000 votes, and demanded he be awarded the nomination by the state Republican Party without further delay.
McDaniel makes a good symbol for this year's Republican infighting. The challengers to GOP incumbents have been noisy, quixotic, and a bit delusional. They have succeeded in costing Republican officeholders a lot of money and hassle and forcing new candidates far to the right, but they have not managed to topple many incumbents, with the notable exception of former House Majority Leader Eric Cantor, who quit the House altogether last week rather than face the indignity of moving to a smaller office for a few months.
But the Republican establishment isn't out of danger yet. One last spate of primaries this month provides fresh opportunities for the party's grassroots to rise up and claim more heads for its trophy wall. All are long shots; most likely, the various insurgent challengers will have about as much impact as McDaniel. But polling is sparse and primaries can be unpredictable, meaning there's always the possibility of another Cantor-like surprise on the horizon. Mark your calendar:
Kansas, August 5: Senator Pat Roberts versus Milton Wolf
Roberts, a 33-year Washington veteran, sought to head off a Tea Party challenge to his reelection by veering sharply to the right. A onetime chairman of the House Agriculture Committee, this year he voted against the farm bill, and he opposed a spending bill that contained a major project for Kansas State University. Roberts' challenger, a radiologist who has never held elected office and is a distant cousin of President Obama, hasn't done himself any favors: He was found to have a bad habit of posting his patients' X-rays online and making insensitive comments about their injuries, some of them fatal. But Roberts can't seem to stop reminding voters he's a bit out of touch, whether joking to the New York Times that his Kansas residence these days consists of his friend's recliner or telling a local interviewer recently, "Every time I get an opponent—I mean, every time I get a chance, I'm home." The latest poll had Roberts up 20 points, prompting Wolf to declare he was closing the gap.
Bonus Kansas undercard: Representative Mike Pompeo versus former Representative Todd Tiahrt. Eight-term former congressman Tiahrt has decided he wants his old job back from Pompeo, who was elected to represent Wichita in 2010 when Tiahrt ran unsuccessfully for Senate. The staunchly conservative Pompeo practices what he preaches in his crusade against federal spending. Tiahrt charges that he's depriving the state of the federal spending it dearly needs. Their battle is a showdown between today's sharply ideological conservatism and the more pragmatic Republican brand of yesteryear. Koch Industries, which is based in the district, is backing Pompeo.
Michigan, August 5: Representative Justin Amash versus Brian Ellis 
In this fascinating House primary, the establishment-incumbent-versus-Tea-Party-challenger dynamic is inverted. Amash is a staunch libertarian in the mold of former Representative Ron Paul, frequently casting lonely, futile "no" votes against bills practically everyone else supports, then taking to his Facebook page to explain why he thinks this or that piece of routine legislation violates the Constitution. Speaker John Boehner stripped him of his committee assignments for his refusal to play by the rules, and now the Chamber of Commerce and other business groups are trying to take Amash out. But by all accounts, it isn't working. Ellis's scorched-earth ads—one (quoting one of Amash's colleagues) called Amash "al-Qaeda's best friend in Congress"—seem mostly to have rallied voters to the incumbent's side. If Amash wins, he won't be the first libertarian-leaning incumbent to survive an assault from the business establishment: Representative Walter Jones, the iconoclastic anti-war congressman from North Carolina, beat back a challenge from a well-funded Bush administration veteran back in May.
Tennessee, August 7: Senator Lamar Alexander versus state Representative Joe Carr 
Let's pause to note that Tennessee holds its primary on a Thursday, which is just nuts. Before being elected to the Senate in 2002, Alexander was a two-term governor, secretary of education under George H.W. Bush, and two-time failed presidential candidate known for his trademark red-and-black plaid shirt. These days, he chronicles his campaign-bus travel with a first-person "Little Plaid Blog" on his campaign's website. Unlike Cochran or Roberts, Alexander has taken nothing for granted in his reelection campaign, raising lots of money, marshaling the state's Republican elite, and maintaining a ubiquitous presence at home. But Alexander voted for immigration reform last year, and that has prompted the anti-amnesty crowd that helped take out Cantor to rally behind his challenger. Talk-radio host Laura Ingraham held a rally in Nashville for Carr last month. Polling is all but nonexistent, and the immigration issue has heated up on the right in recent months.
Alaska, August 19: Dan Sullivan versus Mead Treadwell versus Joe Miller 
This one isn't so much a battle for the soul of the GOP, but it will determine what Republican challenges Democratic Senator Mark Begich in one of this year's most closely watched Senate races. National Republicans have rallied around Sullivan, a former state natural-resources commissioner, but polls show Treadwell, the lieutenant governor, remains in the hunt. (Confusingly, there will be another Dan Sullivan on the ballot at the same time: The identically named mayor of Anchorage is running for lieutenant governor.) Meanwhile, Joe Miller, the Sarah Palin-backed attorney who beat Senator Lisa Murkowski in a 2010 GOP primary—only to lose to her write-in bid in November—is back, having learned important lessons from last time around, according to the Alaska Dispatch News: "Asked what he's learned from his last race, and what he's doing differently today, Miller said he won't let federal informants inside the campaign," the newspaper reported. Though he is not expected to win the primary, some Republicans fear he might run as an independent in November and siphon votes from the GOP nominee. Miller has not ruled out the possibility.
We want to hear what you think about this article. Submit a letter to the editor or write to letters@theatlantic.com.
Molly Ball
is
Time
magazine's national political correspondent and a former staff writer at
The Atlantic
.