The Most Effective Political Ad of 2012 Is Back
The firm that made the most devastating anti-Romney TV ad in 2012 is back with a similar one going after the GOP Senate nominee in Georgia, and research shows it's working.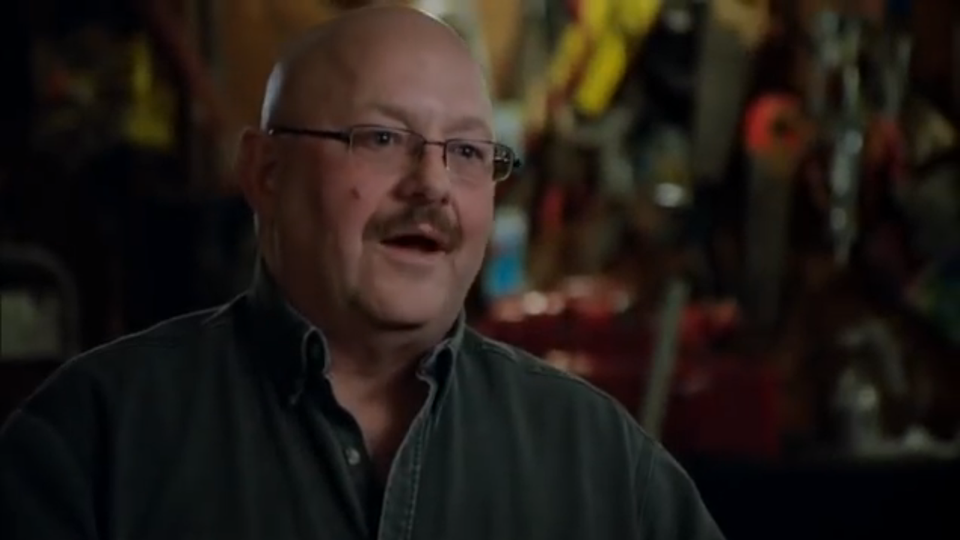 In 2012, Priorities USA, the biggest Democratic super PAC supporting President Obama, spent over $10 million to keep one particular TV ad on the air. The ad, "Stage," featured an Indiana factory worker sitting alone in front of the camera and telling the story of when his plant got shut down after Mitt Romney's firm bought the company.
It was the single most effective ad of the entire 2012 presidential campaign, according to research by Ace Metrix, a television analytics company. And the Democratic strategists who made the devastating spot are using the same themes again this year in Georgia's Senate race. How much weight the concept carries against someone other than Romney, though, is still in question.
The Republican candidate in Georgia, David Perdue, is a wealthy businessman. And Democratic candidate Michelle Nunn has retained the same media strategists, Shorr Johnson Magnus, who made the memorable anti-Romney ads for the Priorities USA Action super PAC in 2012. The result: Nunn's latest TV ad, which stars former millworkers (almost all women) from North Carolina who lost their jobs when their company, Pillowtex, closed down shortly after Perdue came and left as the chief executive. "He left all of us there holding the bag with nothing in it," says one woman at the end of the ad, which contrasted Perdue's high salary with the workers' predicament.
It cuts right at Perdue's biggest strength: his business experience. And research Ace Metrix conducted for National Journal shows just why ads like this work. The data suggest that while the Nunn ad isn't quite as potent as the anti-Romney one, it's grabbing hold of Georgians' attention just as their Senate race starts to heat up.
What made the anti-Romney ad so effective, according to Ace Metrix Vice President Jonathan Symonds, is that it got people's attention, made them feel like they learned something, and then compelled them to go find out more about Romney's record. Ace Metrix collects that data by conducting large online focus groups in which respondents provide their demographic information and then rate different ads across categories like these.
The new hit against Perdue also attracts more attention than the typical political ad, Ace Metrix found, which is particularly important given that skyrocketing political spending is putting more ads in front of viewers than ever. More people than average came away having learned something about Perdue, too. And among just independents (who represent a fairly small sample of the group, Symonds cautioned), the new anti-Perdue ad got the highest scores of any Georgia ad Ace Metrix tested.
Ace Metrix's analysis of the Nunn ad also showed that it did particularly well with women and low-income voters, two groups that the Democrat desperately needs to turn out in November if she is to capture a Republican-leaning Senate seat.
But it didn't inspire people to go dig through Perdue's business history the way the Priorities ad did with Romney. That's why the new ad doesn't rate as highly as the 2012 one did. In fact, Ace Metrix's research gave two outside group ads, one boosting Perdue and another bashing Nunn, slightly higher composite scores than the anti-Perdue one.
"There had been a lot of foundational work done on Romney as a certain type of person [in 2012]," Symonds said. "That's not necessarily in place for David Perdue." In other words, voters may not be quite as ready to go where the ad tells them to with Perdue, who didn't grow up wealthy like Romney or have a political career before this election. Perdue also already weathered some attacks on his business background, including his tenure at Pillowtex, during Georgia's Republican primary. And perhaps most importantly, he's in a state that is tilted in his favor.
"Michelle Nunn's association with Obama is just as much of a liability as David Perdue's business record is, at least according to the data we see," Symonds continued, referring to the anti-Nunn ad (linked above) from the super PAC Ending Spending, which also got high marks from the Ace Metrix respondents.
Democrats are working quickly to build a foundation for more attacks on Perdue's business record. Just after the Nunn campaign released their ad last week, the Democratic women's group EMILY's List announced a new ad criticizing Perdue over a pay-discrimination lawsuit at a different company he ran. There will likely be more to come over the next two months.
"With two folks who have never served in office before, we think it's important to show Georgia voters what exactly they've done," said Nunn spokesman Nathan Click. "This ad tells that story in workers' own words."
"Instead of debating the issues that matter to Georgians, Michelle Nunn is desperately recycling old attacks against David Perdue that have already been dismissed," said Perdue spokeswoman Megan Whittemore in a statement. "We expect no less from the hand-picked candidate of Barack Obama and Harry Reid."