The Head-On Politics of Going Around Congress on Climate Change
White House faces collision with GOP over global pact that wouldn't go through Senate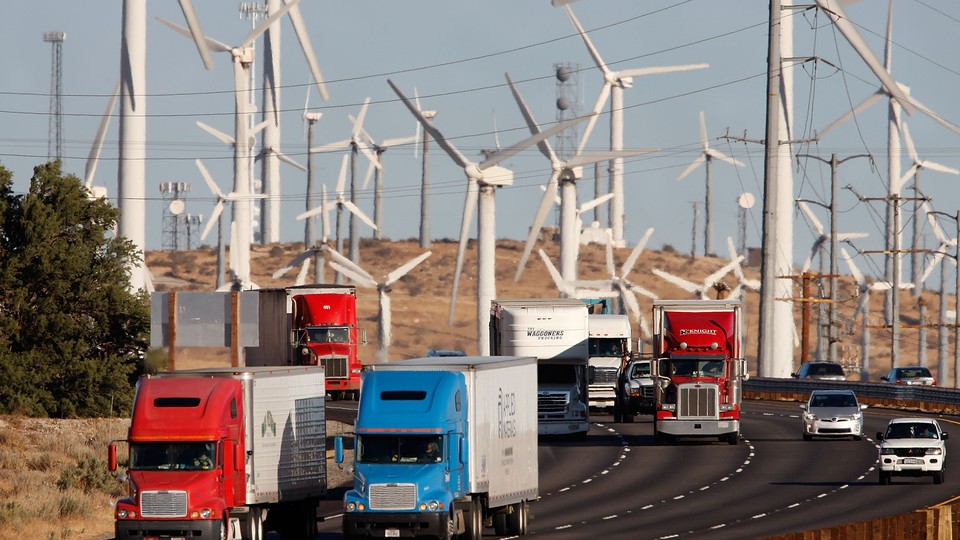 On the surface, word that the Obama administration is negotiating a global climate change pact that probably doesn't need Senate ratification is bad news for Republicans. It could amount to a policy setback for the GOP and offers the president a potential legacy item.
But beneath the surface, an emissions deal that avoids Capitol Hill would give Republicans another political arrow to aim at Democrats, bolstering the GOP's argument that the president circumvents Congress when it serves his policies.
"Any agreement that bypasses Congress would not only violate the Constitution but would be an abusive overreach by a president who continues to think he is above the rule of law," said Senate Minority Whip John Cornyn of Texas.
The topic drew renewed attention Wednesday after a front-page New York Times story laid out in detail what has long been known in climate-policy circles: The United Nations accord that negotiators hope to finalize next year likely won't be a formal new treaty, and therefore won't need sign-off from the Senate, which would have been an impossible barrier.
Privately, Republicans are saying it's too early to sketch a plan to block the move. But foes may still have recourse.
One possibility is using the appropriations process to block funds for implementing the deal, suggested Steve Bell, a former Senate Republican aide to the Budget Committee. "Other than just complaining about it, the only real thing they could do would be through appropriations," he said.
But even if Republicans win control of the Senate, the chances of getting such a measure signed into law are remote.
Still, Republicans, particularly House Republicans, might bring up a messaging bill explicitly prohibiting the president's pact, Bell added. They'd probably find support among pro-coal Democrats such as Rep. Nick Rahall of West Virginia, who knocked the "end-run around Congress."
Wednesday's attacks from Senate GOP leaders and candidates tracks with what is becoming a well-worn political dialogue between the GOP and the White House, one that stretches back at least as far as the president's pledge to use his pen and phone to go around GOP opposition in Congress.
The antipathy runs deep, with Republicans charging that the president refuses to work with them, and the White House lobbing the same charge in return. The result has been a legislative impasse, with the White House casting Republicans as obstructionists and the GOP billing the president as lawless.
Minority Leader Mitch McConnell, locked in a close reelection contest in Kentucky where he has linked his opponent to the president, panned the notion of avoiding Senate ratification, where a two-thirds vote is needed.
"Unfortunately, this would be just another of many examples of the Obama administration's tendency to abide by laws that it likes and to disregard laws it doesn't like—and to ignore the elected representatives of the people when they don't agree," he said in a statement.
The issue is playing out on the campaign trail in other contests, too. With Republicans in striking distance of taking the majority in November, GOP candidates in battleground states are seizing on the report.
Said Rep. Cory Gardner of Colorado, locked in a close race against Democratic Sen. Mark Udall: "Coloradans don't elect senators to watch them toss their power to the president, whether Republican or Democrat."
The Sierra Club, one of the groups that pushes for tough curbs on heat-trapping emissions, on Wednesday sought to steer the battle away from the particulars of how a pact may be structured.
"For the millions of families in America and the billions more around the world who are facing the devastating effects of the climate crisis today, the precise legal form of a global climate deal is not the key issue," said Sierra Club President Michael Brune.
The Obama administration, for its part, said it's too early to say whether the new United Nations climate pact that international negotiators hope to finalize in Paris late next year will require Senate sign-off.
But White House spokesman Josh Earnest hardly ruled it out. Indeed he made it clear that the State Department is approaching the ongoing international negotiations mindful of domestic political barriers.
"We would not want to enter a situation where we did try to broker an agreement that did require some sort of Senate ratification and then have that fall victim once again, as so many other priorities have, to dysfunction in Congress," Earnest told reporters at a briefing.
The talks are aimed at reaching a deal that, unlike the Kyoto Protocol, includes commitments from developing countries such as China and India, which are the world's first- and third-largest greenhouse-gas polluters, respectively (the U.S. is No. 2).
The emerging plan is rooted in decisions that emerged from fractious 2009 climate talks in Copenhagen and subsequent 2011 talks in Durban, South Africa. They produced what is known as the Durban Platform, which is a road map for an accord that takes effect in 2020 and has, at the very least, "legal force." But that's a flexible term.
The agreement is expected to weave domestic pollution pledges from all countries into a system with some form of mandatory review and reporting. Here's how a recent paper by a pair of Massachusetts Institute of Technology experts predicts it will unfold:
"Negotiations will focus on loosely harmonized domestic actions in a system of pledged contributions, with some system of ex-post review. Since a legally binding agreement on emissions targets is unlikely to occur, the Durban Platform specification of an agreed outcome with legal force could only require mandatory participation in a process to review progress in achieving pledged contributions."
Peter Ogden, director of international energy and climate policy with the liberal Center for American Progress, said negotiators' decisions about the architecture of the accord are about more than prospects for Senate action. A formal treaty would also be a hard sell with China and India, he said.
"One of the breakthroughs of the Copenhagen Accord was that for the first time—and in sharp contrast to the Kyoto Protocol—all major polluters from both developed and developing agrees agreed to make greenhouse-gas pollution reduction commitments, and they were all equally bound to make good on their commitments," said Ogden, a former Obama administration climate policy aide who served in the White House and the State Department. "Given that China and India are not talking about taking on legally binding emissions reductions, you'd also be giving up those Copenhagen accomplishments by going down the treaty route."